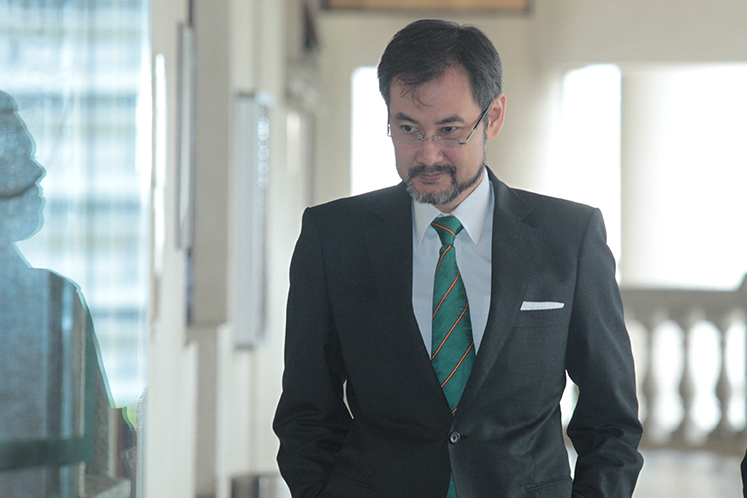 KUALA LUMPUR (Oct 14): The cross-examination of former 1Malaysia Development Bhd (1MDB) chief executive officer Datuk Shahrol Azral Ibrahim Halmi (pictured), the prosecution's ninth witness, enters its second week today.
Lead defence counsel Tan Sri Muhammad Shafee Abdullah had earlier indicated that the cross-examination would take no less than two weeks to be completed.  
The proceedings today will start a bit later than usual today, at 2pm, as senior deputy public prosecutor Datuk Seri Gopal Sri Ram had to attend to another case at the Federal Court in Putrajaya this morning. 
Last week, the cross-examination on Shahrol revolved around the early days of 1MDB — then Terengganu Investment Authority (TIA) — mainly surrounding the issuance of a RM5 billion Islamic Medium Term Notes (IMTN) prior to its first business venture with Abu Dhabi-based PetroSaudi Ltd.
The dispute between the federal government and the Terengganu state government over the problematic process of how the sukuk was issued, was mainly attributed to be the matter which led to the federalisation of TIA — later came to be known as 1MDB. 
Throughout May 2009, several issues were raised between the two conflicting parties.
Among others, Shahrol, then CEO of TIA, had issued a letter to Datuk Seri Najib Razak, complaining about Terengganu Menteri Besar Inc (Terengganu MBI) 'bullying' TIA, while prior to that, Terengganu MBI was complaining that its representation was not taken into account during the sukuk issuance. 
Minutes of Cabinet meetings were also produced during the proceedings, reflecting the Cabinet's concerns over Terengganu's Sultan Mizan Zainal Abidin — who was reigning as the Yang di-Pertuan Agong then — complaining about the sukuk issuance.
From the sukuk issuance alone, missing businessman Low Taek Jho — better known as Jho Low — and his associates were already said to have gained RM494 million in a matter of days from flipping the bonds. 
AmBank, as the lead arranger of the bond issuance, was also alleged to have helped Jho Low in this transaction. 
Shahrol agreed with Shafee's suggestion that AmBank purposely did not inform TIA that the first subscribers of the sukuks were in fact Jho Low-linked offshore companies, which bought them at a significant discount, before reselling them to Malaysian entities at between par value and a premium.
For the 1MDB-Tanore trial, former prime minister Najib faces four charges for using his position to obtain bribes totalling RM2.3 billion from 1MDB funds and 21 charges of money laundering involving RM4.3 billion.
The Edge is bringing the proceedings live.
Users of The Edge Markets app may tap here to access the live report.