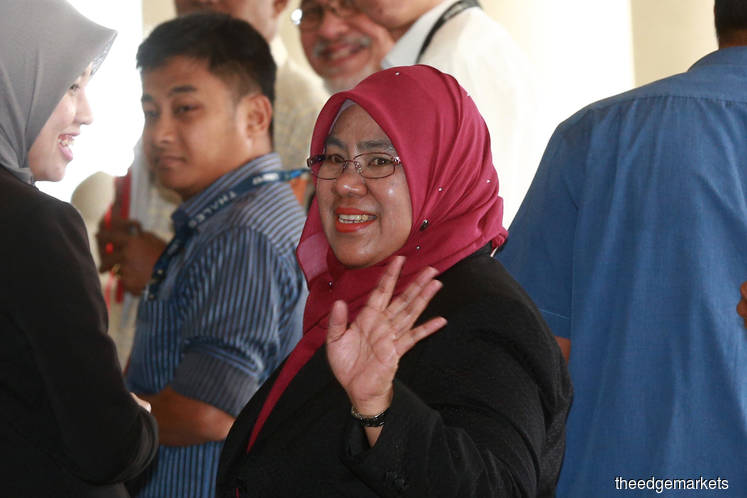 Prosecution witness no. 7: Companies Commission of Malaysia (CCM) registrar of companies Rafidah Yahaya. (Photo by: Sam Fong/The Edge)
KUALA LUMPUR (Sept 3): The prosecution in the trial of Datuk Seri Najib Razak's alleged abuse of power and money-laundering of funds from 1Malaysia Development Bhd (1MDB) is expected to produce more documents on the beleaguered state-owned fund's energy assets today.
Companies Commission of Malaysia's (CCM) assistant registrar of companies Rafidah Yahaya is expected to continue identifying documents that are kept by the commission today.
Last Thursday, Rafidah, who is the seventh prosecution witness in the 1MDB-Tanore trial, had already identified 170 of some 200 company documents in the span of a few hours, which were then marked as evidence by the prosecution. 
These comprise 1MDB, Powertek Investment Holding Sdn Bhd, Powertek Energy Sdn Bhd, Merpati Energy (Langat) Sdn Bhd, and Mastika Lagenda Sdn Bhd.
The papers included Articles of Association, appointment of directors, and details of shareholding, to name a few.
From the documents, it was revealed that Najib, who was also the finance minister at the time, had tightened his control over 1MDB just six months after he became prime minister in April 2009.
This was done by inserting Article 117 in the Articles of Association, which was a similar move used in 1MDB's troubled former subsidiary SRC International Sdn Bhd, as the previous graft trial revolving around Najib's alleged embezzlement of RM42 million from the company showed.
From then on, individuals linked to Najib as well as fugitive businessman Low Taek Jho were also appointed, by the MoF, to the board of 1MDB as well as the said power units. 
Earlier last week, witnesses also identified Najib's personal cheques which were paid to Umno Batu Kawan division (RM100,000), digital media firm ORB Solutions Sdn Bhd (RM2 million), and tycoon Tan Sri Lim Soon Peng (RM246,000) in August 2013. 
Today's session is expected to start at 9.30am before High Court judge Justice Collin Lawrence Sequerah.
Prior to that, there will be a case mention before the judge on the RM680 million civil forfeiture suit against OBYU Holdings Sdn Bhd over 1MDB-related assets. The mention relates to the gazette of third-party claim notice.
Also scheduled for this morning is a case management involving Najib's lawyer Tan Sri Muhammad Shafee Abdulalh, who is charged with four counts of money-laundering and false income tax declarations involving RM9.5 million he allegedly received from Najib in 2013-2014.
The Edge is reporting the 1MDB-Tanore trial proceedings live.
Users of The Edge Markets app may tap here to access the live report.