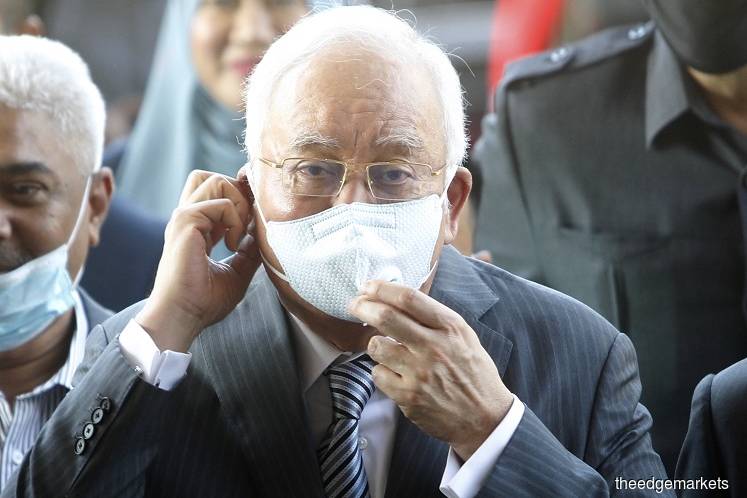 KUALA LUMPUR (July 1): The prosecution of the 1MDB-Tanore trial will be calling Yak Yew Chee and Kevin Michael Swampillai, BSI Bank Ltd's (BSI Singapore) former managing director and head of wealth management services, as witnesses to testify against former Malaysian prime minister Datuk Seri Najib Razak.
This was confirmed today by deputy public prosecutor (DPP) Ahmad Akram Gharib during the cross-examination of the prosecution's ninth witness, former 1Malaysia Development Bhd (1MDB) chief executive officer Datuk Shahrol Azral Ibrahim Halmi.
During the cross-examination of Shahrol today, lead defence counsel Tan Sri Muhammad Shafee Abdullah referred to a meeting in Singapore involving former 1MDB chief financial officer (CFO) Azmi Tahir, 1MDB deputy CFO Terence Geh, 1MDB's legal officer Jasmine Loo Ai Swan and BSI Singapore bankers.
Shahrol said he was aware that the trio went for a meeting in Singapore to "sort out matters relating to 1MDB's funds" in June 2012, but added he did not know that they actually met with Yak and Yeo Jiawei, who was a wealth planner at the now-defunct BSI Singapore, at the Mandarin Oriental hotel there.
Shahrol claimed he only found out about the meeting later on, when he was being questioned by one of the investigating officers of the Royal Malaysia Police.
Shafee then paused his line of questioning about the meeting in Singapore and said he was saving some questions for other witnesses of the trial.
He asked the prosecution whether Yeo will be called as a witness.
In response, DPP Akram said the prosecution will not be calling Yeo, but that Yak and Swampillai are on the list of witnesses to be called.
Yeo pleaded guilty and was convicted in Singapore for money laundering and cheating in relation to the 1MDB scandal in 2017, and is now serving jail time.
He was the third former BSI banker to be found guilty in the city state's 1MDB investigations.
Meanwhile, Yak was sentenced in 2016 to an 18-week jail term and fined for forging documents and failing to disclose suspicious transactions allegedly related to fugitive financier Low Taek Jho.
Another BSI Singapore banker, Yvonne Seah Yew Foong, was jailed for two weeks and fined for similar offences.
Interestingly, Yeo's superior Swampillai was never charged and instead served as the first witness testifying against Yeo despite having also received a cut from the "Project No Retail" deal.
In his role as a wealth planner with the merchant bank, Yeo had significant involvement in the "restructuring" of 1MDB's interest in PetroSaudi Oil Services Ltd, dubbed "Project No Retail".
To facilitate the illicit scheme, Yeo instructed an associate, Samuel Goh, to negotiate with the fund managers for fees to be capped at US$500,000 per year, with the balance paid as "referral fees to connected persons" — most of which were eventually pocketed by Yeo and Swampillai.
To conceal this clandestine arrangement, the fees flowed through a series of intermediaries beneficially owned by Yeo, Swampillai and Goh.
In the 1MDB-Tanore trial, Najib is facing four charges of abusing his position to obtain bribes totalling RM2.3 billion, and 21 charges of money laundering involving RM4.3 billion.
The trial resumes on July 15.
The Edge is covering the trial live here.
Users of The Edge Markets app may tap here to access the live report.