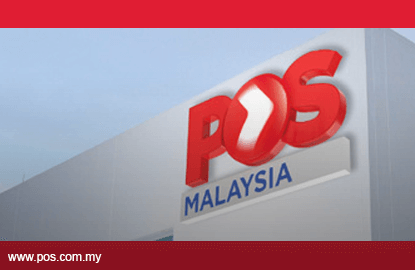 KUALA LUMPUR (May 5): Singapore-based Aberdeen Asset Management Asia Ltd (AAMAL) has disposed of 68,100 shares leaving its shareholding just below 5% in Pos Malaysia Bhd on May 3.
AAMAL's direct stake dipped to 4.99%, which includes holdings of mandates delegated from other subsidiaries of Aberdeen Asset Management Plc (AAMP), Pos Malaysia told Bursa Malaysia today.
AAMAL, which had 6.05% direct stake with 32.47 million shares as at July 13, 2015, cited the reason for its disposal as being an investment position taken in connection with its ordinary business in fund management.
In a separate filing, it said AAMAL's parent company, UK-based AAMP, disposed of 88,100 shares on May 3. It still has 37.35 million shares or a 6.95% stake in Pos Malaysia based on the latter's outstanding shares of 537.02 million.
A check on Pos Malaysia's shareholding revealed that AAMAL has trimmed 4.12 million shares in the group since Jan 18 this year.
Meanwhile, the Employees Provident Fund, which acquired one million shares today, holds 67.8 million or a 12.54% direct stake in the group.
DRB-Hicom Bhd holds the largest stake with 32.21% or 173 million shares as at July 13, 2015 while Kumpulan Wang Persaraan (Diperbadankan) possesses 63.9 million direct and indirect shares or 9.58% direct stake and 2.32% indirect equity as at March 25, 2016.
Shares in Pos Malaysia fell four sen or 1.43% to RM2.75 for a market capitalisation of RM1.47 billion.