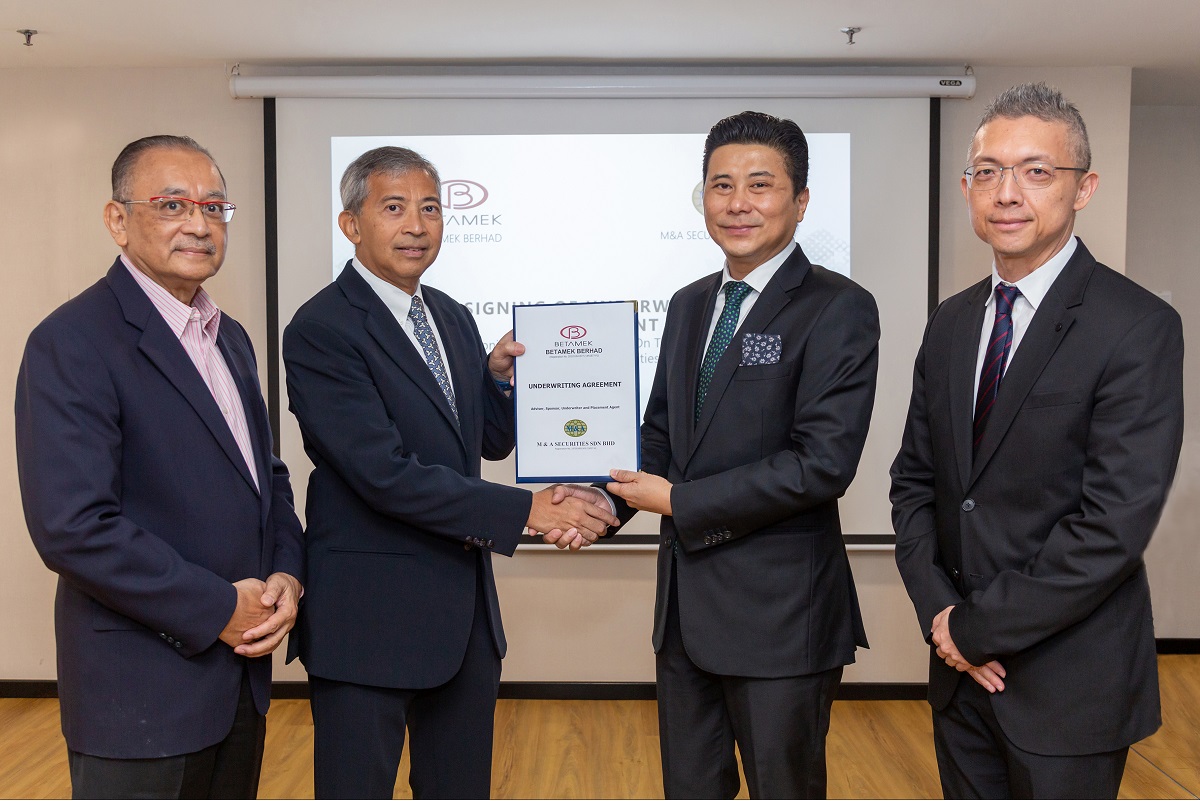 KUALA LUMPUR (Sept 13): Betamek Bhd has signed an underwriting agreement with M&A Securities Sdn Bhd in conjunction with its initial public offering (IPO) exercise on the ACE Market of Bursa Malaysia Securities Bhd.
In a statement on Tuesday (Sept 13), the electronics manufacturing services (EMS) provider said the IPO entails a public issue of 67.5 million new shares in Betamek, representing 15% of the enlarged share capital and an offer for sale of 45 million existing shares to selected investors by way of private placement.
Of the 67.5 million new shares, 22.5 million new shares will be made available to the Malaysian public via balloting, 13.5 million new shares for its eligible directors, employees and persons who have contributed to the success of Betamek under pink form allocations while the remaining 31.5 million new shares are earmarked for private placement to selected investors.
Betamek is an EMS provider specialising in design and development (D&D), procurement and manufacturing of customised electronics and components for the automotive industry.
The company is principally involved in the D&D and manufacture of vehicle audio products and components comprising vehicle infotainment systems and audio video accessories as well as vehicle accessories such as air conditioning control panels, USB chargers, mirror switches, power sockets, reverse cameras and other car accessories.
Betamek managing director Mirzan Mahathir said the company is set to benefit from the pent-up demand for new vehicles and the launch of new car models by its key automotive client.
"Over the years, we have gained a reputation as a reliable manufacturer and direct supplier of quality vehicle electronics and accessories to automotive makers.
"Our end-to-end EMS solutions for automotive makers enable us to support the automotive industry value chain as we undertake product D&D, prototyping, board assembly, electronics and mechanical assembly, testing, labelling, packaging and support services for automotive marques.
"Continuing our growth journey, we plan to expand our range of product offering relating to automotive electronics for future automobile models and variants. This allows us to capture a larger market share in the automotive EMS industry going forward," he said.
Betamek said proceeds from the IPO will mainly be used to fund research and development (R&D) activities for new product development and to further expand the company's R&D office space, raw material storage and ancillary facilities to cater for its future growth, as well as for future R&D activities.
Part of the proceeds will also be used to acquire machinery and equipment for its existing factory in Rawang to enhance its manufacturing efficiency and capabilities, to repay bank borrowings, for general working capital, and to defray the estimated listing expenses.
Betamek targets to list on the ACE Market of Bursa Securities by October 2022.
M&A Securities is the adviser, sponsor, underwriter and placement agent for the IPO exercise.