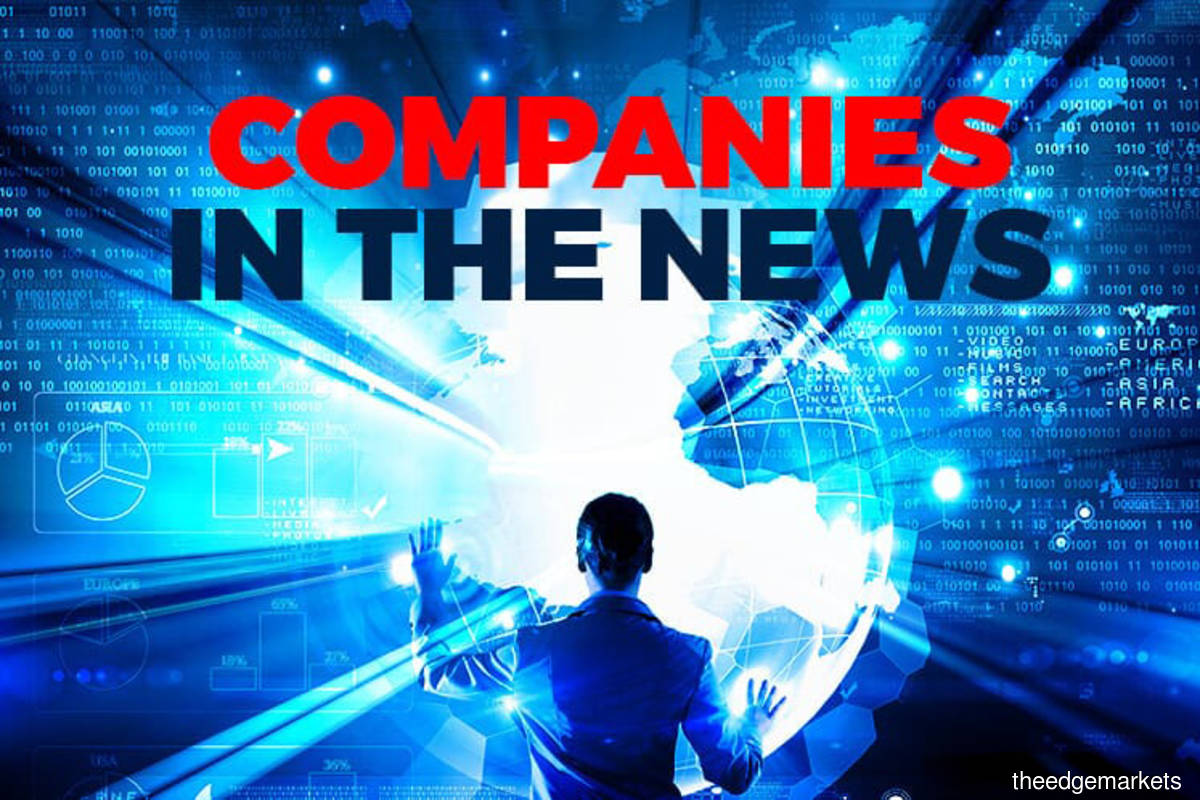 KUALA LUMPUR (May 9): Based on corporate announcements and news flow on Monday, companies in focus on Tuesday (May 10) may include: Affin Bank Bhd, G Capital Bhd, GIIB Holdings Bhd, Econpile Holdings Bhd, JF Technology Bhd, MPHB Capital Bhd, OCK Group Bhd, Pensonic Holdings Bhd, SCGM Bhd, Serba Dinamik Holdings Bhd and Uzma Bhd.
Affin Bank Bhd has obtained approval from the Ministry of Finance (MoF) to dispose of 21% of its equity interest in AXA Affin Life Insurance Bhd (AALI) and  its 2.95% stake in AXA Affin General Insurance Bhd (AAGI) to Generali Asia NV. This was after Bank Negara Malaysia (BNM) had on Friday (May 6) informed Affin Bank of the approval. Affin Bank currently owns 51% in AALI and 49.95% in AAGI. In addition, Affin Bank has also agreed for the general insurance business of AAGI and MPI Generali Insurans Bhd (MPIG) to be merged under AAGI, whereby AAGI will acquire certain assets and liabilities of MPIG via a business transfer to create an enlarged company (Newco) which will be incorporated to hold all of the shares in AALI and AAGI (MergeCo), subject to the approval of BNM. Affin Bank will, in turn, be holding 30% equity interest in the Newco, with Generali holding the remaining 70%. 
Passenger vehicle charterer G Capital Bhd (formerly known as Gunung Capital Bhd) on Monday signed a 25-year solar power purchase agreement (PPA) with two of Chin Well Holdings Bhd's units for a 5.38 MWp solar photovoltaic (PV) generating system in Bukit Mertajam, Penang. In a bourse filing, G Capital's 70%-owned subsidiary Solarcity Malaysia Sdn Bhd will design, construct, install, own, operate and maintain solar PV energy generating system with a capacity of 2,380.32 KWp and 3,000.24 KWp respectively for Chin Well Fasteners Co Sdn Bhd and Chin Herr Industries (M) Sdn Bhd, aggregating a total capacity of 5,380.56 KWp. According to the filing, both plants are expected to achieve the commercial operation date by the fourth quarter of 2022, and thereafter are expected to contribute positively to the future earnings of the group.
GIIB Holdings Bhd (formerly known as Goodway Integrated Industries Bhd) has appointed Ng Keok Chai, a retired senior police officer, as its adviser to the investigative committee in respect of the ongoing investigation into its suspended executive director Wong Weng Yew.
Econpile Holdings Bhd said it has bagged a contract worth RM37.36 million for substructure works in Pantai Dalam, Kuala Lumpur. Econpile said in a filing that its wholly-owned subsidiary Econpile (M) Sdn Bhd received the letter of award dated April 22, 2022 from Domain Resources Sdn Bhd to undertake the substructure works for a proposed phased development comprising Phase 1 Affordable Homes (PT7), which is a single block of residential units, and Phase 2 (PT8), which comprises three blocks of residential units at Lots PT.7 and PT.8 in Seksyen 98, Jalan Pantai Dalam, Kuala Lumpur. The filing said that the project shall be completed within 15 months from May 5, 2022.
JF Technology Bhd (JF Tech) on Monday (May 9) announced it is acquiring precision engineering provider Ikeda Technology (M) Sdn Bhd's assets and business for RM4.5 million, cash. The test interface products offered by Ikeda, which has a proven track record with over 15 years of experience in the semiconductor industry, are complementary to the group's existing test solution products, JF Tech said in a bourse filing.
MPHB Capital Bhd had disposed of its 51% interest in MPI Generali Insurans Bhd (MPIG) to Generali Asia NV, after receiving approval from the Ministry of Finance (MoF) and Bank Negara Malaysia (BNM) via a letter from the latter dated May 6, 2022.
Telecommunications network solution provider OCK Group Bhd has secured a US$48.4 million (about RM212.08 million) syndicated loan with OCBC Bank (Malaysia) Bhd (OCBC Malaysia). In a statement on Monday (May 9), OCK said the syndicated loan will be consolidated from OCK Yangon Private Ltd in Myanmar back to OCK in Malaysia. OCBC Malaysia is the sole bookrunner and joint mandated lead arranger, together with United Overseas Bank (Malaysia) Bhd (UOB Malaysia). The group said the proceeds from the refinancing will be used to partly repay the outstanding balance of the original syndicated loan of US$30.4 million, which would benefit OCK through the optimisation of the financing structure. While the remaining US$18.0 million will be dedicated to completing the construction of 150 telecommunications towers in Myanmar, which are currently in the order book, the group adds.
Pensonic Holdings Bhd is selling a piece of land in Seberang Perai Tengah, Penang that has a factory built on it to paper pulp manufacturer HZ Green Pulp Sdn Bhd (HZGP) for RM15.8 million, as part of its asset rationalisation to unlock and realise the higher value of its landed assets, to improve the group's overall financial position. The disposal will net Pensonic a one-off gain of RM10.94 million, after deducting the carrying value of the property and related expenditure of RM3.76 million, estimated provision for income tax/real property gains tax (RPGT) of RM1 million, and estimated expenses in relation to the proposed disposal of RM100,000. Pensonic plans to spend RM5.5 million of the proceeds to retire its entire outstanding borrowings from Hong Leong Bank Bhd. It will set aside RM10.2 million for working capital, inclusive of estimated provision for income tax/RPGT.
Food packaging manufacturer SCGM Bhd has sealed a conditional share sale agreement (SSA) to sell its core plastic packaging business Lee Soon Seng Plastic Industries (LSSPI) to two Japanese firms, Mitsui & Co and FP Corp (FPCO), for RM544.38 million cash. SCGM said the board intends to maintain the listing status of the company. Upon completion of the divestment, it will look out for new core business to sustain its ongoing concern.
Of the proposed proceeds of RM544.38 million, SCGM said in the filing to the stock exchange that the bulk or RM425.56 million has been earmarked for proposed distribution to its entitled shareholders within nine months. For illustration purposes, the proposed distribution entails capital reduction and repayment of 36 sen per share, and a proposed special dividend of RM1.85 per share. In total, shareholders will receive RM2.21 per share. 
Serba Dinamik Holdings Bhd plunged as much as 24 sen or 68.57% to a new record low of 11 sen after resuming trading on Monday (May 9), while its warrants also plummeted as much as four sen or 57.10% to three sen after resuming trading. It was also the most actively traded stock across Bursa Malaysia with 346.38 million shares traded. Meanwhile, the proprietary day trading (PDT) and intraday short selling (IDSS) of its securities have been suspended for the rest of Monday and will only be activated the following trading day (Tuesday, May 10, 2022) at 8.30am.
Oil and gas service contractor Uzma Bhd's related company Uzma Nexus Sdn Bhd (UNSB) has bagged an engineering, procurement, construction and commissioning (EPCC) provision contract worth RM101.8 million for the development of a 29.99MWac large scale solar (LSS) photovoltaic plant project in Bestari Jaya, Selangor. UNSB shall complete and hand over the works to Nextenaga by Dec 31, 2022 for the initial operation date (IOD) and commercial operation date (COD) by March 9, 2023.