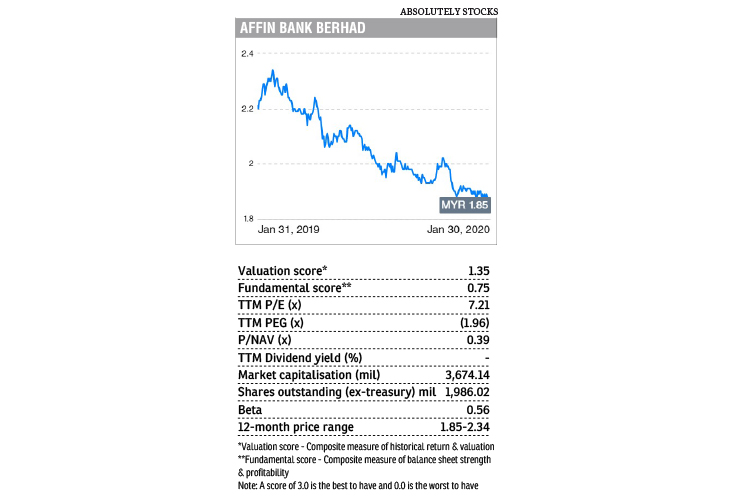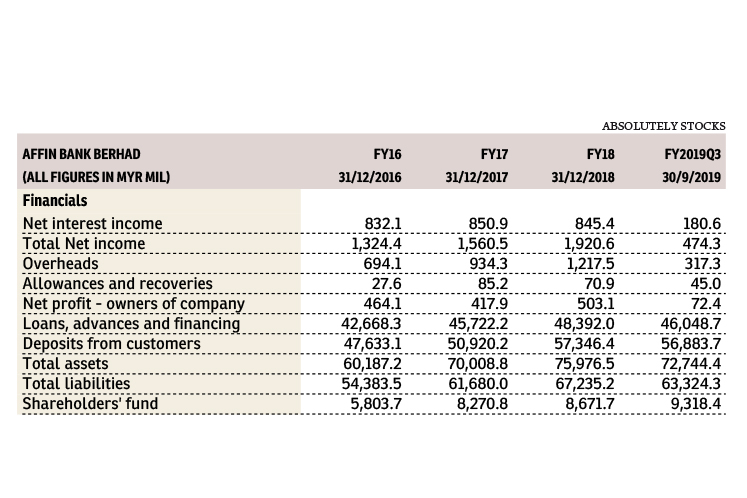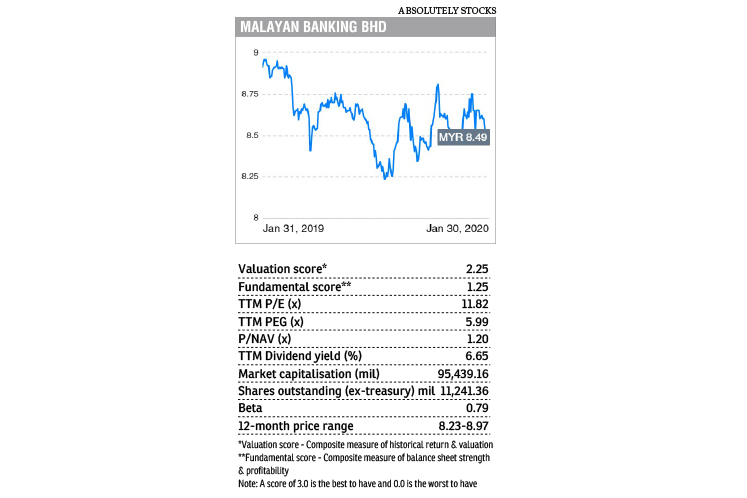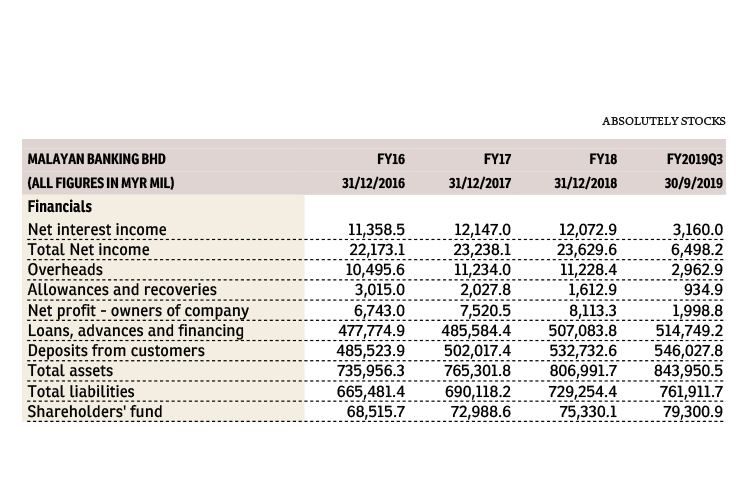 This article first appeared as "Newsbreak: Financial institutions eyeing Affin's asset management business" in The Edge Malaysia Weekly, on February 3, 2020 - February 09, 2020.
FINANCIAL institutions looking to scale up for better economies of scale are contemplating the asset management (AM) business of Affin Bank Bhd, at least four separate banking sources say.
"Some financial institutions are keen … and at least one — Maybank (Malayan Banking Bhd) — has already expressed interest in the business," says a source familiar with the matter, adding though that this is preliminary.
According to another banking source, "In the current environment, everybody in the asset management industry is aware of the need to scale up. With regulatory costs rising and competition increasing, one way to rise above the challenging operating environment is scale … but there are other important factors to consider as well when it comes to an M&A exercise, for example, cultural fit. So, while there is interest, there are a lot of things to consider before deciding whether the parties should enter into serious discussions."
In an email reply to questions from The Edge, Maybank says it does not respond to speculation while a spokesman for Affin Hwang AM would not comment on the subject.
Prior to this, there was a plan for the potential listing of Affin Hwang's AM business.
An initial public offering plan is "not off the table", a source says. "It is an ongoing discussion. The managers and owners of the business need to weigh the pros and cons for the group, whether to list the business, merge or sell it to another party, or keep it within the fold. It will be what makes sense for the group and the asset management business in the longer term."
Affin Bank may be the smallest bank in the country but it is top three in the AM segment with assets under management (AUM) of more than RM56 billion as at end-2019. This is twice as much as Maybank's AUM, which stood at RM26.8 billion as at September 2019.
If the AM businesses of Maybank and Affin are combined, the AUM of RM82.8 billion would propel the merged entity to second place, displacing Principal Asset Management, whose AUM amounted to RM57 billion as at September 2019.
Principal is a joint venture between Principal Financial Group and CIMB Group Holdings Bhd.
Public Bank Bhd's Public Mutual Bhd topped the segment with AUM of RM84.9 billion as at Nov 30, 2019.
In terms of earnings, Affin's AM business contributed RM74.4 million to the group in the nine months ended Sept 30, 2019 — a slight increase from RM70.4 million in the previous corresponding period.
In the nine months ended Sept 30, 2019, Maybank's group asset management returned to the black with a profit before taxation and zakat of RM41.4 million compared with a loss before taxation and zakat of RM71.8 million in the previous corresponding period.
The profit was mainly due to higher other operating income of RM71.8 million, an increase in net interest income, lower allowance for impairment losses on financial investments and other financial assets of RM20.6 million and lower overhead expenses of RM18.2 million.
It is worth noting that Affin Hwang's AM business grew exponentially after an M&A in 2014, where Affin acquired 100% of Hwang Investment Bank, 70% of Hwang Investment Management Bhd, 49% of the latter's Islamic fund management business and 100% of its futures dealing arm for RM1.36 billion cash.
As the bulk of the purchase, or RM1.088 billion, was for 100% of Hwang IB, Affin paid 1.28 times its book value of RM849.26 million as at Jan 31, 2013.
The RM262 million purchase price for 70% of Hwang IM — now Affin Hwang AM — and 49% of its Islamic fund management business was equivalent to 1.81 times the book value of their combined AUM of RM20.86 billion at the time.
Following the acquisition, the combined AM business placed Affin Hwang among the top five in the segment in 2014 based on AUM.
Analysts attribute Affin's AM growth to management independence post-merger.
"There were concerns then that an Affin and Hwang merger would lack cultural fit but, overall, it has turned out better than expected for the asset management business. Affin Hwang AM's management — Teng (Chee Wai) and team — was given autonomy in running the business and that has worked out well. As in any merger, synergy is as important as culture fit. In addition, an asset management business has very much to do with talent and the team," a head of research observes.
In a move to retain the company's key employees, Affin granted Teng, its AM managing director, stock options in 2016. In an announcement to Bursa Malaysia in March last year, Affin Bank said Teng, a 20-year veteran of the industry, had exercised his stock options to acquire 311,080 shares in Affin Hwang AM at RM40.30 each. The 2.8% stake in the asset management company cost him some RM12.54 million.