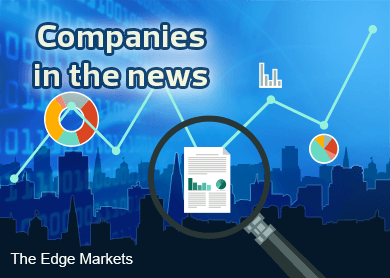 KUALA LUMPUR (May 6): Based on corporate announcements and news flow today, companies that may be in focus tomorrow (Thursday, May 7) could include: Affin Holdings, PMB Technology, C.I. Holdings, Southern Steel, Scanwolf Corp, Berjaya Corp (BCorp), Press Metal and Tropicana Corp.
Affin Holdings Bhd said it will commence negotiations with Japan's Daiwa Securities Group Inc for the latter to acquire a minority stake in its investment banking arm, Affin Hwang Investment Bank Bhd.
This follows an approval from Bank Negara Malaysia (BNM), which has vide its letter dated April 29, 2015, stated it has no objection in principle for Affin to commence negotiations with Daiwa in relation to the proposal.
This is, however, subject to the two parties concluding negotiations within six months from the date of the said letter.
"The said approval should not be construed as approval for the proposal. Upon concluding negotiations, Daiwa and Affin would be required to obtain the prior approval of BNM pursuant to the Financial Services Act 2013, before entering into any agreement to effect the proposal," said Affin in a filing with Bursa Malaysia today.
The financial services group said it will make further announcements as and when there are material developments pertaining to the proposal.
PMB Technology Bhd (fundamental: 0.8; valuation: 2) saw its net profit for the first quarter ended March 31, 2015 (1QFY15) risen 26% to RM1.74 million or 2.25 sen a share, from RM1.38 million or 1.78 sen a year ago, on higher revenue.  
Revenue for the quarter jumped nearly 47% to RM107.034 million, from RM72.98 million in 1QFY14.  
The company declared a dividend of one sen per share for the financial year ending Dec 31, 2015, payable on June 11, 2015.  
C.I. Holdings Bhd swung back into the black in its third financial quarter ended March 31, 2015 (3QFY15), posting a net profit of RM2.24 million, due to better performance from its edible oil products division.
It reported a net loss of RM2.15 million in 3QFY14.
Revenue for 3QFY15 rose 640% to RM71.02 million, from RM9.59 million last year.
In a filing with Bursa Malaysia today, C.I. Holdings' (fundamental: 1.85; valuation: 0.2) said its edible oil products division generated RM2.83 million in operating profit on revenue of RM59.92 million.
For the nine months period (9MFY15), it reported a net profit of RM5.35 million versus a net loss of RM1.86 million a year ago.
Revenue however jumped 834.72% to RM268.7 million, from RM28.75 million in 9MFY14.
Going forward, the group said it will continue its expansion plans for revenue growth for its edible oil operations, and with smart partnership tie-up with property developers for the tap-ware and sanitaryware divisions, to enhance shareholders' value.
Southern Steel Bhd chalked up its third consecutive quarterly loss with a net loss of RM35.58 million in its third financial quarter ended March 31, 2015 (3QFY15), compared to a net profit of RM7.47 million a year ago, due to further erosion of margins from lower selling prices.
Revenue also fell 4.35% to RM675.36 million, from RM706.09 million in 3QFY14, its filing to Bursa Malaysia today showed.
For the cumulative nine months period (9MFY15), Southern Steel (fundamental: 0; valuation: 1.2)'s net loss stood at RM116.34 million, compared with its net profit of RM5.56 million in the same period last year. Revenue meanwhile was down 8.14% to RM1.919 billion, from RM2.089 billion.  
The group said the lower earnings was also attibutable to a one-off impairment of investment of RM17.4 million in an associated company.
 
"Loss before tax (LBT) for the financial year-to-date also includes the group's share of impairment recognised by an associated company of RM14 million," it said.  
On prospects, Southern Steel said the excess steel production is expected to depress steel prices in the medium term.  
Scanwolf Corp Bhd said a preliminary findings report from an investigative review on the group's operations has revealed several "possible irregularities" in the company and certain of its subsidiaries in the property development division.
In a filing with Bursa Malaysia today, Scanwolf which is involved in property development as well as the design and manufacturing of plastic extrusions, said the report was from PKF Covenant Sdn Bhd, whom it appointed to conduct the investigative review on April 23.
Among the possible irregularities found were several conflicts of interest, due to undisclosed relationships between former directors of Scanwolf and Almal Development (M) Sdn Bhd (ADSB).
The report said these relationships were in existence when Scanwolf entered into a joint development agreement with ADSB on May 26, 2011, following ADSB's subscription of Scanwolf Development Sdn Bhd's (SDSB) shares — a Scanwolf subsidiary. These same relationships were also already in place when another joint development agreement dated July 30, 2012 between Scanwolf Properties Sdn Bhd (SPSB) and SDSB, were inked.
Berjaya Corp Bhd (BCorp) has extended its takeover offer for REDtone International Bhd to May 22, 2015, from the original date of May 8, as the conglomerate failed to garner enough acceptances as at today.
According to a filing with Bursa Malaysia, BCorp currently holds 365.05 million shares in REDtone, translating into a 49.63% equity stake in the latter, as compared to its 35.57% stake when the offer document was posted on April 17.
Meanwhile, BCorp (fundamental: 0.9; valuation: 2) holds 40.84 million ICULS, representing 63.93% of REDtone's (fundamental: 2.3; valuation: 0.5) ICULS holdings.
To recap, BCorp had on March 27 offered to acquire REDtone's shares at 80 sen per share and 32 sen per ICULS, through its wholly-owned subsidiary Juara Sejati Sdn Bhd.
The takeover offer is conditional upon Juara Sejati and the parties acting in concert (PACs) holding more than 50% of the voting shares by the closing date.
Press Metal Bhd's net profit jumped 53.9% to RM43.14 million or 3.58 sen a share for the first quarter ended March 31, 2015 (1QFY15), from RM28.03 million or 5.48 sen a share a year ago, on higher production output and selling prices.
Revenue for 1QFY15 came in at RM1.06 billion — a 17.7% increase from RM897.11 million in 1QFY14.
Press Metal also declared a first interim dividend of 3 sen for the financial year ending Dec 31, 2015 (FY15), payable on June 2, 2015.
In a filing with Bursa Malaysia today, Press Metal (fundamental: 0.95; valuation: 2) said the higher revenue achieved was due to higher production output from the recovery of its Mukah Smelting Plant that was shut down in June 2013, due to a power outage.
Production at the plant resumed at full operation in April last year, coupled with higher metal selling price during 1QFY15, it added.
Going forward, Press Metal said the general business environment remains challenging and commodity prices have declined this year, as compared to the same period last year.
Education firm Lasallian Asia Partnership for International Schools Pte Ltd (LAPIS) has decided not to take an equity stake in Tropicana Corp Bhd's project to build an international school in Sungai Buloh, Selangor.
However, the Singapore-based education company will rent the premise, operate and manage the operation of the international school, which will be built by Tropicana Education Management Sdn Bhd (TEM), in which Tropicana Corp holds an 85% stake.
Tropicana Corp (fundamental: 1.3: valuation: 1.5) announced to Bursa Malaysia today that the shareholders agreement inked between the four parties in February last year for the equity participation in TEM, has been mutually terminated.
In the announcement, Tropicana Corp said it received a letter by LAPIS on Jan 29, requesting not to subscribe for shares in or participate in TEM, in accordance with the TEM shareholders agreement.
TEM is to construct the international school in Sg Buloh.
Subsequently, Tropicana Corp, together with TEM, LAPIS and Warisan Istimewa Sdn Bhd, have mutually agreed to terminate the TEM shareholder agreement.
LAPIS will not hold any shares in TEM. The announcement said pursuant to the termination, without the participation of LAPIS, the shareholders of TEM will remain as Tropicana and Warisan Istimewa, with shareholdings of 85% and 15% respectively.
(Note: The Edge Research's fundamental score reflects a company's profitability and balance sheet strength, calculated based on historical numbers. The valuation score determines if a stock is attractively valued or not, also based on historical numbers. A score of 3 suggests strong fundamentals and attractive valuations.)