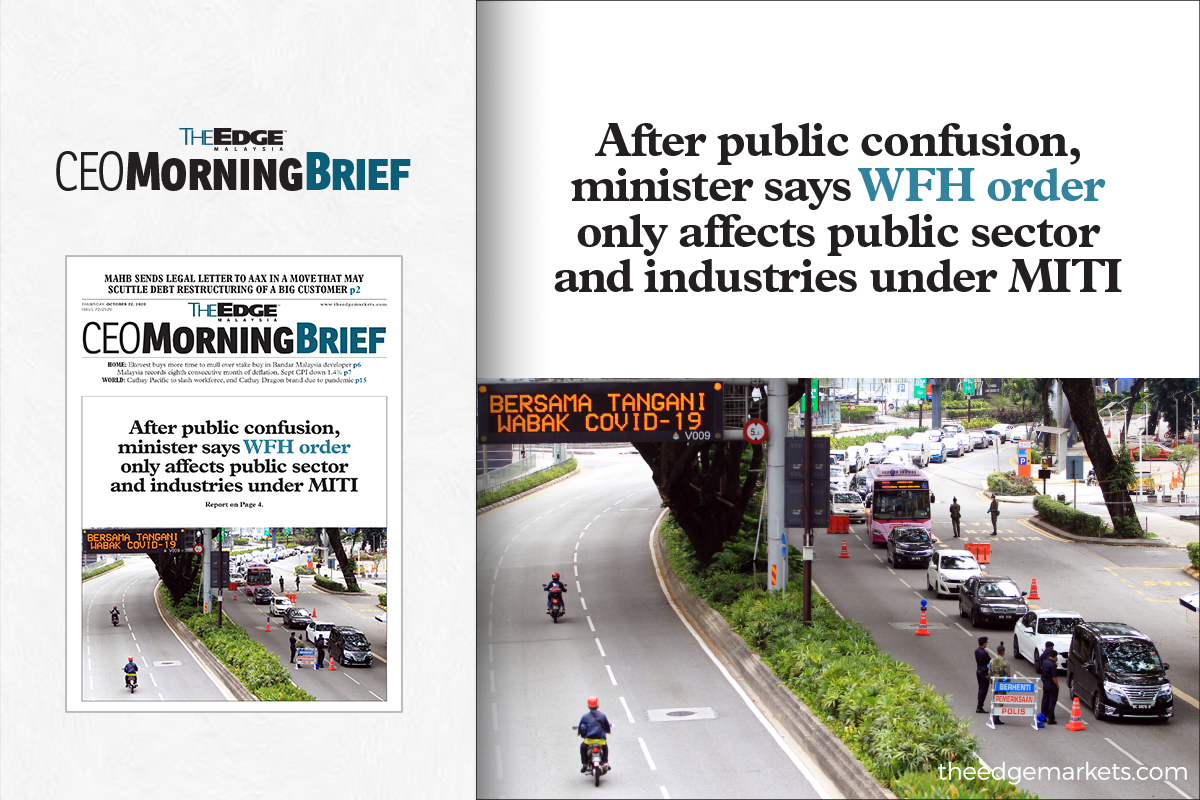 KUALA LUMPUR (Oct 21): The work-from-home (WFH) directive, which will be enforced starting Oct 22 in areas under Conditional Movement Control Order (CMCO), will only apply to the public sector and industries under the Ministry of International Trade and Industry (MITI), according to Senior Minister (Security Cluster) Datuk Seri Ismail Sabri Yaakob.
In his daily security press conference today, Ismail clarified that civil servants in essential services, security and those that are classified as critical, are not affected by this directive.
Besides that, employees in the informal sector are also exempted from the order.
"Workers who are employed in the retail business, restaurants, grocery and convenience stores as well as in the plantation and agriculture sectors are allowed to work as usual in accordance with the SOPs (standard operating procedures) that have been set under CMCO.
"Police and armed forces personnel, employees of public transport companies, taxi drivers, e-hailing and delivery services can also work as usual," Ismail said.
The National Security Council (NSC) on Tuesday instructed managerial- and supervisory-level employees in areas placed under the CMCO — namely Putrajaya, Selangor, Kuala Lumpur, Sabah and Labuan — to work from home starting tomorrow until the order is lifted.
Ismail said the NSC made the decision at a special session on the advice of the Ministry of Health, as it seeks to limit the movements of employees in a bid to halt the spread of the coronavirus.
Earlier today, MITI announced guidelines for managers and supervisors in CMCO areas.
It said up to 10% of employees in these positions would be allowed to work at the office, from 10am to 2pm, three days a
week. The ministry also stipulated that they must be involved in accounting, finance, administration, law, planning and information and communications technology.
On a separate matter, Ismail also clarified today that the mandatory Covid-19 test for workers in red zones only applies to foreign workers.
Other employees in red zone areas are only "highly recommended" to go through the swab test but the government is not making it mandatory.
"The swab test is mandatory for foreign workers, such as those in the construction sector or [those] working as security guards, and those with symptoms. They must be tested," he said.
"Swab tests are highly recommended [for local workers] so that infections can be detected early to avoid the emergence of new clusters in workplaces.
"Our advice is to get this done so that workers' health status can be determined to avoid them from endangering their families and co-workers," Ismail added.
Yesterday, Ismail said that those who need to be at the office but are living in red zones, as well as foreigners employed as security guards and construction workers in CMCO areas, would need to take a swab test for the coronavirus.