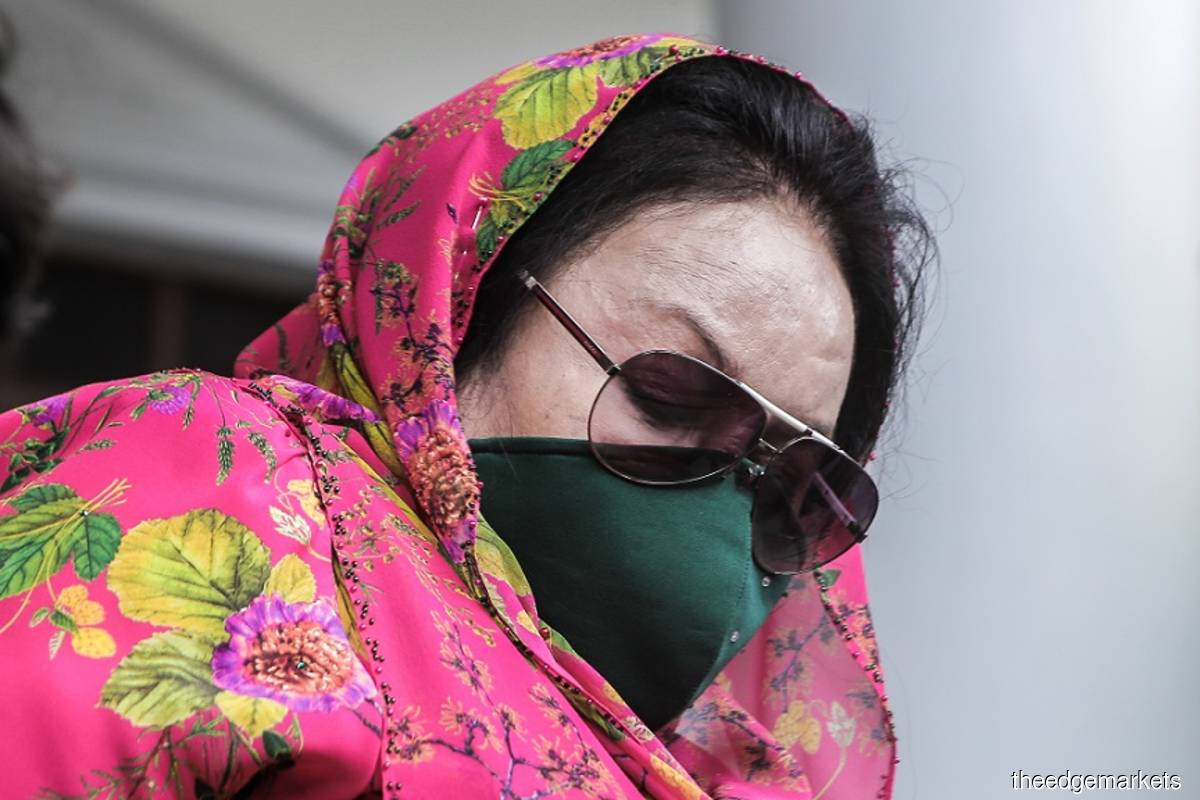 KUALA LUMPUR (July 6): "No arguable case, frivolous and vexatious," the Attorney-General's Chambers (AGC) has argued in its objection to Datin Seri Rosmah Mansor's bid to challenge the appointment of Datuk Seri Gopal Sri Ram as senior deputy public prosecutor in her RM1.25 billion solar hybrid project graft trial, which is an attempt to nullify her completed trial.
In court documents sighted by theedgemarkets.com, the AGC — the first respondent in the matter — filed a preliminary objection (PO) on Wednesday (July 6) to Rosmah's application for leave (permission).
"This application for leave must be dismissed forthwith as there is no arguable case and this application is nothing but frivolous and vexatious, a hopeless case which does not merit further investigation on a full inter partes basis," contended senior federal counsel Shamsul Bolhassan.
In judicial review cases, leave (permission) has to be granted to ensure that the application is not frivolous or an abuse of the court process.
The wife of former premier Datuk Seri Najib Razak filed the application on June 24 naming the Attorney-General/Public Prosecutor, government of Malaysia and Sri Ram as respondents.
She is seeking a declaration that her solar hybrid trial is null and void. The declaration is premised on the legality of Sri Ram's letter of appointment or "fiat".
Application made out of time
In the PO, Shamsul pointed out that the application for judicial review was made out of time as it should have been made within three months when the grounds for dissatisfaction first arose.
"[It is our submission] that [the] three-month time limitation is a rigid rule that has to be complied with by any party seeking to make an application for judicial review," he said, adding her application interferes with the due administration of criminal justice.
Rosmah's application revolves around Sri Ram's appointment to head the prosecution in her criminal trial, which commenced in November 2018.
High Court Judge Mohamed Zaini Mazlan is set to deliver his decision on Sept 1.
Justice Ahmad Kamal allows Sri Ram to appear as putative respondent
The leave application hearing was set for Wednesday (July 6) before Justice Datuk Ahmad Kamal Md Shahid. However, Rosmah's counsel Datuk Jagjit Singh requested for more time as they had just received the AGC's PO on Wednesday afternoon.
Justice Ahmad Kamal said on Wednesday that he is using his discretion to allow Sri Ram to appear as a putative respondent in the matter.
The High Court judge then set Aug 4 to hear the AGC's PO submission and Sri Ram's affidavit to oppose leave which he had filed on June 28.
Rosmah is also represented by Datuk Akberdin Abdul Kader in the matter.
Rosmah contends all three of Sri Ram's fiats
In her application, Rosmah is also seeking a declaration that all three fiats of Sri Ram — dated July 8, 2020, May 11 and May 21, 2021 — were invalid.
She contends that first fiat was an afterthought as it was signed by Attorney-General (AG) Tan Sri Idrus Harun on July 8, 2020 when it should have been signed by then AG Tan Sri Tommy Thomas on or before her prosecution on Nov 15, 2018.
She also disputes Thomas's explanation that an oral fiat (authorisation) was sufficient.
Furthermore, she contends that the second fiat is "non-existent" as Thomas in his book "My Story: Justice in the Wilderness" published in 2021, stated that Sri Ram's appointment was related to 1Malaysia Development Bhd which Rosmah claims excludes her solar corruption trial.
As for the third fiat, she claims that it cannot be retrospective as it will prejudice her rights.  
Subsequently, she is also seeking a declaration that she be acquitted and discharged of the charges in the solar case.
Sri Ram, a former federal court judge, has acted as lead deputy public prosecutor since the start of Rosmah's criminal trial.
'Declaratory orders within purview of Civil Courts'
Rosmah's previous applications revolving around the same issues had been dismissed by the Criminal High Court, The Court of Appeal (CoA) and the Federal Court.
In rejecting her application on Sept 24, 2021, Judge Zaini ruled that Sri Ram's appointment by then attorney-general Thomas was valid.
Her appeal at the CoA was rejected on Dec 6, 2021. CoA Judge Datuk Hanipah Farikullah, who led a three-member bench, ruled that the criminal court, empowered by the Criminal Procedure Code (CPC), does not have the jurisdiction to grant the declarations sought.
Concurring with the appellate court, the Federal Court also dismissed Rosmah's final appeal on the matter on May 27, 2022. In its ruling, a three-member panel led by Justice Datuk Seri Mohd Zawawi Mohd Salleh said there are other laws such as the Courts of Judicature Act 1964 which confer the inherent powers to the civil court.
Read also:
Decision on Rosmah's solar hybrid graft trial postponed to Sept 1
Rosmah loses final appeal to remove Sri Ram as lead prosecutor in solar hybrid graft trial
Sri Ram to continue leading prosecution in Rosmah's solar hybrid project corruption trial — appellate court
Rosmah fails in bid to recuse Gopal Sri Ram, nullify trial proceedings