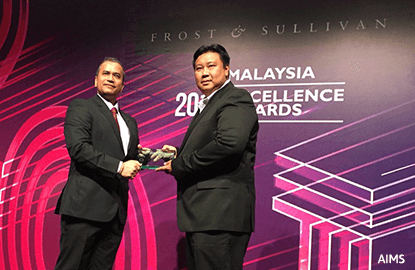 KUALA LUMPUR (April 27): Carrier-neutral data services provider AIMS Group has achieved the international ISO/IEC 20000-1:2011 certification on IT service management system from the British Standards Institution (BSI).
In a statement today, AIMS Group said the ISO 20000 is a highly respected international IT service management standard that promotes an integrated process approach to effectively deliver services to meet business and customer requirements and it is also the global de facto standard for IT services.
It said the certification was awarded to AIMS after an extensive audit by BSI Services Malaysia, a leading certification body training and business improvement provider.
AIMS has become the first datacentre in Asia-Pacific to partner with Network Infrastructure Inventory Inc (Ni2) to provide customers with IT service management, operational support systems and data center infrastructure management capabilities in one platform.
AIMS Group chief executive officer Chiew Kok Hin said that with the Ni2 platform in place, AIMS will be able to provide faster and more efficient services to its customers.
"This investment is part of AIMS's constant mission to provide world-class service for our customers while continuing to deliver or even exceed our customers expected level of service.
"Customers can expect faster trouble shooting or automated trouble shooting, integrated monitoring, optimised infrastructure design for faster capacity delivery, improved customer experience and enhanced self-management capabilities on the customer portal," he said.
AIMS was also recently announced the 2016 "Data Centre Services Provider of the Year" by Frost & Sullivan.