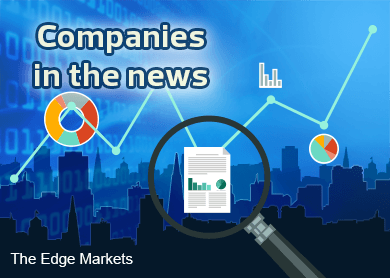 KUALA LUMPUR (Jun 3): Based on corporate announcements and newsflow today, the companies that may be in focus tomorrow (Thursday, Jun 4) could be the following: AirAsia, Asdion, Silk Holdings, Melati Ehsan, BHS Industries, Kelington Group, Telekom, TIME dotCom, CCM Duopharma, Biosis, Bertam, Paramount, New Hoong Fatt
Budget airline AirAsia Bhd (fundamental: 0.2; valuation: 0.8) is in talks with Malaysia Airline Bhd (MAB) regarding collaboration on reducing cost and jobs creation between the two airlines.
AirAsia Group chief executive officer Tan Sri Tony Fernandes said the management is getting excited as this is the first time in 15 years that MAB and Khazanah Nasional Bhd are focused in making the airline profitable.
He did not rule out the possibility that the collaboration would involve maintenance, repair and operations (MRO), but as the discussion is preliminary, he declined to unveil much details.
Asdion Bhd secured a US$112 million (about RM412 million) deal to provide logistics service to a Hong Kong-based commodities trader.
In a statement to Bursa Malaysia today, IT software developer Asdion (fundamental: 1.65; valuation: 0.0) said its wholly-owned subsidiary Venice Sanctuary Sdn Bhd signed a sourcing and off-take agreeement with Hong Kong International Mining Exchange Ltd (HKIM) for the delivery of bauxite.
Asdion said it agreed to deliver four million tonnes of bauxite at a base price of US$28 per tonne for two years. Asdion said the bauxite would be delivered from Kuantan Port in Pahang starting next month (July).
Offshore support vessels service provider Silk Holdings Bhd was awarded a RM21.17 million contract from Vestigo Petroleum Sdn Bhd for the provision of marine vessel services.
In its filing with Bursa, Silk (fundamental: 0.2; valuation: 0.3) said its subsidiary Jasa Merin (Malaysia) Sdn Bhd is the entity that was awarded the job to support Vestigo's drilling programme and production for the latter's Tembikai Field development.
The contract will be commencing from the third week of June 2015, for a primary term of two years, according to the filing.
Turnkey contractor and property developer Melati Ehsan Holdings Bhd's subsidiary, B.H.O Melati Sdn Bhd (BHOME), entered into a 30-year concession agreement with the Education Ministry and Universiti Malaysia Sabah (UMS) today, to undertake the development of the university's teaching hospital in Kota Kinabalu, Sabah, for RM652.9 million.
In a filing with Bursa, Melati Ehsan (fundamental: 1.8; valuation: 1.4) said its 49%-owned BHOME would undertake the planning, construction, equipping, testing and commissioning of the facilities and infrastructure of UMS Teaching Hospital, and carry out the Asset Management Services.
Melati Ehsan said the construction for the facilities and infrastructure of the project are expected to be completed within 36 months from the construction commencement date.
Publication printing company BHS Industries Bhd is buying a complete set of production line for the production of wood free paper pulp at a price of RM17.79 million.
In its filing with Bursa Malaysia, BHS Industries (fundamental: 1.65; valuation: 0.5) said its wholly-owned subsidiary Nextgreen Pulp & Paper Sdn Bhd had on Jun 3, entered into a sale and purchase agreement with China-Shaanxi Zhisen Pulp & Paper Engineering Co Ltd, for the said acquisition.
Kelington Group Bhd has entered into a collaboration agreement (CA) with Petro Allied International DMCEST (PAI) to bid for potential energy and oil and gas (EO&G) industry projects in the Middle East.
Kelington provides one-stop facility solution for delivery system of Ultro-High Purity (UHP) gas, chemical and exhaust.
In a filing with Bursa, Kelington (fundamental: 1.4; valuation: 1.4) said both parties were desirous of combining resources and expertise to pursue selective and mutually-agreed opportunities involving the EO&G industry in the Middle East.
Kelington said the CA shall take effect on June 3 this year and shall continue to be valid and binding upon the expiry of a period of one year or such extended period as may be mutually agreed between the two parties.
Telecommunications giant Telekom Malaysia Bhd announced that it has agreed with TIME dotCom Bhd's subsidiary TT dotCom Sdn Bhd to extend the Memorandum of Understanding (MOU) that both parties have signed by two months.
In a filing to Bursa Malaysia today, Telekom (fundamental: 1.0; valuation: 1.1) explained that the extension is to finalise and execute the construction and maintenance agreement on or before August 2, 2015, or another date that is mutually agreed on by both parties in writing.
It added that all provisions contained in the MOU will remain in full force and effect.
Pharmaceutical product maker CCM Duopharma Biotech Bhd announced today that the issue price for its 139.48 million renounceable rights shares — to raise funds for the acquisition of six pharmaceutical units from parent company Chemical Company of Malaysia Bhd (CCM) — have been fixed at RM1.80 per share.
In a filing with Bursa Malaysia, CCM Duopharma (fundamental: 3.0; valuation: 1.5) said the issue price represents a discount of approximately 34.85% to the theoretical ex-rights price of CCM Duopharma shares of RM2.76, based on the five (5)-day volume weighted average market price of the shares up to and including June 2, 2015 of RM3.73.
Another pharmaceutical product maker, Biosis Group Bhd, said Bursa Malaysia did not take the former's additional key management personnel into consideration before rejecting the regularisation plan.
Biosis (fundamental: 0.0; valuation: 0.0), which is a company listed under the exchange's Practice Note 17, also contended that the bourse had overlooked the company's operating profit.
The group said it will deliberate on Bursa's decision and make relevant announcement on the matter.
Property developer Bertam Alliance Bhd's managing director (MD) Andrew Lim Nyuk Foh loaded another 4.79% stake or 9.9 million shares onto his portfolio on May 29 through the open market.
In a filing with Bursa Malaysia, the acquisition was done at 80 sen per share, which was 16.79% premium to the closing price of 68.5 sen on May 29.
According to Bertam (fundamental: 1.35; valuation: 1.1)'s annual report for the financial year 2014, Lim owns 8.54% stake in the group as at Apr 23 this year.
With the latest acquisition, Lim has a collective shareholding of 13.33% in Bertam.
Property developer Paramount Corp Bhd aims to achieve its RM600 million property sales target within the next three years, capitalising on existing projects and RM2 billion worth of bids.
Group chief executive officer Jeffrey Chew Sun Teong revealed one of Paramount (fundamental: 1.4; valuation : 2.6)'s bid in its tender book includes the Employees Provident Fund's Kwasa Damansara project in Sungai Buloh, Selangor.
Chew added that as four of the group's property projects are coming on board in the next few years, they will help Paramount to achieve the RM600 million property sales target.
Automotive replacement parts maker New Hoong Fatt (NHF) Holdings Bhd expects to perform better in 2015 despite challenges in Malaysia and Asean markets.
After the annual general meeting today, group managing director Chin Jit Sin told reporters that the company is "hoping" for a double-digit growth in its revenue in 2015.
Chin also revealed that NHF (fundamental: 1.95; valuation: 2.0) will allocate RM20 million as capital expenditure (capex) this year, mainly for the product design of its manufacturing segment.
(Note: The Edge Research's fundamental score reflects a company's profitability and balance sheet strength, calculated based on historical numbers. The valuation score determines if a stock is attractively valued or not, also based on historical numbers. A score of 3 suggests strong fundamentals and attractive valuations.)