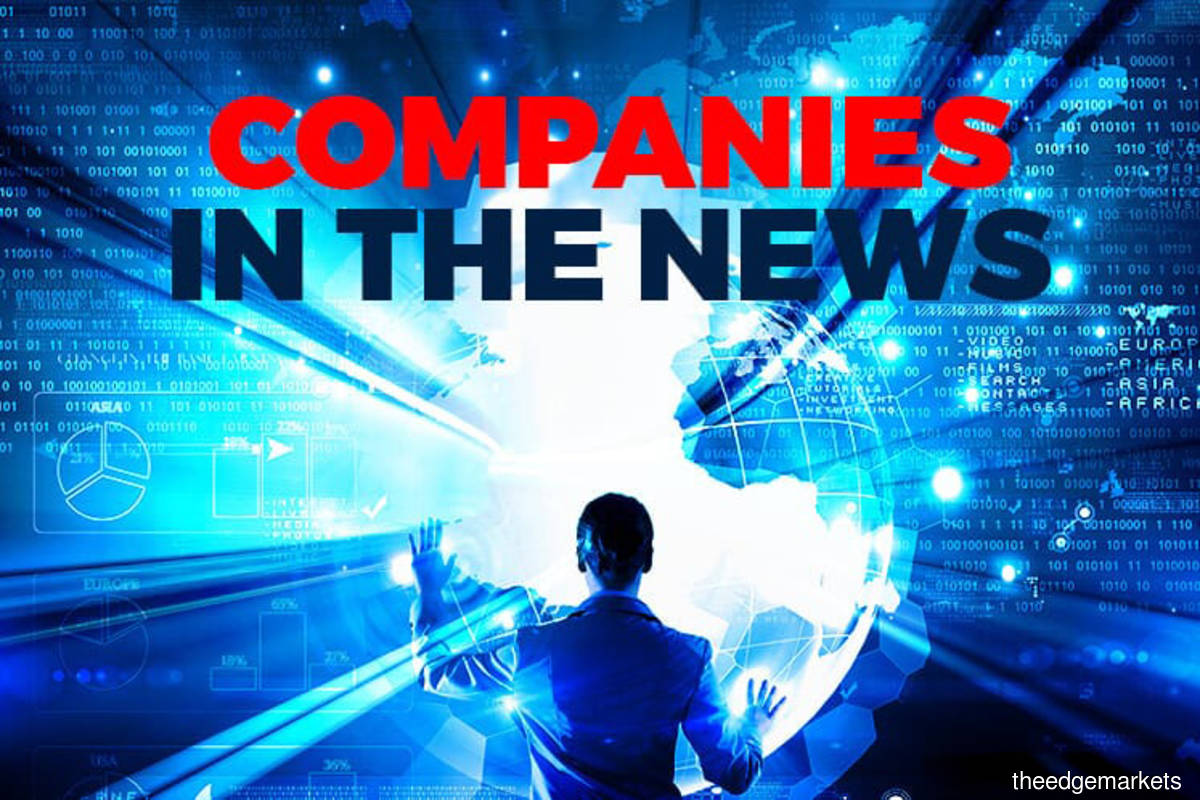 KUALA LUMPUR (Jan 21): Based on corporate announcements and news flow today, stocks that may be in focus on Friday (Jan 22) include AirAsia Group Bhd, Green Packet Bhd, Dagang NeXchange Bhd, Genting Malaysia Bhd, UOA REIT, Pantech Group Holdings Bhd, CIMB Group Holdings Bhd, Pertama Digital Bhd, Versatile Creative Bhd, and Top Glove Corp Bhd.
AirAsia Group Bhd is proposing to issue up to 668.39 million new shares or 20% of its current share capital for private placement to raise RM454.51 million. The proposed sum is based on an indicative price of 68 sen per share. AirAsia Group closed at 73 sen, valuing the airline at RM2.44 billion. The low-cost carrier said the private placement is not sufficient to meet its long-term cash flow. The move is an interim measure to address its immediate cash flow operations while it explores other options to improve its long-term financial performance.
A tech fund promoted by Green Packet Bhd is funding the majority shareholders of Nuglobal Ventures Sdn Bhd which is keen on taking over Khazanah Nasional Bhd's semiconductor fabricating company SilTerra Malaysia Sdn Bhd. Green Packet said Nuglobal Ventures has submitted a bid for SilTerra. However, it highlighted that the bid is subject to strict confidentiality with Khazanah and no detail of the bid can be publicly disclosed now. Green Packet stressed that Nuglobal Ventures is neither its associate company nor its subsidiary, and is owned by majority local bumiputera shareholders and minority Chinese shareholders.
Dagang NeXchange Bhd (DNeX) today clarified that it has not entered into any definitive agreement to acquire Khazanah Nasional Bhd's semiconductor fabricating company SilTerra Malaysia Sdn Bhd. It said the company nevertheless is constantly evaluating various proposals to grow its business organically or through acquisitions including that of SilTerra.
Genting Malaysia Bhd's (GenM) Resorts World Genting, Resorts World Away, Resorts World Kijal and Resorts World Langkawi will be temporarily closed following the implementation of the Movement Control Order in six more states. The gaming giant also announced that its Resorts World Birmingham, alongside all land-based casinos in the UK, will be temporarily closed until further notice, in compliance with the British government's directives to curb the spread of Covid-19. Its online business GentingBet.com is still operational.
UOA Real Estate Investment Trust's (REIT) net rental income for the fourth quarter ended Dec 31, 2020 fell 10.81% to RM12.98 million, from RM14.61 million a year earlier. The fall was due to rental rebates given to eligible tenants, the commercial REIT said in a bourse filing. UOA REIT declared a distribution per unit of 4.6 sen, compared with 2.3 sen a year ago. There was an 8.42% decline in the REIT's quarterly revenue to RM18.11 million from RM19.78 million.
Pantech Group Holdings Bhd, which supplies pipes and valves to the oil and gas (O&G) industry, said third-quarter net profit fell 14.8% to RM8.75 million from RM10.27 million a year earlier as revenue dropped partly due to a decrease in sales of the company's products to O&G customers at a time when the industry contended with the impact of the Covid-19 pandemic. Pantech said revenue slipped to RM133.04 million in the third quarter ended Nov 30, 2020, from RM165.51 million a year earlier.
CIMB Group Holdings Bhd's 94.8%-owned subsidiary CIMB Thai Bank PCL saw its net profit for the financial year 2020 (FY20) ended Dec 31, 2020 decline 36% from a year earlier to 1.29 billion baht (RM173.96 million). The fall in earnings was attributed to a 60% increase in provisions to 2.68 billion baht as at the end of FY20 from 2.3 billion baht at the end of FY19. The bank also registered an expected credit loss of 4.47 billion baht in FY20.
Pertama Digital Bhd is urging banks to lift limits on FPX transactions as it predicts that digital bail collections will rise further this year after the Covid-19 pandemic forced courts to move their operations to digital platforms. Its executive director Sabri Abdul Rahman said this would enable the full adoption of its digital bail payment solution eJamin.
Independent adviser BDO Capital Consultants Sdn Bhd has advised Versatile Creative Bhd's minority shareholders to accept its largest shareholder NSK Trading Sdn Bhd's takeover offer as the deal is "fair and reasonable". BDO said the offer price of 70 sen is fair because it represents a premium of 44 sen or 169.2% to the estimated fair value per Versatile Creative share of 26 sen. The offer price also represents a discount of 7.28% per share to the closing price at the latest practicable date (LPD) of 75.5 sen and 2.45% to the five-day volume-weighted average market price up to the LPD. It said the offer is reasonable as Versatile Creative shares are relatively illiquid and in the absence of a competing offer, the offer provides an opportunity to the holders to realise their investment in Versatile Creative.
Top Glove Corp Bhd said its annual rubber glove production capacity has reached 91 billion pieces as at January 2021 as demand for gloves continues to be strong despite the availability of vaccines to curb the Covid-19 pandemic. The world's largest rubber glove manufacturer in terms of production capacity expects to have an annual output capacity of 110 billion gloves by December 2021 as the company adds new capacity of 19 billion pieces of gloves for the year. Top Glove said its current annual production capacity of 91 billion pieces gloves has been achieved via collective output across the group's 36 glove factories out of the company's total of 47 factories.