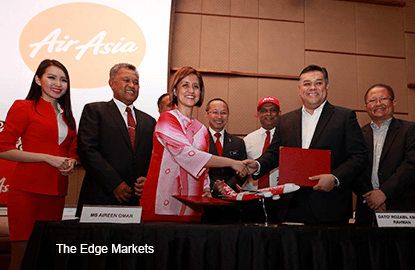 KUALA LUMPUR (July 27): After just over a year of operating at klia2, its main tenant AirAsia Bhd said the new budget passenger terminal is sinking and wants to move its operations back to the previous low-cost carrier terminal (LCCT) until issues at the klia2 are resolved.
AirAsia chief executive officer (CEO) Aireen Omar said today the continuous remedial works at the RM4 billion klia2 is hindering AirAsia's operations, making it difficult for the low-cost carrier to operate efficiently.
The airline has also incurred significant additional operational costs to mitigate the impact on its operations from the conditions of the new budget terminal, she said.
"We had to buy a whole new set of equipment to accommodate the conditions at the airport, which is not right," she told reporters after witnessing the signing ceremony between AirAsia Bhd and Destini Aviation Sdn Bhd for their collaboration for maintenance, repair and overhaul (MRO) services.
"Politically, we don't know if they will allow it (move back to LCCT) but that is the best option now.
"We know how LCCT works, we may need to add parking space because we have more aircrafts to deal with but at least we know the kind of grounds we are operating on as opposed to checking bays every day for continued depression," she added.
Earlier today, Bloomberg had reported, quoting Aireen, that klia2, constructed on peat land, is sinking, with cracks appearing in the taxiway and water forming pools that planes must drive through.
AirAsia reportedly told the news wire that those issues could cause flight delays, pose potential safety risks and increase wear and tear on planes. Aireen also called on the authorities to fix the problems at klia2 before passengers get hurt.
The new budget terminal has previously come under the limelight throughout its construction period, various delays and a whopping cost overrun. In July 2007, it was announced that klia2 would cost RM1.7 billion. The amount was increased to RM2 billion in March 2009. The final cost, which has shocked many, turned out to be RM4 billion.
In an emailed response, klia2 operator Malaysia Airports Holdings Bhd (MAHB) told Bloomberg that the ground settling "has been anticipated since the start of construction". It also said that depressions and ponding at klia2 were caused by differential soil settlement in the apron and taxiway, where parts of the structure was built on piling and other parts on normal ground.
MAHB has been patching and resurfacing problem areas as well as providing stability to the ground by adding concrete slabs. Meanwhile, the Transport Ministry had said in May that it backed the Public Accounts Committee's call for the Auditor-General to conduct further investigations into the management of the construction and development of klia2.
Aireen said after the signing ceremony today that the government may not be receiving the necessary information on the conditions at klia2 for them to take proper action.
"The government cares about safety, but they may not be getting the whole information for them to act. We cannot have an airport that is always under construction. We cannot have bases closing every month," she said.
"They (government) need to find a permanent solution in a most efficient way," she added.
Also present at the event was AirAsia Group CEO Tan Sri Tony Fernandes, who expressed his frustration at the budget terminal's conditions.
"I tweeted a picture just now of our aircraft. The wheel was bent because the aircraft went over the chock because the airport is sinking right, so it's moving. We should never have moved. I was right. The management of AirAsia was right.
"We should have let the ground settle, fix it and then move," he added.
Fernandes also said AirAsia is the largest airline operating at klia2 and deserves good service.
"Let's stop this hiding, be transparent, be honest, it needs to be fixed, let's fix it," he said.
"Malaysia cannot continue to keep hiding, and not admitting. Someone has to be accountable, the board (of MAHB) has to take responsibility," he added.