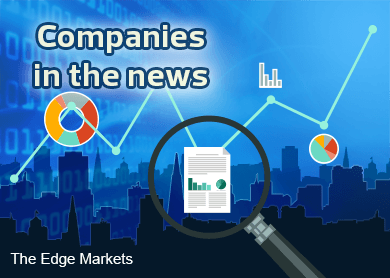 KUALA LUMPUR (May 28): Based on corporate announcements and news flow today, companies in focus tomorrow (Friday, May 29) could be: AirAsia, Maybank, Genting Malaysia, Goldis, Karex, IHH Healthcare, Magnum, CB Industrial Product, Tan Chong Motor, Kimlun, Perwaja, Dominant Enterprise, Lion Corp and Genting.
AirAsia Bhd returned to the black in the first quarter ended March 31, 2015 (1QFY15), after posting a loss in the last quarter.
The low-cost airline recorded a 6.9% increase in net profit to RM149.33 million or 5.4 sen per share in 1QFY15, from RM139.72 million or 5 sen per share a year ago, as it benefited from lower fuel expenses and a gain on disposal of interest in AirAsia Expedia Travel.
AirAsia's revenue fell by a marginal 0.4% to RM1.297 billion in 1QFY15, compared with RM1.302 billion in 1QFY14.
The airline attributed the lower quarterly revenue to average fare falling by 9%, despite a 3% increase in passenger volume, which was partially contributed by the overall improvement in passenger volume from China.
Malayan Banking Bhd (Maybank) reported a 6% rise in first quarter net profit from a year earlier, as interest and Islamic banking income grew. Higher insurance income also supported bottom line growth.
In a statement to Bursa Malaysia, Maybank (fundamental: 1.5; valuation: 1.45) said net profit rose to RM1.7 billion in the first quarter ended March 31, 2015 (1QFY15), from RM1.6 billion. Revenue was higher at RM9.18 billion, versus RM8.36 billion.
It said the profit rise was also due to a higher foreign exchange gain of RM232.6 million, higher unrealised mark-to-market gain on financial assets at fair value through profit or loss (FVTPL) of RM213.1 million, and higher fee income of RM151.9 million.
Genting Malaysia Bhd's net profit grew a marginal 1% to RM362.10 million in the first quarter ended March 31, 2015 (1QFY15), from RM358.29 million a year ago, mainly due to contributions from its Malaysia and US operations.
Revenue was up 3% at RM2.09 billion, from RM2.03 billion in 1QFY14, its filing on Bursa showed.
Genting Malaysia (fundamental: 2.4; valuation: 0.8) also said its Malaysian business' revenue grew 2% to RM1.39 billion, primarily on higher volume of business, despite lower hold percentage in the premium players business.
Revenue from the group's US operations, including Resorts World Bimini (Bimini) in the Bahamas, improved by 22% to RM313.8 million, largely contributed by higher volumes of business from the Resorts World Casino New York City (RWNYC) and Bimini operations.
Its UK business revenue, however, fell 7% to RM355.7 million, mainly due to lower hold percentage and volume of business in its international markets division, which cater to the premium players business.
Goldis Bhd's net profit jumped 71% on-year to RM33.39 million or 5.49 sen per share for its first quarter ended March 31, 2015 (1QFY15), from RM19.56 million or 3.31 sen per share, as its property development segment saw a 95% revenue spike.
The group's revenue for the quarter was up 13% on-year at RM365.50 million, from RM322.06 million, a filing with Bursa showed.
The increase in revenue was mainly contributed by the property development segment, which leapt to RM89.4 million, from RM45.8 million in 1QFY14, on the completion and hand-over of 468 units of service apartments at G Residence, which achieved over 93% in sales with a value of RM157 million, said Goldis (fundamental: 0.5; valuation: 1.1).
Karex Bhd saw its net profit rise 31.8% to RM15.21 million or 2.45 sen a share for the third financial quarter ended March 31, 2015 (3QFY15), from RM11.54 million or 1.9 sen a share a year earlier, on sales of higher profit margin products, favourable currency exchange rates and lower raw material prices.
Revenue, however, was 4.3% lower at RM71.4 million, from RM74.62 million in 3QFY14, due to higher commercial orders received in the current quarter, resulting in longer lead time for production.
The condom manufacturer's cumulative nine months (9MFY15) net profit increased to RM42.59 million or 6.96 sen a share, a 90.3% increase from RM22.38 million or 5.5 sen a share a year ago; while revenue also increased by 39.4% at RM218.53 million, from RM156.79 million in 9MFY14.
In a filing with Bursa, Karex said demand for condoms remains strong around the world, with consumption of condoms expected to rise in tandem with population growth and increasing awareness on the importance of condom usage among the younger generations.
IHH Healthcare Bhd's net profit increased 7.8% to RM171.48 million or 2.1 sen per share in the first quarter ended March 31 (1QFY15), from RM159.05 million or 1.96 sen per share in the previous corresponding period, on higher inpatient admissions and overall revenue growth.
In a filing with Bursa, IHH Healthcare (fundamental: 1.65; valuation: 0.7) posted a 13.6% increase in revenue to RM2 billion in 1QFY15, compared to RM1.76 billion in the first quarter of financial year 2014 (1QFY14).
The company said the improved earnings were primarily driven by higher inpatient admission, overall revenue intensities and the ramp up of operations of Acibadem Atakent Hospital in Turkey, as well as Pantai Hospital Manjung in Malaysia — both of which opened in 2014.
IHH Healthcare also said the group reaped the benefits of its diversified operations across 10 countries, as a strong Singapore dollar helped to offset the translational loss of a weak Lira to the group's reporting currency, the ringgit.
Number forecast operator Magnum Bhd's net profit jumped 9.97% to RM90.76 million or 6.4 sen per share for the first quarter ended March 31, 2015 (1QFY15), from RM82.53 million or 5.8 sen per share a year ago, on higher gaming profit, mainly due to lower prizes payout.
Magnum's (fundamental: 1.7; valuation: 1.4) quarterly revenue, however, fell slightly to RM791.28 million, from RM792.55 million in 1QFY14, on lower gaming sales for the current quarter, due to one less draw which was mitigated by higher sales from the jackpot game and contribution from the new game.
CB Industrial Product Holding Bhd (CBIP) is expected to secure up to RM500 million worth of contracts for its palm oil engineering business, giving it a double-digit growth in revenue this year.
Its managing director Lim Chai Beng said the group is currently bidding for 10 palm oil mill projects, worth some RM10 million to RM70 million each, with most of the projects located overseas, from Indonesia to Papua New Guinea.
Year-to-date, CBIP has secured four palm oil mill contracts worth RM250 million, said Lim, who expects more contracts in the next two to three months.
The current outstanding orderbook for the palm oil engineering division is RM420 million, which will last the group one-and-a-half years.
RAM Rating Services Bhd downgraded its outlook on Tan Chong Motor Holdings Bhd's long-term debt ratings to negative, from stable.
In a statement, RAM's consumer and industrial ratings head Kevin Lim said the negative outlook on Tan Chong (fundamental: 0.55; valuation: 2), which distributes Nissan cars in Malaysia, was due to the company's cash flow-protection measures and profit margin concerns.
The revision of the outlook is premised on RAM's concern that the group's cashflow-protection measures and margins will remain pressured by intense competition in the automotive industry and the weak ringgit, amidst dampening demand post-implementation of the GST.
Engineering and construction services provider Kimlun Corp Bhd's net profit for the first quarter ended March 31, 2015 (1QFY15) was down 25.6% to RM14.12 million or 4.7 sen per share, from RM18.97 million or 7.02 sen per share a year ago, primarily due to gains made from land disposal in 1QFY14.
Its revenue in 1QFY15 had also dipped 3.2% to RM322.17 million, from RM332.69 million in 1QFY14.
Kimlun (fundamental: 1.3; valuation: 2.4) said if contribution of the disposals is removed, the group would have achieved a growth in revenue and gross profit of 12.6% and 34.6% respectively in the current quarter, as compared to 1QFY14.
 
The construction division's revenue, which improved by 14% with a few large projects secured, continued to be the main revenue contributor to the group — making up 84% of the current quarter's revenue.
Perwaja Holdings Bhd saw its net loss for the three months ended March 31, 2015 at RM119.57 million, on zero production and low sales volume.
It told Bursa that its financial year end has been changed to June 30, from Dec 31, to cover the 18-month period from Jan 1, 2013 to June 30, 2014, hence there is no corresponding quarter for comparison.
Perwaja said within the current quarter under review, the group reported a revenue of RM200,000, mainly due to zero production and low sales volume.
The zero production was affected by the gas and electricity supply curtailment by Petronas and TNB, at the material time, which had caused Perwaja's unit Perwaja Steel Sdn Bhd (PSSB)'s to be unable to secure the necessary working capital for resumption of production.
For the cumulative nine months ended March 31, the group's net loss was at RM233.72 million.
Dominant Enterprise Bhd (DEB) has proposed a twin-bonus for shareholder: a bonus issue of some 27.5 million new shares, on the basis of one bonus share for every five shares held by its shareholders, together with the issuance of 45.8 million free warrants to accompany the bonus issue, on the basis of one warrant for every three existing shares held.
DEB (fundamental: 1.1; valuation: 3.0) said the entitlement date for the issuances will be determined at a later date.
Meanwhile, DEB saw its net profit decline 24% to RM9.57 million or 6.96 sen per share for its fourth quarter ended March 31(4QFY15), from RM12.52 million or 8.99 sen per share a year earlier.
The lower net profit was despite a 16% increase in revenue to RM143.63 million, from RM123.74 million in the previous year.
The group proposed a single-tier final dividend payment of one sen per share for FY15, bringing its total dividend payment per share to five sen for the year.
Full year net profit fell 3% year-on-year to RM22.43 million, from RM23.13 million; while revenue rose 15% to RM547.61 million, from RM477.73 million.
DEB said its manufacturing division had posted lower operating profit of RM1.86 million in 4QFY15, despite an increase in revenue, market share expansion and newly-developed products.
Lion Corp Bhd saw its net loss widen 14% to RM105.93 million for its third quarter ended March 31, 2015 (3QFY15), from a net loss of RM92.88 million a year before, as revenue dipped 6.6% to RM571.47 million, from RM611.93 million.
For its nine months ended March 31 (9MFY15), Lion Corp's net loss deteriorated 40% to RM315.17 million, from RM224.90 million in 9MFY14. Revenue meanwhile, declined 9% to RM1.65 billion, from RM1.82 billion during the same period, its filing to Bursa showed.
The Practice Note 17 (PN17) company said its weaker 9MFY15 performance was due to sluggish demand for flat steel products in both the domestic and overseas market, and a foreign exchange loss of RM47 million resulting from the strengthening of the US dollar against the ringgit.
The group said dumping activities by foreign millers remain rampant and that the group continues to run its plants at low production capacity, which caused it to incur losses for the quarter under review.
Genting Bhd's net profit for the first quarter ended March 31, 2015 (1QFY15) went up 24.6% to RM620.1 million, from RM497.5 million, partly driven by gains on the disposal of financial assets.
Revenue however, dipped 6.9% to RM4.37 billion, from RM4.69 billion in 1QFY14, its filing to Bursa showed.
Genting (fundamental: 2.1: valuation: 0.8) saw lower revenues from Resorts World Sentosa (RWS)— both the gaming and non-gaming segments; its casino business in the UK, its plantation segment, as well as its power division.
(Note: The Edge Research's fundamental score reflects a company's profitability and balance sheet strength, calculated based on historical numbers. The valuation score determines if a stock is attractively valued or not, also based on historical numbers. A score of 3 suggests strong fundamentals and attractive valuations.)