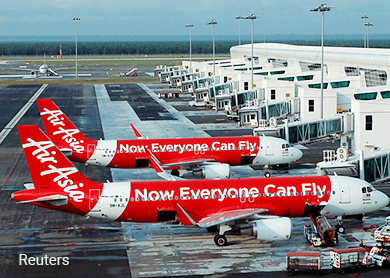 KUALA LUMPUR (July 8): AirAsia Bhd's shares fell 11 sen or almost 8% to RM1.38 in early trade today on the back of concerns that Indonesia AirAsia [IAA] may be shut down by the end of the month due to new capital requirements.
IAA will require an injection of at least 3,035 billion rupiah to reverse its negative equity position, of for which AirAsia will have to fork out RM419 million due to its 49% shareholding.
IAA has been making losses of up to IDR 531 million in the first quarter of 2015 (1Q15).
Since AirAsia will only recognise its share of profits once future cumulative profits sufficiently offset negative reserves, its current interest in IAA has been reduced to zero.
"This means that if IAA were to cease operations, the P&L impact on AirAsia will be 'positive' as AirAsia will not have to recognise its share of IAA's loss," Maybank Investment Bank Research analyst Mohshin Aziz said in a note to clients today.
However the long-term business strategy and operational impact would be negative for AirAsia, he said.
"AirAsia has MYR1,600m of cash as at end of 1Q15 and therefore can make this payment.
"However, we doubt the other local shareholders have the ability to pay for the remaining IDR1,548 billion within the next three weeks," he added.
Mohsin said that the ruling, especially the short three-week time frame for compliance, came as a surprise, although the Ministry was expected to provide concessions for the airlines.
He kept a 'Buy' call on AirAsia with a target price of RM2.45 pending the outcome of IAA's meeting with the MOT.
At 9.48, AirAsia was the second most actively traded stock across the bourse with 26.6  million shares done.