This article first appeared in The Edge Financial Daily, on March 11, 2020.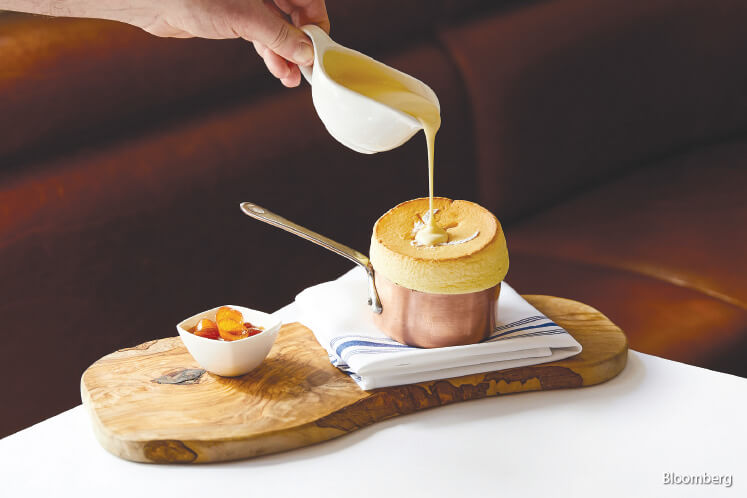 At a time when hand sanitiser is more valuable than luxury ingredients like lobster, an unexpected item is animating restaurant menus across the country. The souffle, that classic French dish made from whipped egg whites, is popping up — pun intended — in dining rooms from coast to coast. The reasons are not entirely clear, except souffles seem to delight chefs as much as they do customers.
In the US, souffles had their last true star turn in the late '70s during the heyday of Julia Child. The dish never disappeared from menus, but it also never made much noise.
Fans might want to give partial credit for the resurgence to the cult of Japanese pancakes. Last fall the Japanese chain Flippers opened an outpost in Soho in New York, and the lines were endless. The delightfully fluffy snacks look like silver dollar pancakes pumped full of air. Their height helps them look good on social media, and the melt-in-your mouth texture makes them more like a snack than their weightier American counterparts.
At the Japanese comfort food spot Bessou in Manhattan, pancakes in the style of bananas Foster have become a brunch staple. "The souffle pancake trend speaks to what people are craving these days: Elevated comfort food," says owner Maiko Kyogoku. "With so much uneasiness in the world around us recently — being on the brink of a global pandemic? — pancakes can make anyone smile, yes, but fluffy souffle pancakes even more."
Other, not-strictly French establishments have seen souffles as a messaging opportunity. At Terrace & Outdoor Gardens at the Edition in New York, the menu is American brasserie. Chef John Fraser nods to his Times Square location with a chocolate souffle for two, emblazoned with an "I love New York" decal.
Chef Jordan Guevara also sees souffles as a chance to send a message. A long-time fan of the dish, he has a "Fear No Soufflé" tattoo. At the new Gap Year at Nico in San Francisco, Guevara offers a chestnut version made with cake flour so it is more like an airy chiffon cake. "It eats more like a pancake than a souffle," he says. His next one will be flavoured with spring onions, garlic, and Comte cheese, and garnished with black truffle shavings and the restaurant's logo. "Souffles make people happy," he says, echoing many of his peers.
In Los Angeles, spots like Dear John's that evoke decades-old standards are having a moment, and the old-school dishes from their menus are being resurrected. Supper club Delilah pays homage to the now-closed power dining room Chasen's by bringing back its carrot souffle, a dense, sweet orangey side dish beloved by regulars.
The coming Sauce, a multi-concept restaurant in Detroit that will include a wine bar and cafe, will pay homage to the souffle, too. Pastry chef Sharyn Harding is experimenting with a frozen pistachio and olive oil dessert made with sweet Italian meringue and whipped cream. "Souffles fell out of favour," Harding says. "Now there's a whole new generation of diners that haven't had the opportunity to enjoy them. A souffle is instantly recognisable but still rare enough to entice people to order it."
But the trend is most pronounced, as you might expect, at French restaurants. Lafayette, the grand brasserie in downtown New York, opened in 2013, but chef-owner Andrew Carmellini is only now putting a souffle on the menu. His dessert version will be mandarin orange, accompanied by a small pitcher of vanilla cream. "Classics make people happy when you put a new spin on it," Carmellini says. Servers will add a tableside dollop of kumquat preserves to the finished dessert.
The most ambitious of the souffle joints is the coming Francis & Staub in New York's Flatiron district, opening this spring in the former Les Halles space made famous by the late Anthony Bourdain. Chef Richard Farnabe will offer 10 versions of the dish — half of them sweet, half savoury — and have two designated souffle stations operated by two chefs. Farnabe has developed a faster recipe (he cuts the flour in some cases, lowering the cooking time) that also yields a lighter result.
He is planning flavours that range from foie gras and figs to mezcal mint jalapeno — even French bubble gum. "Some chefs may have forgotten about [souffles]," he says. "We want to bring them back to life. It doesn't hurt that they are photogenic." — Bloomberg