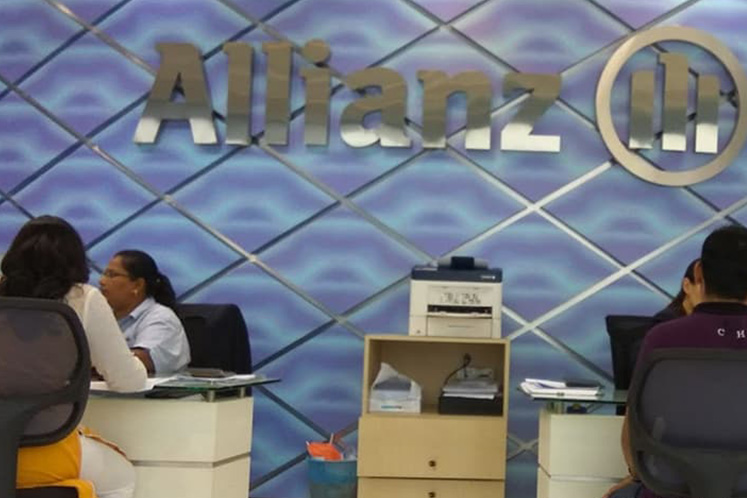 KUALA LUMPUR (June 30): Allianz Malaysia Bhd is expecting its bottom line to possibly perform better with a single-digit top-line or revenue growth for the financial year ending Dec 31, 2020 (FY20).
During a press conference following its virtual annual general meeting, Allianz Malaysia chief executive officer (CEO) Zakri Khir said that its core profit — excluding changes in fair value — could be higher than its FY19 numbers, so long as its revenue grows when things go back to normal.
While he could not provide a more precise forecast on the insurer's FY20 results, Zakri said that its financial performance is also dependent on the financial situation of policyholders once the moratorium on loan repayments — which lasts from April 1 to Sept 30 — is over.
"The insurance business [is driven by] consumption. One of the things is that consumption is greatly impacted by the moratorium on the loans, so people have a little bit more money because they don't have to repay their loans [during the moratorium period].
"But there is a caveat: Come October, when the loan moratorium [has concluded], will it affect the paying ability of the customers? This we don't know. We have no way of trying to estimate or anticipate this," he said.
Meanwhile, Allianz Life Insurance Malaysia Bhd CEO Joseph Gross noted that during the initial stages of the Movement Control Order (MCO), face-to-face interactions with clients were not allowed.
That said, he said gross written premiums should be in good shape, while at the same time he opined that Allianz Life Insurance Malaysia should see better bottom-line results versus a year ago.
However, new business for its life and health insurance segments are not likely to recuperate versus a year prior.
When pressed on whether Allianz thinks that its business will be impacted by policyholders having to resume payments on their various credit facilities, Zakri reiterated that it is still too early to tell, but noted his gut feeling is indicating that it would likely be impacted.
"We cannot anticipate what will happen. We have no idea on the financial capabilities of all our customers, how many loans they have, are they cash-strapped... As of right now, we are not seeing it, but it could be masked by the fact [that] they have no loans to pay back. So come October, we will see what happens," said Zakri.
Gross noted that there is an additional angle that Allianz sees for its life insurance business.
"With the life side, you are buying protection for the next 15, 20, 30, 40 years, so there people will be considering the short-term cash consumption versus the long-term benefits they might lose," said Gross.
As such, he viewed that people will look at cutting spending in other areas first, before they cut their medical or family protection policies.
In terms of how claims are expected to develop over the remainder of FY20, Gross said that medical claims during the MCO did decline, but elective claims for surgeries and other elective procedures are now recovering.
"The business-as-usual claims will be coming back. But there is an open question not in the number of claims, but in the cost of claims. So the cost of treatment... how that will further evolve given that medical practitioners and hospitals now have many new SOPs (standard operating procedures) in place with PPE (personal protective equipment), the number of people treated, disposal of equipment and cleaning etc.
"How this will affect the cost of claims remains to be seen. It is foreseeable that if the measures continue to be pushed so aggressively that there will be a cost inflation pressure per treatment," said Gross, who underscored that Allianz would have a better idea of the situation by the end of the year.
For the general insurance, Zakri said due to lower car traffic, there have been fewer accidents and consequently fewer claims.
When asked if the fair value losses that plagued its first quarter of FY20 (1QFY20) would continue to be present for the rest of the year, Gross responded in the negative. 
"In fact in the second quarter, the results will look different — I can't disclose numbers," he said.
For 1QFY20, Allianz's net profit fell 19.63% year-on-year to RM79.5 million, from RM98.92 million. This decline was mainly on the back of the investment segment posting RM486.1 million in fair value losses, from a RM195.96 million gain for 1QFY19. Realised losses for the segment widened to RM71.06 million, from RM27.97 million.
For FY19, it posted a net profit of RM492.48 million, from RM377.02 million for FY18. Full-year revenue also rose to RM5.53 billion, from RM5.18 billion.
Shares in Allianz were trading unchanged at RM14.14 per share as of noon market close, valuing it at some RM2.50 billion.