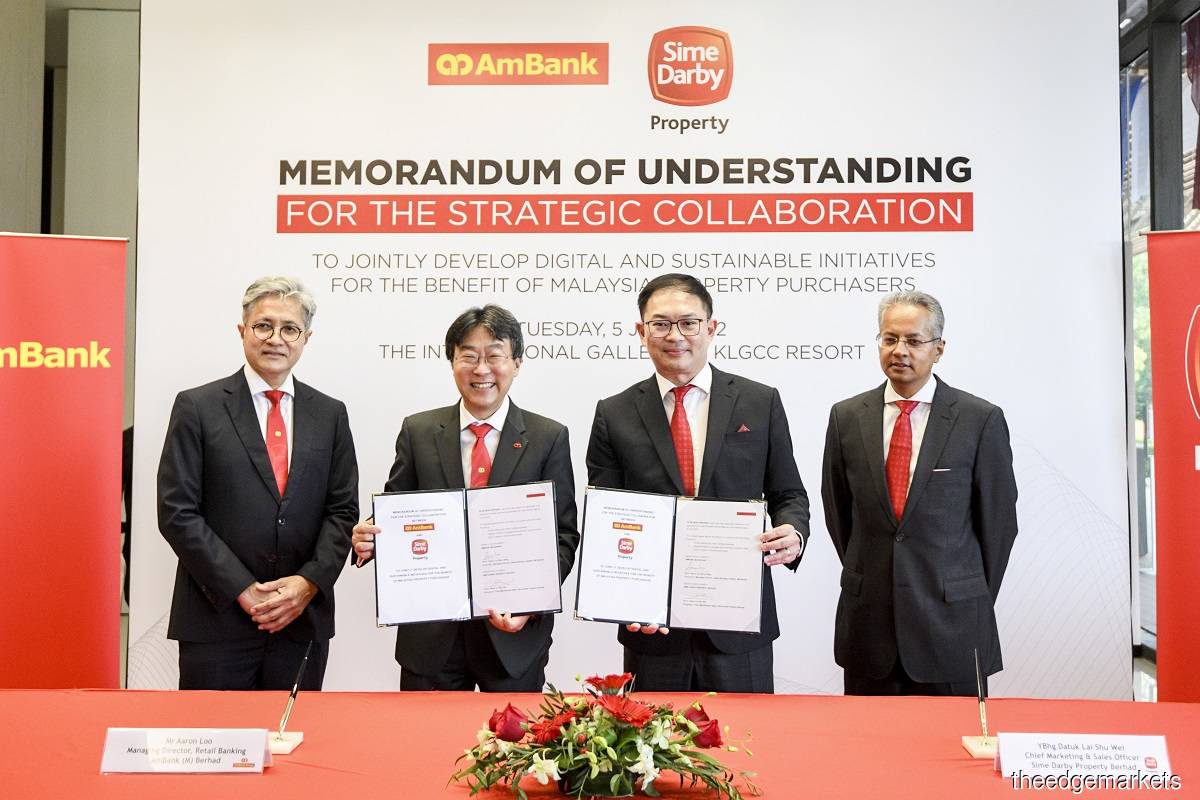 KUALA LUMPUR (July 5): Sime Darby Property Bhd (SimeProp) and AMMB Holdings Bhd (AmBank) have inked a memorandum of understanding (MoU) to offer homebuyers a green financing solution for the purchase of the former's homes.
At the signing ceremony on Tuesday, AmBank group chief executive officer (CEO) Datuk Sulaiman Mohd Tahir noted that it will provide SimeProp customers a "special rate" from as low as 2.95%, subject to interest rate movement.
SimeProp group managing director Datuk Azmir Merican said the green financing solution offering entails "competitive [interest] rates, fast-lane approvals, as well as attractive tenure periods without processing fees".
The parties will also provide a "seamless customer experience" with the provision of a simplified loan application process through SimeProp's holistic home ownership digital ecosystem, Azmir said.
Beyond homes, the pair have also collaborated to provide financing to end-buyers for industrial products located in Elmina Business Park — offering up to 200% margin of advance for small and medium enterprises (SMEs).
Adjusted 'special rate' will remain competitive
AmBank Group managing director of retail banking Aaron Loo Boon Seng noted that the 2.95% special rate will be adjusted accordingly when the overnight policy rate (OPR) changes.
The "special rate" of as low as 2.95% may be short lived in view of an expected OPR hike a mere day away, as Bank Negara Malaysia's (BNM) Monetary Policy Committee (MPC) is slated to conclude their two-day meeting on Wednesday (July 6).
Currently, the lowest rates for new homebuyers stood at around 3.05%, with some banks providing step-up schemes that go as low as 2.4% — but only for the first five years.
Sulaiman noted that AmBank's economists have forecasted that the MPC is to raise the OPR by 25 basis points (bps), as 2022's projected economic growth provides room for the central bank to raise rates.
"The speculation is there will be [a hike in OPR]. The MPC's seating [ends] tomorrow (July 6), and our economists say that [the MPC] could raise rates by 25bps. As you can see everybody else is hiking rates extensively and the whole world is gonna do the same.
"For Malaysia with a GDP growth forecast of about 5.5% expected for this year, there is room for increasing interest rates," he said.
SimeProp chief marketing and sales officer Datuk Lai Shu Wei said that the "special rate" is to be kept competitive regardless of hikes in the OPR.
"OPR is one thing, but as far as the collaboration between AmBank and Sime Darby Property, the rate is 2.95% and I believe that both parties are committed to be very competitive regardless of where the OPR goes.
"We will always take that position, as far as this collaboration goes," Lai stressed.
Shares in SimeProp ended half a sen or 1.16% higher at 43.5 sen, giving it a market capitalisation of RM2.93 billion. Meanwhile, AmBank finished two sen or 0.52% lower at RM3.80, giving the group a market capitalisation of RM12.59 billion.