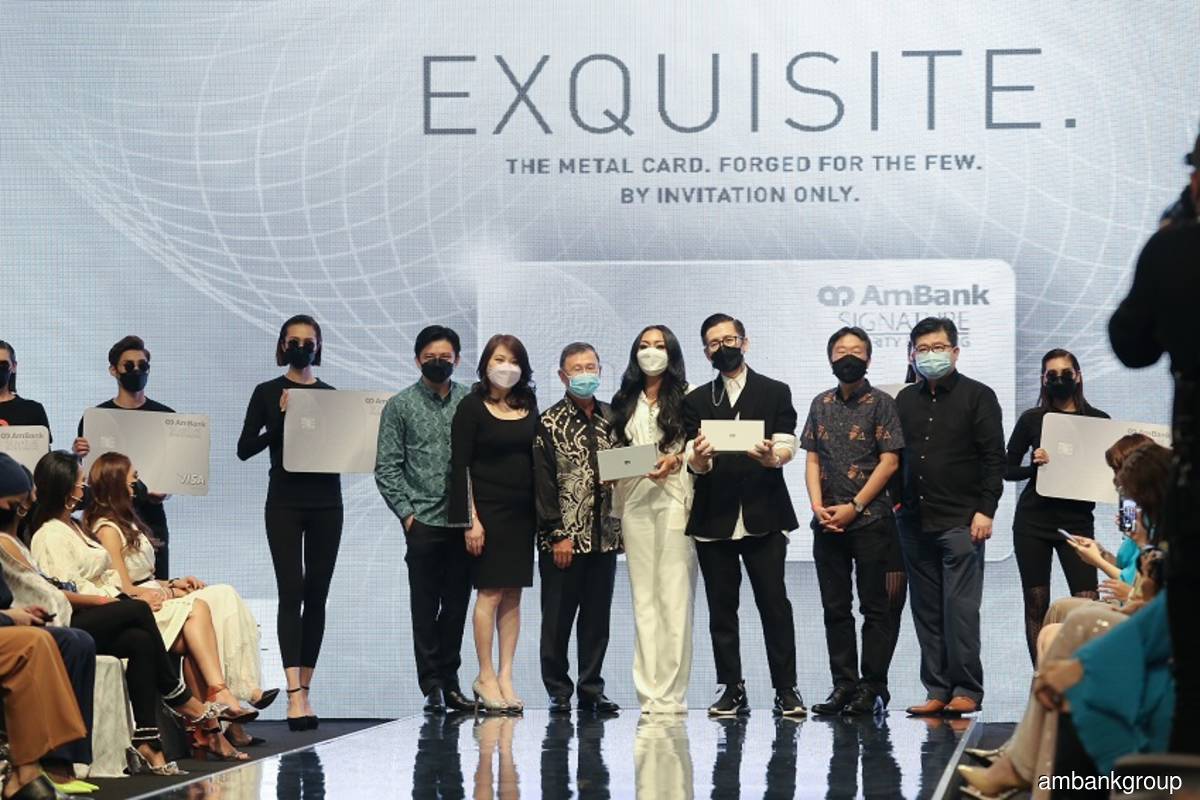 KUALA LUMPUR (Nov 15): AmBank Group unveiled "The Metal" card, which is exclusive for its Signature Priority Banking clientele, in conjunction with the Fashion Night Out on Nov 6 that was held during the Kuala Lumpur Fashion Week (KLFW) 2021 recently.
AmBank retail banking managing director Aaron Loo said the new card offers unparalleled privileges and features that meet the financial and lifestyle needs of its Signature Priority banking customers, with curated experiences that will enhance their lifestyle.
"The introduction of 'The Metal' card is really about recognising our most valued customers and ensuring that their unique needs are met," he said in a statement.
In addition, throughout the duration of KLFW 2021, AmBank cardholders can enjoy attractive deals including a 15% discount for curated runway collections and pieces, along with fresh new collections from various homegrown designers who will debut on a monthly basis at KLFW's pop-up stores from January 2022.
Ambank, which was the official banking partner for the KLFW that ran from Nov 3-7 at Pavilion Kuala Lumpur, also said it was pleased to support the Malaysian fashion industry through the event that features designs and the latest collections from over 48 local designers.
AmBank group chief executive officer Datuk Sulaiman Mohd Tahir said the bank was honoured to be part of the event, which has grown to become one of the most prestigious events in Malaysia that showcases and promotes the country's local heritage, creativity and diversity through fashion. "It has also become an excellent platform to propel the local fashion industry to a global reach, especially after a tumultuous year," he said.
Loo, meanwhile, added that it is especially crucial to support local business and traders now, as business sectors are gradually opening up, while the country navigates through the National Recovery Plan.
"AmBank has been one of the key players in driving the growth of Malaysian small and medium enterprises (SMEs). Our efforts go beyond providing financial assistance; we also offer SMEs opportunities to improve their capabilities and help them thrive in the post pandemic economy, through our strategic partners," he said.
As example, Loo cited Ambank's collaboration with organisations from various sectors' help to ensure SMEs stay ahead of the game by actively participating in the digital economy and transformation, which will open up a larger potential pool of customers.
"We are committed to continuously provide avenues and opportunities for local businesses to thrive in this challenging new era," he said.