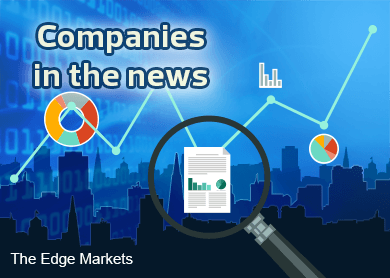 KUALA LUMPUR (May 18): Based on corporate announcements and newsflow today, stocks in focus tomorrow (Tuesday, May 19) could include: AmProp, Scan Associates, Maybank, Shell Refining, AirAsia X, Cahya Mata Sarawak, Malton, Pharmaniaga, Landmarks, PJBumi, Perduren, I-Bhd, Lay Hong and SKP Resources.
AmCorp Properties Bhd (AmProp), which is controlled by veteran banker Tan Sri Azman Hashim with a 70.65% stake, announced today its two wholly-owned units — Contour Mechanism Sdn Bhd and Trident Cartel Sdn Bhd — have signed a 21-year renewable energy power purchase agreement (REPPA) with Tenaga Nasional Bhd (TNB).
In a filing with Bursa Malaysia, AmProp (fundamental: 2.4; valuation: 2.1) said it will build and operate two renewable energy mini-hydro power plants, located at Sg Liang, Raub, Pahang, with a capacity of 10MW each, under the agreement.
AmProp expects the construction of the plants to take some 24 months.
Bursa Malaysia announced today that information technology security solutions provider Scan Associates Bhd is now classified as a Guidance Note 3 (GN3) company, following the High Court's dismissal of the latter's application to halt the classification today.
Scan Associates (fundamental: 0; valuation: 0.3) is the fourth company to be admitted to Bursa Malaysia's GN3 list, after AsiaEP Resources Bhd, Cybertowers Bhd and R&A Telecommunication Group Bhd.
"The High Court today has dismissed the company's application for further injunction. As such, Bursa Malaysia today classifies Scan Associates as a GN3 company with effect from May 18, 2015, in accordance with the ACE-market listing requirements," the stock exchange regulator said in a filing.
Malayan Banking Bhd (Maybank) is exiting from Papua New Guinea (PNG) by hiving off its entire equity stake in Maybank (PNG) Ltd and Mayban Property (PNG) Ltd (MPPL) to Kina Ventures for RM418 million.
In a statement, Maybank president and chief executive officer Datuk Abdul Farid Alias said the decision to dispose its PNG operations was a result of strategic reviews carried out regularly to "reprioritise" its capital and resources, with the intention of focusing its growth agenda in target regions where it can achieve the best returns from its investments.
Separately, Maybank (valuation: 1.45; fundamental: 1.5) in a filing to Bursa, said the share sale agreement for the proposed disposal, expected to take place in the second half of 2015, was signed following the Central Bank of PNG's approval on May 12.
The disposal involves the sale of the entire equity interest in MPNG and MPPNG respectively, for a total cash consideration of approximately Kina 319 million (equivalent to approximately RM418 million based on the exchange rate of Kina 1 = RM1.31 as at 18 May 2015), plus the difference in the value of the net assets of MPNG as at the completion of the proposed disposal, compared to Dec 31, 2014.
Shell Refining Co (Federation of Malaya) Bhd — which was bleeding losses in the last four financial years — returned to the black in the first quarter ended March 31, 2015 (1QFY15), with a net profit of RM84.23 million or 28.08 sen per share, from a net loss of RM44.08 million or 16.69 sen per share a year ago, thanks to improved refining margin.
Revenue during the quarter, however, fell 38% to RM2.48 billion, from RM3.99 billion in 1QFY14, which the group blamed on lower product prices, its filing to Bursa Malaysia showed today.
During the quarter, Shell Refining said it processed 9.5 million barrels of crude oil — a marginal 1% dip from 1QFY14.
On outlook, Shell Refining (fundamental: 0; valuation: 0) said the strong refining margin in 1QFY15 was positively influenced by the lag in product pricing adjusting to crude pricing levels, and delays in start-up and stabilisation of new refining capacity in the region.
AirAsia X Bhd (AAX), the long-haul low-cost affiliate of AirAsia Bhd, saw its passenger volume as measured by revenue passenger kilometres (RPK), declined 17% to 4.43 billion in the first quarter ended March 31, 2015 (1Q15), from 5.34 billion a year ago.
In a statement today, AAX (fundamental: N/A; valuation: N/A) attributed the drop in RPK to capacity management and slowdown in marketing activities during the first three months of this year, following Indonesia AirAsia flight 8501 crash in December last year.
RPK is a measure of the volume of passengers carried by the airline. It is derived from the number of passengers multiplied by the number of kilometres these passengers have flown.
"Available seat kilometres (ASK) capacity [had also] decreased by 3% to 6.02 billion in 1Q15 [from 6.22 billion a year ago], and consequently the load factor during the quarter had dropped 12 percentage points to 74% against 86% in 1Q14," AAX said.
Cahya Mata Sarawak Bhd's net profit was RM57.42 million or 5.52 sen per share for the first quarter ended March 31, 2015 (1QFY15), up 47.6% on-year from RM38.9 million or 3.81 sen per share, mainly on strong contributions from construction materials and trading, cement, and construction and road maintenance.
Cahya Mata (fundamental: 3; valuation: 1.1)'s revenue was up 31.5% to RM490.99 million, from RM373.24 million last year, its filing to Bursa today showed.
On outlook, Cahya Mata's group managing director Datuk Richard Curtis said: "With commendable performance recorded in 1QFY15, we expect to leverage on this positive momentum and record a strong financial performance for the full year of 2015."
He believed Cahya Mata was still one of the best proxy listed investments for Sarawak's accelerating economic growth.
Property developer Malton Bhd announced its wholly-owned unit Domain Resources Sdn Bhd has received a letter of award for a RM208 million worth of contract from Harmoni Perkasa Sdn Bhd to build one block of Royale Pavilion Hotel, which is located along Jalan Bukit Bukit Bintang and Jalan Raja Chulan.
In a filing with Bursa Malaysia this evening, Malton (fundamental: 1.1; valuation: 2) said Harmoni Perkasa is a wholly-owned unit of Urusharta Cemerlang Sdn Bhd, in which its chairman Tan Sri Desmond Lim Siew Choon is an indirect substantial shareholder.
"A contract to finalise the scope and value of the construction works will be entered into between Domain Resources and Harmoni Perkasa in due course," Malton said.
Pharmaniaga Bhd's net profit rose 21.3% to RM31.79 million or 12.28 sen per share for the first quarter ended March 31, 2015 (1QFY15), from RM26.22 million or 10.13 sen per share a year ago, primarily due to higher profit margins from its manufacturing division.
Revenue increased by a marginal 0.7% to RM471.9 million, from RM468.67 million in 1QFY14, on higher sales from the private sector, particularly the group's Indonesian operations, but this increase was partially offset by lower demand in its concession segment.
Pharmaniaga (fundamental: 0.95; valuation: 1.70) also declared a first interim dividend of 7 sen per share for the financial year ending Dec 31, 2015 (FY15), payable on June 25, 2015.
Resort and property developer Landmarks Bhd has teamed up with Singapore-based ML Hotel Investments Pte Ltd to develop, own and operate two international hotel chains at its flagship Treasure Bay Bintan development in Bintan, Indonesia.
In a statement, Landmarks (fundamental: 1.65; valuation: 0.9) said its wholly-owned subsidiary PT Bintan Hotel Utama has signed a joint venture (JV) agreement with ML Hotel Investments for the proposed projects.
Both hotels, Mercure and ibis Budget, are expected to open in 2017 and will be managed by Accor Group.
PJBumi Bhd, which provides waste management engineering services, announced its wholly-owned unit PJBumi Construction Sdn Bhd (PJBC) has signed three shipbuilding contracts worth RM44.46 million with Fast Boat Industries Sdn Bhd.
In an announcement to Bursa, PJBumi (fundamental: 0.75; valuation: 0.9) said the job entails the construction and delivery of three units of 50-tonne BP ASD (bollard pull azimuth stern-drive) tugs, measuring 30.8m long.
PJBumi said the shipbuilding period will be 14 months from the effective date of the respective contracts.
Property developer Perduren (M) Bhd, which is venturing into the oil and gas (O&G) sector as part of its diversification plan to enhance its earnings, is assessing among its many options to venture into the petroleum supply base business, onshore accommodation and real estate to support the energy industry, said its non-independent and non-executive director Datuk Mazlin Md Junid.
He said the current low oil price offers an opportunity for Perduren (fundamental: 0.1; valuation: 1.1), as it is able to provide cheaper solutions of oil production. The supply base is a specialised area for handling supply vessels, equipment and O&G related cargo traffic.
"We will continue to expand our real estate portfolio in O&G. We know that there are limited number of supply base in the country. The role of supply base is really a real estate that provides a place for the supply and services products offshore," he told reporters after the group's extraordinary general meeting today.
I-Bhd reported a RM10.24 million net profit for the first quarter ended March 31, 2015 (1QFY15), a 68% increase from RM6.1 million a year earlier, due mainly to higher income from property development.
In a statement to the exchange, I-Bhd (valuation: 2.4, fundamental: 3) said group revenue was higher at RM75.35 million, compared with RM44.91 million.
I-Bhd said property development revenue and profit rose on "higher percentage of recognition" for project completion, as well as on-going project sales.
Lay Hong Bhd (LHB)'s shareholders have rejected resolutions to grant LHB's managing director and three other non-independent executive directors, their share issuance scheme (SIS) options at the company's extraordinary general meeting (EGM) today.
LHB's managing director Yap Hoong Chai told reporters after the EGM that the proposal to grant SIS options to himself, Yeap Weng Hong, Yap Chor How and Yeap Fock Hoong, were rejected by shareholders at the EGM through poll.
It is understood that the company's substantial shareholder QL Resources Bhd (QL) had voted against these resolutions.
Hoong Chai said the EGM outcome was "fair, given the current situation", referring to QL's failed attempt to take over LHB in December 2014.
Plastic parts and components manufacturer SKP Resources Bhd has secured a new contract from its existing key customer, Dyson Ltd, for the manufacturing of the latter company's new cordless vacuum cleaners.
In a filing with Bursa, SKP said the contract, which is scheduled to commence in October 2015, is expected to contribute positively to the group's revenue and earnings for the financial years ending March 31, 2016 (FY16) and FY 17.
However, SKP did not disclose the value of Dyson's contract.
(Note: The Edge Research's fundamental score reflects a company's profitability and balance sheet strength, calculated based on historical numbers. The valuation score determines if a stock is attractively valued or not, also based on historical numbers. A score of 3 suggests strong fundamentals and attractive valuations.)