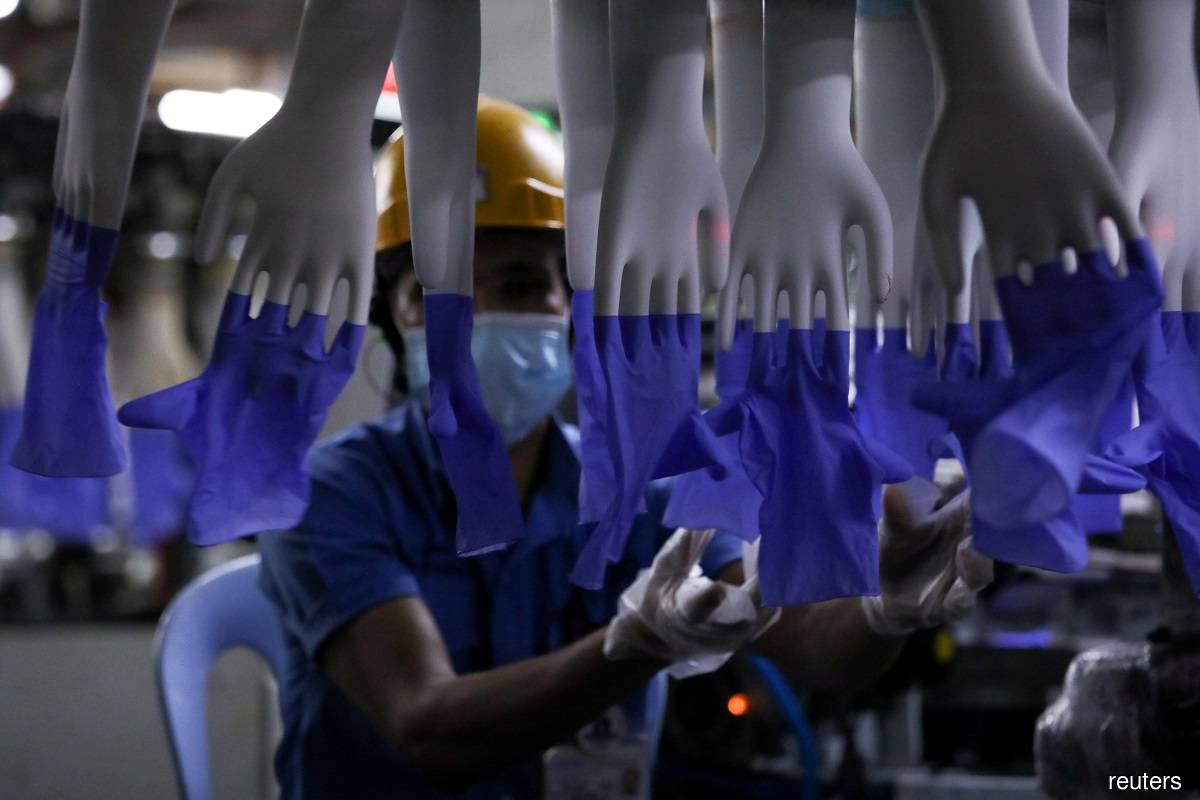 KUALA LUMPUR (Aug 3): While the valuations for rubber glove makers can still be seen as attractive currently, the pandemic-driven rally these counters have seen may be able to gather much steam if one looks at analysts' earnings forecasts for 2022 onwards.
Most analysts' "buy" calls are based on the strong earnings growth forecasts in 2021.
However, equity markets are usually six months ahead at least.
This explains why the stellar quarterly earnings figures have failed to whet investors' appetite for glove stocks, despite the fresh waves of infections globally.
Several glove companies are expected to release their quarterly earnings this month. Some quarters foresee investment analysts to take the chance to downgrade the sector when they review the latest profit numbers amid the downward pattern of the rubber glove average selling prices, let alone the additional new capacity that will come on stream.
Looking at Top Glove Corp Bhd's earnings forecasts, for example, analysts are expecting the world's largest rubber glove maker to post a net profit of RM8.91 billion for its financial year 2021 (FY21) ending Aug 31, 2021 according to Bloomberg data. This would be a 376% year-on-year (y-o-y) jump from RM1.87 billion the year before.
Similarly, Hartalega Holdings Bhd is expected to post RM3.89 billion for its FY22 ending March 31, 2022 (up 35% y-o-y), Kossan Rubber Industries Bhd to report RM3.3 billion for its FY21 ending Dec 31, 2021 (up 203% y-o-y), while Supermax Corp Bhd is seen to post a net profit of RM3.7 billion for its FY21 ended June 30, 2021 (up 602% y-o-y).
However, analysts' earnings projections for these companies are substantially lower from 2022 onwards, which may indicate that the second half of 2021 could be the last leg of high growth and supernormal profits for the glove makers.
Beyond 2022, the valuations for these stocks look vastly different. Top Glove is projected to post RM3.73 billion in net profit for its FY22, a 58% y-o-y drop from the forecast earnings for the preceding year.
This translates into an estimated earnings per share (EPS) of 44 sen for its FY22, versus the EPS of RM1.09 for FY21, based on projections. At the closing price of RM3.92, Top Glove shares are trading at a price-earnings ratio (P/E ratio) of 8.9 times. Pre-Covid-19 pandemic, glove stocks were trading at a P/E ratio of less than five times.
The same goes for the other big four glove makers, as well as the smaller players like Rubberex Corp (M) Bhd and Comfort Gloves Bhd.
Rubberex is expected to post a net profit of RM175 million for its FY22 ending Dec 31, 2022, 26% lower than the RM238 million in its current financial year, while Comfort Gloves is expected to see a 42% y-o-y decline in net profit to RM215 million for its FY23 ending Jan 31, 2023, from RM373 million in its current financial year ending Jan 31, 2022.
Target prices (TPs) for these counters have also been lowered in recent months. Looking at Kenanga Investment Bank Bhd's monthly rating summary, the TPs on Hartalega and Top Glove were lowered from RM15.76 and RM6.49 respectively as at June 4 to RM13.80 and RM5.60 as at July 30.
Hong Leong Investment Bank Bhd also trimmed its TP for Top Glove to RM6.66 on July 7, from RM6.76 in mid-June, while Public Investment Bank Bhd lowered its TP for Kossan to RM3.65 on July 28, from RM6.10 on June 11.
BIMB, on the other hand, cut its TP for Supermax to RM3.15 on July 8, from RM7.30 on May 7.
That said, the raging Delta variant worldwide would mean a relatively strong demand for rubber gloves at the front line of the battle with the virus. No one would rule out that could possibly delay the normalisation of global demand.