This article first appeared in The Edge Financial Daily, on September 10, 2019.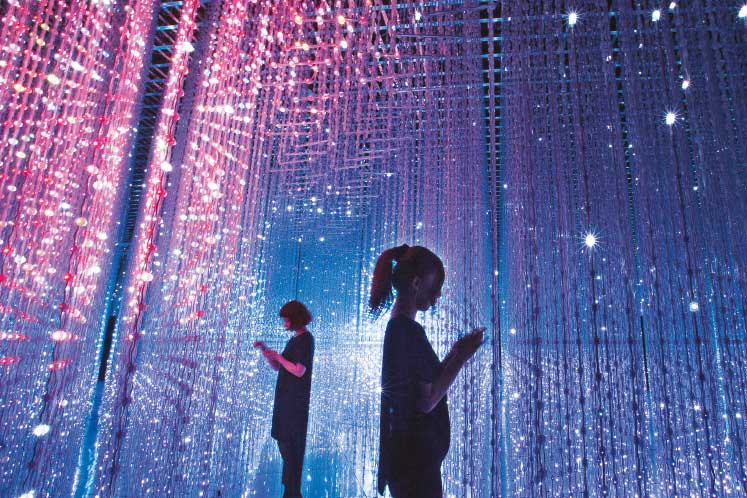 Crystal Universe. Photo by teamLab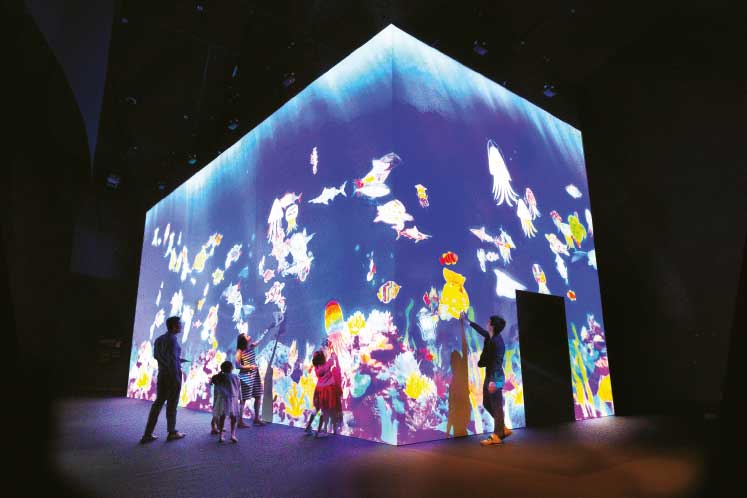 Sketch Aquarium. Photo by teamLab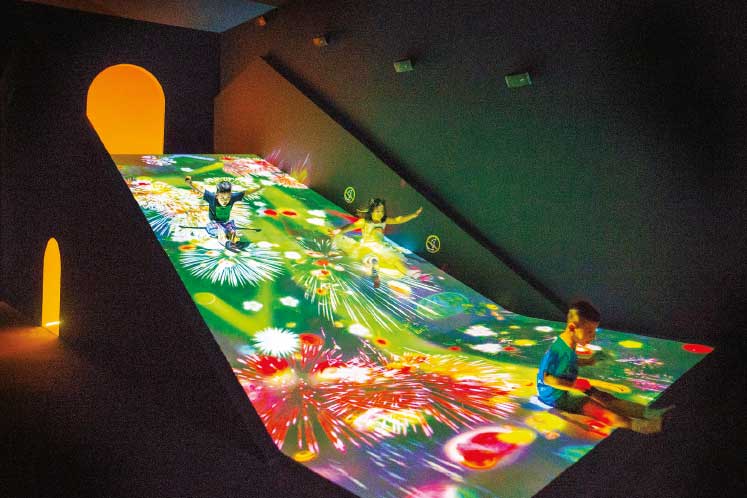 Sliding through the Fruit Field. Photo by Marina Bay Sands
As part of its commitment to refresh its landmark permanent exhibition, ArtScience Museum will be introducing a new themed gallery with new artworks by teamLab, as well as the return of popular installations at Future World: Where Art Meets Science.
City in a Garden, the new opening section of Future World, explores the integral relationship between people and nature and how cities provide a space for a variety of biospheres. Inspired by Singapore, City in a Garden demonstrates the nation's distinctive relationship with nature, and the importance of flora and fauna to the city's identity. The refreshed exhibition has four galleries — City in a Garden, Sanctuary, Park and Space.
City in a Garden features the brand-new artwork, Inverted Globe, Giant Connecting Block Town, and a dramatic new presentation of one of teamLab's best known artworks, Sketch Aquarium. Elsewhere in Future World, visitors can also look forward to the return of Story of the Time when Gods were Everywhere in the Park gallery.
Inside City in a Garden, visitors are invited to become immersed in nature, by walking through a field of flowers in the Transcending Boundaries gallery. They continue by interacting with a lush meadow in Sliding through the Fruit Field, before arriving at the shore to explore aquatic life in Sketch Aquarium. Throughout City in a Garden, urban structures are embedded into the landscape, illustrating how people can live in a more harmonious relationship with nature.
Artworks such as Inverted Globe, Giant Connecting Block Town and A Table Where Little People Live show that nature's nurturing embrace allows for people to thrive, cultivating their creative impulses, allowing for the production of art, science and technology. New artworks to look out for in City in a Garden include Inverted Globe, Giant Connecting Block Town and a new presentation of Sketch Aquarium.
Inverted Globe
Visitors are encouraged to work together to design their own transportation network in this interactive artwork. Giant building blocks, representing various urban infrastructures, are used to create roads, railways and rivers. Blocks of the same shape and colour placed near one another will automatically connect the elements together. Cars, airplanes, boats and helicopters can be added to bring life to the network. As more blocks are connected, the space becomes busier, ultimately developing a bustling cityscape, as projected on an overhead screen in real time.
Sketch Aquarium
A favourite among children, this installation features a digitally rendered aquatic world where the two-dimensional sea creatures that visitors colour on paper come to life in a virtual ocean. The artwork grows and evolves constantly with the different images that the visitors add. Visitors can feed the fish and sea creatures by touching specific images of fish food bags on the screen. In Sketch Aquarium, individual creative processes become part of a unified, shared experience.  
In this digitally projected world, visitors of all ages can create their own environment by touching Chinese and Japanese characters, which then transform into natural elements such as wind, rain, trees and mountains. When visitors touch the characters, the story begins and the movement of their bodies further changes and evolves the world. Just as in nature where no two moments are repeated, the visitor experiences a new story each time he encounters the artwork.
---
For more information and to purchase tickets, visit marinabaysands.com.