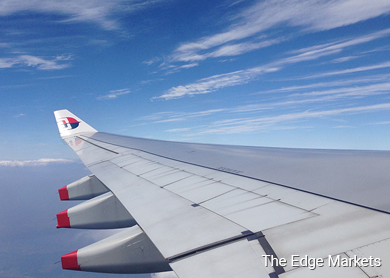 (June 2): Some 6,000 employees who received their termination letters from Malaysia Airlines (MAS) would get a "termination package" based on a formula similar to their existing collective agreements, said the national carrier's owner Khazanah Nasional Bhd, amid complaints by a cabin crew union over discrimination in the axing of jobs.
A statement by the state sovereign fund today said the package included medical benefits and an additional "safety net" payment to vulnerable groups of exiting employees.
These include physically challenged employees, single parents and married couples where both spouses are leaving MAS.
But it did not state the quantum of the termination package or the safety net payment.
All payments and benefits to employees leaving the carrier and rejoining MAS would cost up to RM1.5 billion, it added.
Khazanah's statement comes after National Union of Flight Attendants Malaysia (Nufam) accused MAS this afternoon of discrimination in its ongoing restructuring exercise.
Nufam president Ismail Nasaruddin accused the management of being heartless by axing female cabin crew members who were on maternity leave.
The airline began sending out termination letters to some 20,000 staff yesterday, but will offer re-employment to some 14,000 staff.
Khazanah, in an update on the ongoing restructuring of the flag carrier for the period of March 1 and May 31 this year, said the reduced workforce at the new company, rebranded as MAS Bhd, was necessary and based on the operational requirements of the new airline.
"Not all employees who possessed the talent and experience that matched NewCo's needs have been offered employment," it said in a statement.
Khazanah said those who accepted the reemployment offers will receive "sign-on" and "retention" payments although it did not elaborate further on these.
"All employees have been provided with a detailed guidebook on employment transition, while those joining NewCo have been given employee handbooks which include the terms and  conditions of employment at NewCo.
"In addition, a helpline has been set up to assist employees on any query or clarification sought," it said.
Khazanah unveiled a 12-point comprehensive exercise for the flag carrier last year to return the airline to profitability, the earliest by 2017.
Under the plan, Khazanah will invest up to RM6 billion on a staggered and conditional basis over three years.
It will also see the setting up of a new company to house the carrier, rationalise routes, renegotiate current contracts, cut 30% of the 20,000-strong workforce and move its operations from Subang to Kuala Lumpur International Airport.
The carrier had undergone three restructuring exercises since 2007 which had failed to yield any results due to a bloated workforce, changing market demand, stiff competition and high overhead costs.
MAS's ailing condition was further affected by two major aviation disasters this year. Flight MH370 from Kuala Lumpur to Beijing vanished in March with 239 people on board, while flight MH17 from Amsterdam was shot down over Ukrainian air space on July 17, killing all 298 people on board. – The Malaysian Insider