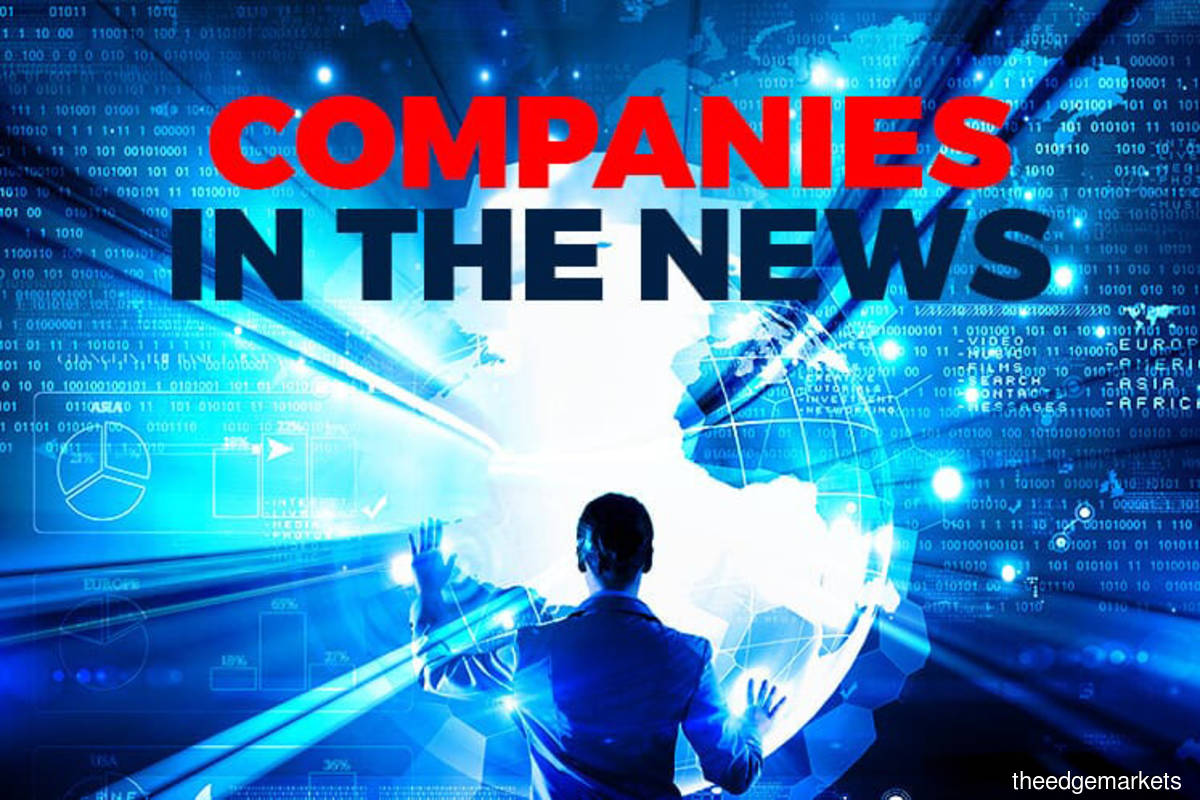 KUALA LUMPUR (Nov 15): Based on corporate announcements and news flow on Monday (Nov 15), companies in focus on Tuesday (Nov 16) may include: Bahvest Resources Bhd, Pekat Group Bhd, Yinson Holdings Bhd, Sime Darby Bhd, Econpile Holdings Bhd, Lagenda Properties Bhd, AWC Bhd, Supermax Corp Bhd, Aemulus Holdings Bhd, Pharmaniaga Bhd, Taliworks Corp Bhd and Hektar Real Estate Investment Trust (Hektar REIT).
Bahvest Resources Bhd recorded a six-fold jump in net profit for the second quarter ended Sept 30, 2021 to RM9.01 million, from RM1.45 million for the same quarter last year, on the back of higher revenue. Quarterly revenue climbed 63.24% to RM43.65 million from RM26.73 million, the Sabah-based gold mining company said. Bahvest attributed the increase in its quarterly net profit and revenue to higher production of gold and silver.
Pekat Group Bhd has secured a power purchase agreement (PPA) to supply solar-generated electricity to Majlis Bandaraya Seberang Perai (MBSP) for a 15-year period. The PPA was signed between its unit Pekat Solar Sdn Bhd with MBSP under the government's Net Energy Metering (NEM) Scheme. Pekat Solar will install, own and operate a rooftop solar photovoltaic (PV) system with generation capacity of 536 kilowatt-peak, which will be installed atop MBSP's car park facility. MBSP will in turn pay Pekat Solar for electricity procured from the solar PV system, based on fixed discounted electricity tariff as the mutually agreed value.
Yinson Holdings Bhd has landed contracts worth an estimated US$5.2 billion in Brazil. The floating, production, storage and offloading (FPSO) operator had been awarded two letters of intent by Petróleo Brasileiro S.A. for the charter, operations and maintenance of Integrado Parque das Baleias, a FPSO vessel in the North Campos Basin, offshore Brazil. Meanwhile, its Netherlands-incorporated indirect subsidiary will enter into a charter contract for the provision of the FPSO, while its Brazil-incorporated wholly-owned subsidiary will enter into a contract for the asset's operations and maintenance. The contract period is for 22.5 years from the date of the final acceptance.
Sime Darby Bhd's subsidiary Sime Darby Auto Performance Sdn Bhd (SDAP), which represents Porsche Malaysia, has confirmed that the Cayenne is the model chosen for local assembly in Kulim, Kedah. This development was arrived at when Sime Darby Bhd announced it was collaborating with Porsche AG to assemble the latter's sports car for the Malaysian market in August. In February, The Edge reported that Porsche was partnering with Inokom Corp Sdn Bhd — a subsidiary of Sime Darby Motors, which is in turn a subsidiary of Sime Darby — to set up an assembly plant in Kulim.
Econpile Holdings Bhd has been awarded a RM33.21 million construction job for a mixed development in Damansara, which comprises an 18-storey service apartment block, and an 11-storey small office/home office (SOHO) block, on top of a seven-storey office and medical centre podium with commercial space. The contract will last for 15 months and is expected to contribute positively to the group's revenue and earnings from the financial year ending June 30, 2022 onwards.
Lagenda Properties Bhd's net profit fell 8.58% to RM45.54 million for the third quarter ended Sept 30, 2021, from RM49.81 million a year earlier, mainly in the absence of inter-group adjustment arising from acquisitions that were recorded previously. Its property development segment profits rose in the quarter due to the acquisition of a subsidiary, while construction profits were lower as the Movement Control Order impacted operations.
AWC Bhd has bagged a RM12.73 million contract for five-years from the Health Ministry on Monday for the provision of hospital support services to Hospital Orang Asli Gombak. It is expected to commence on Jan 1, 2022, and to contribute positively to its earnings over a five-year period.
Supermax Corp Bhd has clarified in a statement on Monday that the pause in imports of its products by Canada is limited to purchases by the government. The contract is pending submission of the audit report prepared by an independent auditor. The company said Canada represents about 9% of the group's total market share, and that this percentage fluctuates each year, based on tender awards.
Aemulus Holdings Bhd plans to issue up to 10% or 60.68 million of its issued shares to third party investors to be identified in the course of the book-building exercise for the placement, to raise RM66.7 million, mainly for the group's working capital, additional investment in its joint venture in China, and research and development. The group expects the proposed placement to be completed in the first quarter of 2022.
Pharmaniaga Bhd said it marked its entrance into the vaccine international market on Saturday (Nov 13) by successfully exporting the first batch of 200,000 filled and finished Sinovac Covid-19 vaccine to Myanmar, manufactured by its wholly-owned subsidiary, European Union certified high-tech plant, Pharmaniaga LifeScience Sdn Bhd.
Taliworks Corp Bhd announced that its third quarter net profit jumped 256% to RM41.36 million, from RM16.18 million a year earlier, on the back of higher contribution from its toll division. Its revenue for the quarter ended Sept 30, 2021 improved 23.82% to RM102.31 million, from RM82.63 million previously, mainly lifted by a stronger revenue from its toll segment, of RM57.98 million, mostly generated by a government compensation for Grand Saga Sdn Bhd. It had also announced a third interim dividend of 1.65 sen per share, amounting to RM33.3 million, to be paid on Dec 31, with Dec 1 as the entitlement date.
Hektar Real Estate Investment Trust (Hektar REIT) plans to undertake a private placement to raise up to RM11.78 million for the group's working capital and capital work in progress. The private placement will see the REIT issue up to 23.1 million new units, representing up to 5% of the total number of 461.96 million units issued to the independent investors to be identified at a later date.