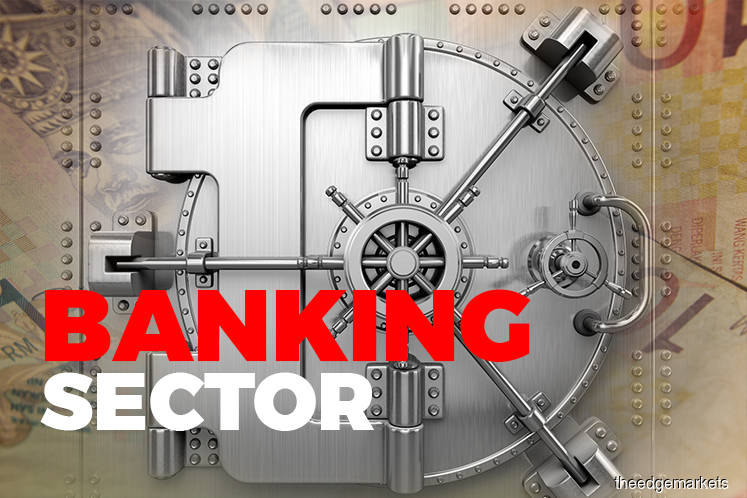 KUALA LUMPUR (June 18): The banking sector is still not out of the woods yet, as further economic downside risks may trigger a correction in a liquidity-driven market.
In a note, AffinHwang Capital Research said further downside economic risks that can also manifest themselves in the banking sector may trigger a correction in prices in the current liquidity-driven market, which it thinks is overbought at the moment.
It is forecasting a 13% year-on-year (y-o-y) recovery in 2021 core net profit for the sector, following a sharp 28.6% y-o-y contraction. Furthermore, return on equity (ROE) for the sector in 2021 is expected to be at 7.6%, constituting a 22-year low, it said.
Going into 2021, AffinHwang noted that the potential increases in Stage 2 and Stage 3 exposures of banks' loan books remain a risk, given lower household incomes, rising unemployment and the deterioration of business debt service capacity.
"Banks continue to face asset quality risks from exposure to vulnerable sectors such as oil & gas, real-estate and retail/tourism. In addition, Malayan Banking Bhd and CIMB Group Holdings Bhd will face the threat of NPLs from Indonesia," it noted.
As such, the research house said it is maintaining its "underweight" call on banks. It noted that banks' balance sheet and liquidity will be subject to more stress this year and in 2021 due to moratorium period offered to borrowers as well as a higher risk of defaults given that economic circumstances remain uncertain.
However, a silver lining is the strong capitalisation levels of Malaysian banks. Common Equity Tier 1 (CET1) ratio for the sector stood at 14.1% in April, from 13.8% in December 2019, while Total Capital Ratio for the sector stood at 18% in April, from 17.9% in December 2019. Furthermore, the capital buffer, which is in excess of the regulatory requirement of RM121 billion as of February, remains fairly robust.
"In other words, this RM121 billion (equivalent to 7.38% of risk-weighted assets) acts as a loss-absorbing capacity for Malaysian banks before they require a recapitalization of equity. It could potentially absorb extreme shocks of up to circa 6.8% in expected credit losses from the domestic banking system's loans," it said.
Its top pick for the sector is Aeon Credit Service (M) Bhd, which has a "buy" call and RM12.30 target price (TP). AffinHwang opined that there is a value proposition for the counter as it looks into a recovery year in 2022, with a projected receivables growth of 9% y-o-y, versus -4% y-o-y in 2021 and lower net credit cost of 334 basis points (bps), from 353 bps in 2021.
"Aeon Credit remains a key player in consumer financing through credit cards, personal financing, motorcycle financing and used-car financing. Its 'valuechain transformation project' comprises: i) online loan applications/approvals; ii) a B2C2B digital marketing strategy; iii) the use of AI in its credit assessment model; and iv) process automation to help boost top-line growth and enhance operating efficiency. Aeon Credit's high ROE of 14.4% in FY22E is underpinned by the use of leverage and ability to generate an EIR at 16-17%, vs. traditional banking players at 5%," it said.