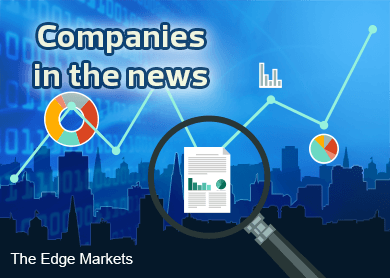 KUALA LUMPUR (Apr 28): Based on corporate announcements and news flow today, companies in focus tomorrow (Wednesday, April 29) could be BAT, Boustead, Icon Offshore, MAHB, DRB-Hicom, VisDynamics, Unisem, Globetronics, IGB REIT, Bina Puri and NetX.
British American Tobacco (Malaysia) Bhd (BAT) recorded a net profit of RM241.74 million or 85.2 sen per share in the three months ended March 31, 2015 (1QFY15), up 7.65% on-year from RM224.56 million or 78.9 sen per share, driven by the November 2014 excise-led price increase.
BAT (fundamental: 1.35; valuation: 1.7) said its revenue was up 10.4% to RM1.274 billion, as compared to RM1.154 billion a year ago.
It has also declared a first interim dividend of 78 sen per share, which amounts to RM222.71 million in total, payable on May 28.
Its market share for the quarter stayed largely flat at 61.1% (down just 0.1 percentage point from the full 2014), and "represents a commendable share performance, despite the price increase in the fourth quarter of 2014."
Boustead Holdings Bhd has completed its acquisition of a 50% stake in Irat Properties Sdn Bhd, through a third subscription for RM51.2 million.
Boustead (fundamental: 0.65; valuation: 2) said it has subscribed for 24,037,559 new Irat Properties' shares at the issue price of RM2.13 per share.
In addition, Boustead said the sale and purchase agreement (SPA) for the acquisition of Beta Tegap Sdn Bhd by Irat Properties has become unconditional today.
Both Beta Tegap and ATES Sdn Bhd, the operators of the Automated Enforcement System (AES), are now wholly-owned subsidiaries of Irat Properties.
Icon Offshore Bhd has granted chief executive officer (CEO) Dr Jamal Yusof and chief operating officer (COO) Rahman Yusof a six month leave of absence to focus on assisting on-going investigations by the Malaysian Anti-Corruption Commission (MACC).
Icon Offshore said deputy chief executive officer (CEO) Hassan Ali will lead the company, while both Jamal and Rahman are on leave which began yesterday (April 27).
Malaysia Airports Holdings Bhd (MAHB) has bagged a RM23.58 million job for the provision of facility management services for the New Doha International Airport project office, as well as the airport's mock-up warehouse and associated facilities.
MAHB (fundamental: 1.15; valuation: 1.40) said Malaysia Airports Consultancy Services Middle East LLC (MACS ME), a subsidiary of Malaysia Airports Consultancy Sdn Bhd (MACS) which is in turn MAHB's unit, received the letter of award and notice to proceed (NTP) for the works, from the NDIA steering committee on March 31.
It said the government of the State of Qatar — represented by the NDIA Steering Committee — and MACS ME, will enter into a formal contract tentatively by May 1, 2015, for the said works.
MAHB said the project will be carried out for three years from April 1 and covers the operation and maintenance of all electrical, mechanical, air-conditioning equipment and fire detection and protection systems.
Other scope of work includes operation and maintenance of operational and standby generators, including provision of diesel fuel and maintenance of civil engineering facilities, structures, road ways and etcetera.
DRB-Hicom Bhd's wholly-owned unit, Hicom Builders Sdn Bhd, has bagged a RM50 million contract from Northern Gateway Infrastructure Sdn Bhd to develop the Integrated Immigation, Customs, Quarantine and Security (ICQS) complex in Bukit Kayu Hitam, Kedah.
DRB-Hicom (fundamental: 1.25; valuation: 2.6) said it will provide financial assistance of up to RM20 million to the subcontractors, who will be appointed to undertake the relevant construction works.
It added that the award of the contract is a related party transaction as both companies — DRB-Hicom and Northern Gateway — are controlled by Tan Sri Syed Mokhtar Al-Bukhary and DRB-Hicom group managing director Tan Sri Mohd Khamil Jamil via Etika Strategi Sdn Bhd.
Syed Mokhtar holds a 90% stake in Etika Strategi, while Khamil owns the remaining 10%.
Automated test equipment manufacturer VisDynamics Holdings Bhd is now in formal discussions with the ultimate controlling shareholders of Indonesian-based private limited IT solutions company, PT Cipta Srigati Lestari (CSL), for a reverse take over.
VisDynamics said it has entered into a heads of agreement (HoA) with the ultimate controlling shareholders of CSL for the proposed RTO and a proposed management buyout (MBO) in VisDynamics, with the intention of finalising and entering into relevant definitive agreements within 60 days from the date of the HoA.
Under the proposed RTO, VisDynamics (fundamental: 2.5; valuation: 0) or a special purpose vehicle will acquire the entire issued and paid-up capital of CSL for a purchase consideration to be determined later, to be financed via the issuance of new VisDynamics shares at 28 sen each.
CSL is principally involved in the provision of IT solutions in the smartcard manufacturing industry, and the ultimate controlling shareholders are Steven Chandra, Roy Anthony Irawan, Fredyanto Kurniadi and Nathan Tirtana.
 
Meanwhile, under the proposed MBO, VisDynamics said the exercise would be led by its executive director and CEO Choy Ngee Hoe, who held a 30.32% stake in VisDynamics as at Jan 20 for all equity interest in the existing VisDynamics' group of companies, for a cash consideration to be determined later.
The proposals may result in a significant change in the group's business direction or policy.
Semiconductor devices manufacturer Unisem (M) Bhd saw its net profit for the first financial quarter ended Mar 31, 2015 (1QFY15) almost tripled (up 154%) to RM23.54 million, from RM9.27 million a year ago, on improved profit margin which brought its earnings per share (EPS) to 3.49 sen, from 1.37 sen.
In a filing with Bursa Malaysia, Unisem (fundamental: 1.25; valuation: 0.6) said the improvements were mainly due to better gross profit margin arising from a change in product mix and improved utilisation rates.
The group's revenue for the quarter under review came in at RM280.06 million, up 22.81% from RM228.05 million in 1QFY14, due to higher demand for its products and services.
Globetronics Technology Bhd registered a net profit jump of 21.6% in the first quarter ended Mar 31, 2015 (1Q15) to RM17.15 million, from RM14.1 million a year ago, on higher volume loadings from its customers.
In a filing to Bursa Malaysia, the semiconductor-based products manufacturer also attributed the improved results to better economy of scale from the productivity improvement or cost control programme that was undertaken by the company.
Revenue for 1QFY15 grew 6.3% on-year to RM88.7 million, from RM83.4 million.
The company said its Malaysia and Singapore segments recorded healthy sales and net profit improvement, as compared to the previous corresponding period.
Globetronics (fundamental: 3; valuation: 1.7) recorded a basic earnings per share of 6.1 sen for the quarter under review, and declared a dividend of 13 sen for 1Q15.
IGB Real Estate Investment Trust (fundamental: 2.8; valuation: 0.65), which has the Mid Valley Megamall and The Gardens Mall in its portfolio, saw a distributable income for the three months ended March 31, 2015 (1QFY15) at RM79.60 million, up 19.4% on-year from RM66.67 million, due to higher total rental income and lower property costs in the current quarter.
In its filing to Bursa Malaysia, IGB REIT said its distributable income per unit for 1QFY15 was at 2.29 sen, as compared to 1.89 sen in the immediate preceding quarter.
No distribution was declared for 1QFY15, as the REIT's manager "intends to distribute 100% of distributable income on a half-yearly basis for six-month period ending June 30, 2015 and Dec 31, 2015".
Meanwhile, IGB REIT said its net property income for 1QFY15 was at RM90.05 million, up 16.21% from RM77.48 million a year ago.
IGB REIT's gross revenue for 1QFY15 was at RM125.4 million, up 9.9% against 1QFY14's RM114.1 million, which it said was mainly due to higher total rental income in the current quarter.
Bina Puri Holdings Bhd has denied it is linked in any way to Utoken, a virtual currency issued by Utoken Reserve Ltd; and that it has never participated in the promotion of Utokens or other promotions under UFUN Group Ltd.
It said it has issued several reminders to UFUN, and taken actions to refrain UFUN from informing the latter's members or customers that Bina Puri is a joint venture partner in the "Utokens" promotion.
Bina Puri (fundamental: 0.15; valuation: 2.0) issued the denial after receiving inquiries from the public and close associates, following UFUN Group's purchase, through UTR Holding Co Ltd (UTR), of 100 residential units in the Bangkok Marina Resort and Spa development.
The Bangkok Marina Resort Spa was developed by Bangkok Property Co Ltd (BPCL), a company in which Bina Puri's associate Bina Puri Holdings (Thailand) Ltd has a 20% stake.
Bina Puri said UTR had initially expressed its interest to buy 300 residential units in the spa resort at US$50,000 per unit, but the purchase did not materialise and BPCL eventually reserved only 100 units for sale to UTR.
Authorities in Thailand are currently investigating UFUN's purported Thailand branch, UFUN Thailand, for alleged fraudulent pyramid schemes.
Loss-making communications and software solutions provider NetX Holdings Bhd plans to raise up to RM62.56 million via a 1-for-1 rights issue of up to 625.55 million shares with free detachable warrants, to expand into the electronic payment solutions business.
The warrants will be on the basis of one free warrant for every one rights share subscribed, at an entitlement date to be determined later.
NetX (fundamental: 1.25; valuation: 2.6) said the proceeds to be raised from the proposed rights issue is based on an indicative issue price of 10 sen per share and will be used to develop an electronic payment platform for electronic funds transfer at point-of-sale terminals.
It said up to 70% or RM44.06 million of the expected gross proceeds raised will be used to acquire smaller technology companies that have a developed mobile-based solution, which has the potential to be commercialised.
NetX also proposed to increase its authorised share capital to 5 billion shares, from 700 million shares currently, to accommodate the issuance of the new rights shares. The proposed issuance of the rights issue will enlarge NetX's issued and share-capital to 2.44 billion shares, from 625.55 million share currently, which may dilute its future earnings per share.
In addition, NetX announced it intends to establish a share issuance scheme of up to 30% of its issued and paid-up capital.
(Note: The Edge Research's fundamental score reflects a company's profitability and balance sheet strength, calculated based on historical numbers. The valuation score determines if a stock is attractively valued or not, also based on historical numbers. A score of 3 suggests strong fundamentals and attractive valuations.)