This article first appeared in The Edge Financial Daily, on September 12, 2019.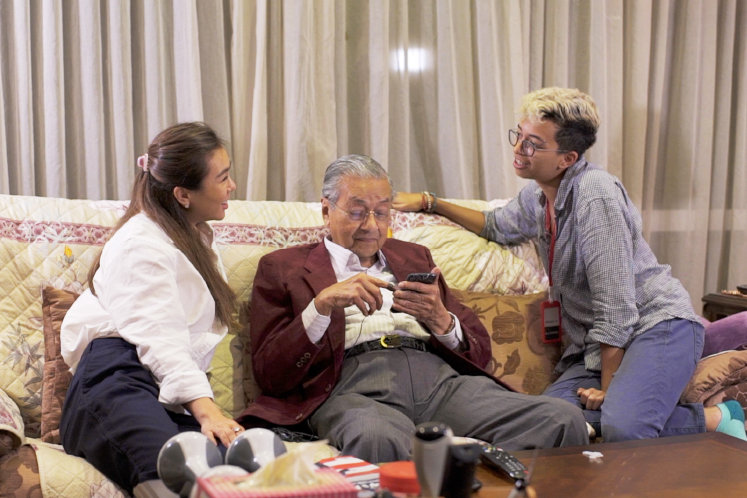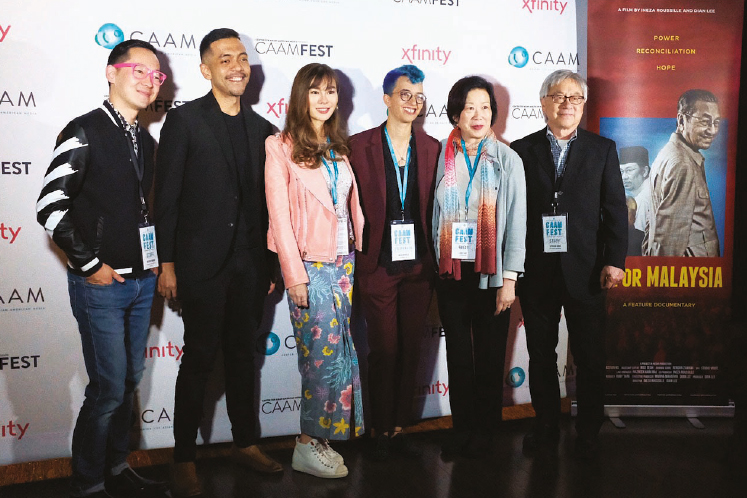 From left: CAAMFest37 director Masashi Niwano, Rendra Zawawi, Lee, Roussille, Yang, CAAMFest37 executive director Stephan Gong.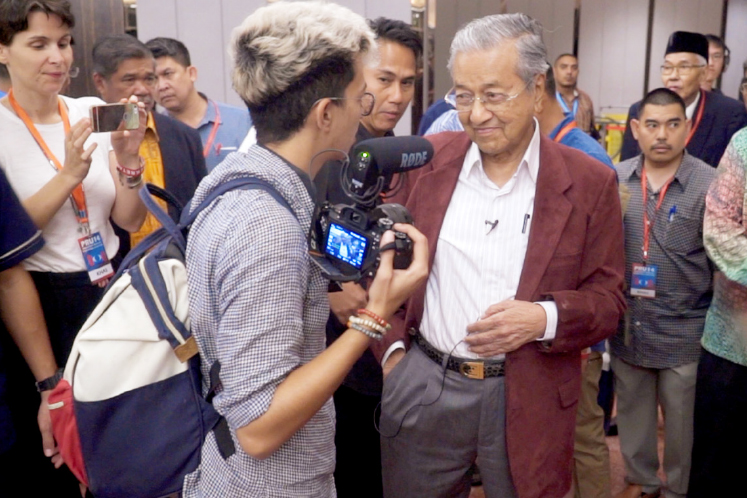 Ineza and Dr Mahathir.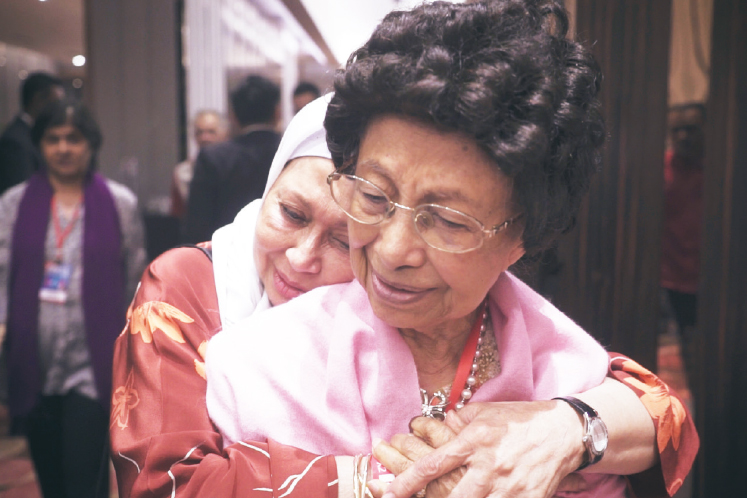 Siti Hasmah on election night.
Film-maker, director, producer and editor, Ruby Yang is a well-known figure in the world of documentaries. She has won an Academy Award for the film The Blood of Yingzhou District in 2007, and she is known for the award-winning film My Voice, My Life, and her feature documentary Citizen Hong Kong. Yang is now a member of the Director's Guild of America and the Academy of Motion Picture Arts and Sciences. She also heads the Hong Kong Documentary Initiative at the University of Hong Kong. Yang has brought her distinguished experience to M for Malaysia — a documentary which follows the 2018 Malaysian general election and the peaceful change of government — as the film's creative producer. We had the opportunity to speak to her about her experience with this history-making piece.
How did you get involved in the making of M for Malaysia?
Actually a mutual friend introduced me to Dian Lee (director, producer and executive producer of M for Malaysia), as she was looking for someone to mentor her for the film because it was her first time being a director. She has never done a feature length documentary, so they approached me and asked me to help with the project. They sent me the footage and I looked at it. It was pretty amazing footage of the campaign and I saw that it was very much the people's power in how the government changed. Without a drop of blood and through the ballot box — that is so important. It is really about democracy so I decided to help them. That was back in October last year.
What do you think is the message M for Malaysia has for viewers?
I think it is about a true form of democracy. I believe many voters showed up to vote, and that is the privilege of democracy. You are able to vote and exercise you right to vote. I think that is most important. I think the true from of democracy is by voting and also through a good leader, who is truly genuine and who wants to make changes for the better, for the society and the country.
How aware were you about Malaysia's political climate before this project?
I read about the corruption, the 1MDB (1Malaysia Development Bhd) story, as it was on the news quite a bit. It was quite negative news. I learned a lot through Lee and Ineza Roussille, (directory and co-producer of M for Malaysia). And of course the editor, Sebastian Ng is really into Malaysian politics and as an outsider I had a lot of questions. For two months I had to learn Malaysia's recent history, after independence. So I was not very aware of the history until the project.
Can you tell me a bit about your role as creative producer?
I think the structure of the film is most important and so is the theme. Lee and Ineza had to convince me that they had a clear theme in the film and make how they are going to tell the story clear. The film is actually about reconciliation, because most of the politicians were in jail before and then they came out to help Tun Dr Mahathir Mohamad. And that is one of the things that I wanted to be sure was clear in the film because for me, as a film person and an outsider, you have to convince me that it is believable. Also for international audiences, that is hard to believe so it has to be very clear. The history of the people wanting to have a clear, corruption free government, shown through things like Bersih, show that the people's movement was not built overnight, it is through the history. So was something that I asked them to put in the film, for outsiders and for international audiences. That is the structure of the film, because they have the storyline already but context wise, for me, that is important.
What do you like about M for Malaysia?
I like the personal moments between Dr Mahathir and Tun Dr Siti Hasmah Mohd Ali which is very genuine. I think it is nice for them to have such a long lasting relationship and support for each other. I think Dr Mahathir, and the success of him being a good politician and prime minister, that success is still probably through the support of Siti Hasmah. That I really like. And of course, it is the people's power that I really like.
How do you feel about this documentary is different from other films you have produced or directed?
Every film is different, so I cannot generalise how it is different. This film is good because Ineza is the granddaughter of Dr Mahathir. And so it is her personal view of her grandfather as a politician and as a grandfather, and I think that is special as well.
What was the response like at all the festivals it was taken too?
It was very positive. The world premier was at the San Francisco CAAMFest37 and there were a lot of Malaysians who came out to support the film. For overseas Malaysians who have not been back, this film was really special to them because a lot of them did not experience being in the country for the change of government and when they saw the film they were very moved and a lot of people cried during the screening.
Do you think documentaries, like M for Malaysia, can impact change?
Definitely. I have always believed that a good documentary can give a good social impact. I think documentaries like M for Malaysia definitely records a time in history, which is important for Malaysia. The theme is so important that it links to many other countries, and shows that change can be made through the ballot box and positive movements. I think the society right now has such a positive image because there's so much turmoil in different regions.
---
M for Malaysia will be screening in selected movie theatres from today until Sunday nationwide. For more information visit mformalaysia.com