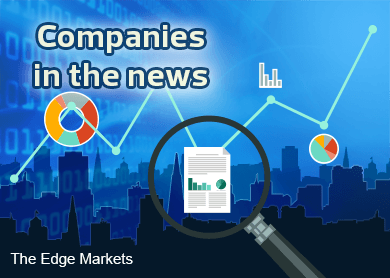 KUALA LUMPUR (June 11): Based on corporate announcements and newsflow today, companies that may be in focus tomorrow (Friday, June 12) could include: Berjaya Auto, Ire-Tex, Alam Maritim, AirAsia, AirAsia X, Gas Malaysia, Sunway, Lysaght, Sunsuria and Scomi Energy.
Berjaya Auto Bhd saw its net profit for the fourth quarter ended April 30, 2015 (4QFY15) rise 14.9% to RM55.26 million or 6.8 sen a share, from RM48.1 million or 3.5 sen a share in the previous year, as revenue rose 7.4% to RM424.34 million, from RM394.98 million in 4QFY14.
The automotive distributor has recommended a fourth single-tier interim dividend of 2.75 sen, and a special single-tier dividend of 3.25 sen in respect of FY15, both of which are payable on July 22, 2015, its filing to Bursa Malaysia showed.
This brings the group's total dividend declared for FY15 to 14.60 sen, against 5.25 sen last year.
 
Berjaya Auto said the implementation of the goods and services tax (GST) on April 1 has affected the sales volume growth and gross profit margin of Mazda vehicles.
Despite this, the group said both local and overseas operations continued to record double-digit growth in sales volume of Mazda vehicles, with the lower priced new Mazda 2 contributing significantly to volume growth.
For the full year, its net profit stood at RM215.41 million or 26.6 sen per share, up 64.9% from RM130.62 million or 17.21 sen per share in FY14. Revenue grew 26.2% to RM1.83 billion from RM1.45 billion on higher sales volume of Mazda vehicles.
Ire-Tex Corp Bhd has appointed Ferrier Hodgson MH Sdn Bhd as investigative accountant (IA) to conduct a thorough review of its related party transactions, following the issuance of a qualified opinion by its auditor on the group's financial statements for the year ended Dec 31, 2014 (FY14).
In a filing with Bursa, the group said Ferrier Hodgson will do a thorough investigation of the transactions made between Ire-Tex, its wholly-owned subsidiary Zoomic Automation (M) Sdn Bhd (ZASB), and suppliers Future Rank Sdn Bhd (FRSB), Sanjung AMS Sdn Bhd (AMS) and Midstream Resources Sdn Bhd (MRSB).
To recap, Ire-Tex (fundamental: 0.85; valuation: 1.7) had on May 5 announced its external auditor UHY Chartered Accountants had expressed a qualified opinion on the group's FY14 accounts.
The qualified opinion emphasised two transactions in which the first entailed the purchase of machinery by ZASB from FRSB amounting to RM16.5 million, with the group subsequently entering a separate agreement with AMS to upgrade the machinery for RM16 million.
The group had also entered into a tripartite agreement to assign the debt of RM10.7 million, owing from the initial supplier FRSB to AMS.
The second transaction highlighted by its auditor was the agreement between Ire-Tex and MRSB, for the implementation of a lean manufacturing programme amounting to RM2 million.
Alam Maritim Resources Bhd has been awarded a RM49 million subcontract works for the engineering, procurement, installation and related activities for the floating liquefied natural gas (FLNG) offshore works by Petroliam Nasional Berhad (Petronas).
In a filing with Bursa Malaysia, Alam Maritim (fundamental: 1.6; valuation: 1.5) said it recently entered into a subcontract form of agreement with Petronas Floating LNG 1 (L) Ltd (PFLL), a wholly-owned subsidiary of Petronas, for the FLNG offshore works – mooring system installation (package no. 1).
The job is expected to run from 20 May, 2015 until Sept 15, 2015. The contract is expected to contribute positively to its earnings and net tangible assets for the financial year ending Dec 31, 2015 and beyond.
AirAsia Bhd (fundamental: 0.2; valuation: 0.8) and its affiliate AirAsia X Bhd slumped in Kuala Lumpur trading on Thursday. The number of shares changing hands set a record for the year.
AirAsia tumbled 9.9% to RM1.82, with 78.34 million shares having changed hands. AirAsia X closed at 23 sen, the lowest ever since the company began trading in July 2013. Trading volume in that stock surged to 80 million, the second-highest ever.
Kenanga Investment Bank Bhd analyst Adrian Ng told Bloomberg that it is "most likely foreign selling", going by the volume involved. He also speculated it could be due to the ringgit's weakness.
Meanwhile, the Malaysian Iron and Steel Industry Federation (MISIF) is calling the Domestic Trade, Cooperatives and Consumerism Ministry to investigate Gas Malaysia Bhd, as it said the recent hike in natural gas tariff was "unjustified" and "smacked of excessive profiteering".
In a strongly-worded statement, MISIF president Datuk Soh Thian Lai said the federation was "utterly disappointed" and "deeply concerned" with the natural gas price increase, as not only is it being imposed at an inopportune time, but the move is also not justifiable as energy prices are low.
He said Gas Malaysia has recorded excellent profits of above RM160 million continuously for the past three financial years (2012 to 2014), and as such, MISIF is of the view that the tariff hike also smacked of excessive profiteering and is strongly opposed to it.
Gas Malaysia (fundamental: 2.1; valuation: 1.1) announced on Tuesday (June 9), that the government will increase natural gas tariff for the non-power sector by 10.27% to RM21.80 per one million British thermal units (mmbtu) from RM19.77 per mmbtu previously effective July 1.
Sunway Iskandar Bhd (SISB), an indirect subsidiary of Sunway Bhd (fundamental:1.5; valuation: 2.4), is partnering with Daiwa House Malaysia Sdn Bhd (Daiwa) to construct 100 pre-fabricated homes in Iskandar, Johor, a project which carries an estimated gross development value of RM210 million.
In a filing with Bursa, Sunway said SISB has entered into a subscription and shareholders agreement today with Daiwa and the JVCo – Daiwa Sunway Development Sdn Bhd – with the intention of establishing the joint venture via the JVCo. Under the SSA, Daiwa will hold 70% of the JVCo, while SISB will own the remaining 30%.
On the same date, SISB had also entered into a lease purchase agreement (LPA) with the JVCo for the disposal and lease transfer of a piece of 13.02 acre land in Iskandar, Johor, for RM63.07 million.
The proposed development will use prefabricated technologies to build 100 landed properties comprising bungalows, semi-detached, and cluster homes in a gated and guarded community, with its own facilities.
Lysaght Galvanised Steel Bhd announced today that its board of directors have rejected nomination notices for the election as directors that were submitted by two shareholders ahead of its annual general meeting (AGM) on June 22.
In an announcement with Bursa, Lysaght (fundamental: 1.95; valuation: 2.4) said the board had received the notices of nomination from the two shareholders on June 9 and June 10, and after deliberating them at a special board meeting yesterday (June 10), decided to reject them.
"The board wishes to announce that following the deliberation and taking into consideration a legal opinion which has expressed that the notices submitted by the two shareholders were not valid, the board has rejected the said two notices," the filing read.
"Accordingly, the persons being nominated in the notices will not be eligible for election as directors and their nominations will not be tabled at the forthcoming AGM," it added.
Lysaght said the board's decision was arrived at, after a vote with three directors voting in favour, two directors against, and two directors abstaining.
The Edge Weekly had reported Lysaght managing director Liew Hoi Foo and his sister-in-law Annie Chew Meu Jong are currently in a tussle over leadership of the company, one that was precipitated by the passing of Lysaght founder Chew Kar Heing in February last year.
The feud reportedly began when Meu Jong objected to Lysaght's proposal, which was mooted by Liew last year, for a share split, bonus issue and free warrants. The proposal was aborted in October last year.
Meu Jong is the oldest daughter of Kar Heing and an Australian citizen who sits on the board as non-executive director.
The weekly also reported that Liew's position hangs in the balance until the AGM, as shareholders decide on his re-election.
Sunsuria Bhd is targeting to enjoy RM1 billion property sales per year, moving forward.
Its executive director Kong Wai Seng said the group is targetting to record sales of about RM900 million for the current financial year ending Sept 30, 2016 (FY16). The property developer has changed its financial year-end from March to September.
Kong said the total launches of the group would be worth about RM1 billion in the next 12 months.
He said the bulk of the launches will be coming from the group's township development around the Xiamen University Malaysia campus in Bandar Kota Warisan, Sepang, Selangor, which measures 331.27 acres, with a gross development value (GDV) of RM6.4 billion.
Sunsuria's executive chairman Datuk Ter Leong Yap said the GDV for first phase of the development is about RM900 million. It will feature 663 units of low-rise apartments, priced below RM400,000 per unit.
He added the company's products in the near term, will mostly be low-rise and landed.
Meanwhile, Scomi Energy Services Bhd's oilfield services division has secured US$71.4 million worth of contracts for the first five months of 2015, bringing its current order book to over RM4 billion.
Scomi Energy (fundamental: 1.0; valuation: 0.5) said the new contracts secured this year was from about US$980 million worth of bids submitted so far.
Orders from Oman and Thailand drew US$33 million each, while the balance came in from Australia, Indonesia, Russia and Pakistan.
The contracts involve the provision of drilling waste management equipment and services, as well as drilling fluids solutions to its clients in the Middle East, Asia Pacific and Europe, Scomi's statement read.
(Note: The Edge Research's fundamental score reflects a company's profitability and balance sheet strength, calculated based on historical numbers. The valuation score determines if a stock is attractively valued or not, also based on historical numbers. A score of 3 suggests strong fundamentals and attractive valuations.)