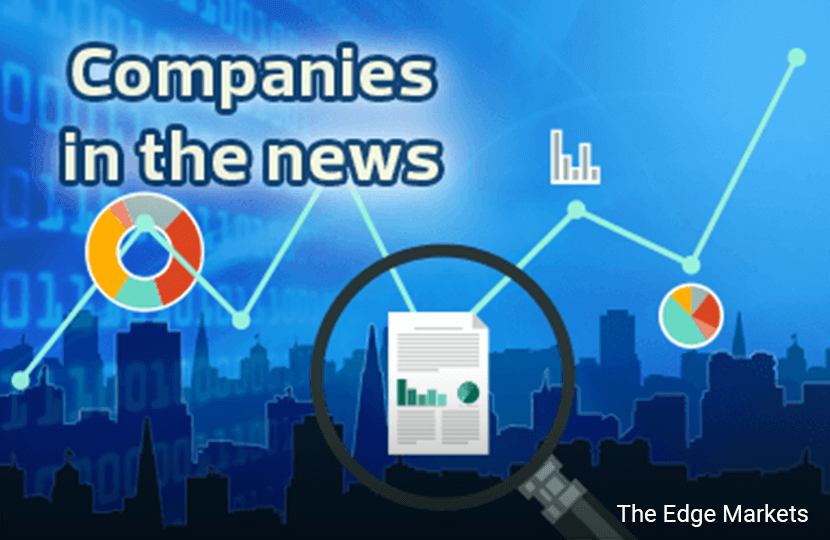 KUALA LUMPUR (Oct 15): Based on corporate announcements and news flow today, companies that may be in focus on Friday (Oct 15) could include the following: Top Glove Corp Bhd, Boustead Heavy Industries Corp Bhd, Sunway Construction Group Bhd, Eco World Development Bhd, IHH Healthcare Bhd, Genting Malaysia Bhd, Genting Plantations Bhd, Uzma Bhd, OSK Holdings Bhd, Bintulu Port Holdings Bhd and Tan Chong Motor Holdings Bhd.
Top Glove Corp Bhd, the world's largest rubber glove manufacturer, posted new record earnings and revenue for its fourth financial quarter ended Aug 31, 2015 (4QFY15), surpassing its previous all-time high quarterly results achieved in 3QFY15. 
The group saw its net profit more than double to RM103.12 million or 16.68 sen per share in 4QFY15 from RM46.32 million or 7.47 sen per share a year ago, thanks to  continuous internal quality and cost efficiency improvements.
Revenue for 4QFY15 grew 22.51% to RM709.45 million from RM579.11 million in 4QFY14.
Top Glove also declared a final dividend of 12 sen per share for FY15, bringing the total proposed dividend payout to 20 sen per share for the year, subject to shareholders' approval at the upcoming annual general meeting in January 2016. 
The group also proposed to undertake a bonus issue of up to 630.7 million new Top Glove shares on the basis of one bonus share for every existing Top Glove share held on the entitlement date.
For the 12 months ended Aug 31, 2015 (FY15), the group posted a 55.2% jump in net profit to RM280.15 million from RM180.52 million in FY14. Revenue rose 10.1% to RM2.51 billion against RM2.28 billion in FY14.
Top Glove founder and chairman Tan Sri Lim Wee Chai said the group will continue to aggressively pursue capacity expansion, building new optimised facilities that feature faster, more efficient and technologically-advanced production lines towards better profitability and cater the rising demand.
"Top Glove is also keenly pursuing merger and acquisition (M&A) opportunities that synergise with its current business, in similar or related industries," he said. As at Aug 31, 2015, the group's net cash position stood at RM186.5 million.
Going forward, Lim expects the environment will continue to be competitive as glove players increase their nitrile glove capacity.
"Nonetheless, Top Glove is upbeat in terms of outlook, reiterating that as an essential item in the healthcare sector, the demand for rubber gloves will keep growing steadily at a rate of 5% to 6% every year," he added.
Boustead Heavy Industries Corp Bhd (BHIC) said its 60%-owned unit Boustead DCNS Naval Corp Sdn Bhd (BDNC) has bagged a RM153.16 million extended contract from the government to provide in-service support (ISS) for two units of Prime Minister's Class Submarines for the Royal Malaysian Navy.
The extended contract will have a material effect on the earnings of BHIC Group for the financial year ending Dec 31, 2015, and will contribute positively to its future earnings.
In a filing with Bursa Malaysia today, BHIC said after negotiation, it accepted an additional letter of acceptance from the government on Monday, with a revised and final negotiated price of RM153.16 million, as well as a revised tenure to March 31, 2018 from May 31, 2017 previously.
BDNC had on March 30 accepted a letter of acceptance from the government for an additional ceiling contract value of RM531.2 million for the extension of the ISS contract.
Sunway Construction Group Bhd (SunCon) has secured a housing development job in Johor from Sunway Iskandar Sdn Bhd, a subsidiary of Sunway Bhd (Sunway) valued at RM174.51 million.
The construction outfit said the contract is for the the construction 222 units of linked houses, cluster homes and semi-detached houses in Johor Baru, which is targeted to be completed by Dec 31, 2017. 
It bagged the contract through its unit Sunway Construction Sdn Bhd (SCSB) today, a filing with Bursa Malaysia showed. 
It expects the contract to contribute positively to its earnings from the financial year ending Dec 31, 2015 onwards.
Eco World Development Group Bhd is keeping its timeline to launch the RM8.7 billion Bukit Bintang City Centre (BBCC) project in Kuala Lumpur, where the Pudu Prison once stood, in the first quarter of 2016.
Eco World chief executive officer Datuk Chang Khim Wah said the sales gallery for the development is currently under construction, and will be open to the public soon.
"Bukit Bintang project is going full steam ahead. The sales gallery is being built at this point in time. We shall be ready for operations quite soon, we are getting things ready now," he told reporters after the group's extraordinary meeting (EGM) today.
Chang said more news on the project will be announced "very soon".
BBCC is a joint development between Eco World, Uda Holdings Bhd and the Employees Provident Fund (EPF), in which Uda and Eco World each hold a stake of 40% in the special purpose vehicle, BBCC Development Sdn Bhd for the project, and EPF holds the rest.
Earlier at the EGM, Eco World shareholders gave their approval for the developer to proceed with its RM10 billion Eco Marina development in Batu Kawan, Penang.
"The expected takeoff date for this project is sometime towards the end of 2016," said Chang.
IHH Healthcare Bhd is expected to open its first tertiary medical facility in Chengdu, China in the second half of 2017.
In a statement today, IHH Healthcare said the group, through its indirect wholly-owned subsidiary, M&P Investments Pte Ltd (M&P) and its partner Shanghai Broad Ocean Investments Co Ltd have entered into a lease agreement with Perennial Real Estate Holdings Ltd to operate a 350-bed tertiary hospital at Perennial International Health and Medical Hub in Chengdu.
Under the agreement, M&P and Broad Ocean will, through their joint venture (JV) company, lease a space of at least 48,000 sq m at the Chinese hospital.
The lease is subject to M&P and Broad Ocean obtaining the necessary government and regulatory approvals to establish a JV company to operate the hospital, the statement read.
The new ParkwayHealth Chengdu Hospital will be IHH Healthcare's first tertiary facility in Chengdu, under its largest operating subsidiary Parkway Pantai Ltd. The new hospital complements IHH Healthcare's existing presence in mainland China, where the group already operates 11 medical centres – including one in Chengdu.
IHH Healthcare managing director and chief executive officer Dr Tan See Leng said the ParkwayHealth Chengdu Hospital will further spearhead the group's growth into the tertiary segment in China and provides an opportunity for it to move up the value chain in a key growth market.
Genting Malaysia Bhd (GENM) is disposing of two parcels of adjoining leasehold land, measuring 3.54ha in Kuala Lumpur to a unit of Genting Plantations Bhd for RM65.76 million cash.
The disposal, GENM said, is to unlock the value of the properties and it intends to use the cash proceeds as working capital. 
In a filing with Bursa Malaysia today, GENM said its unit Tours and Promotion Sdn Bhd has entered into a conditional sale and purchase agreement with Esprit Icon Sdn Bhd, a wholly-owned subsidiary of Genting Plantations, for the proposed deal.
Currently, the land houses a single-storey office building, store, workshop and parking yard or garage, with a net book value of RM7.9 million, free of encumbrances. 
The market value of the properties was determined by Raine & Horne International Zaki and Partners Sdn Bhd at RM68.5 million on July 26, the filing stated.
Uzma Bhd is acquiring a 30.04% stake of United Kingdom-based Rockwash Prep and Store Ltd to expand its services in laboratory testing and analysis of reservoir rocks, for an undisclosed amount. 
In a filing with Bursa Malaysia today, Uzma said the partnership would enhance its service offering in the oil and gas geoscience subsurface segment.
Commenting on this, Uzma's chief executive officer Datuk Kamarul Redzuan said Rockwash' technology would expand and strengthen its geoscience and petroleum engineering department.
"Specifically for our laboratory services, giving Uzma further grip in our presence in this core area," he added.
OSK Holdings Bhd intends to issue medium-term notes (MTN) of up to RM990 million in nominal value under a 15-year programme.
OSK Holdings told the local bourse today that it has lodged with the Securities Commission Malaysia (SC) the required information and relevant documents relating to the MTN programme.
"The MTN programme will give OSK Holdings the flexibility to raise funds via the issuance of MTNs from time to time which can be utilised to refinance its existing borrowings and to fund its working capital requirements," the group said. 
It said the MTN programme is unrated and has a tenure of 15 years from the date of first issuance of the notes.
RHB Investment Bank Bhd is the principal adviser, lead arranger and lead manager for the proposed programme.
Bintulu Port Holdings Bhd has awarded a RM21.93 million contract to Integrated Marine Works Sdn Bhd for maintenance dredging works in Pulau Indah, Selangor. 
In a filing with Bursa Malaysia today, Bintulu Port said it issued the the four-month contract via its unit Bintulu Port Sdn Bhd. 
The group said the contract value was including of a 6% goods and services tax (GST) amounting to RM1.316 million.
It added the rate of 0.0219% of the contract sum per day (excluding the 6% GST) would be imposed as liquidated and ascertained damages for non performance of the works.
Tan Chong Motor Holdings Bhd's subsidiary Edaran Tan Chong Motor Sdn Bhd (ETCM) is considering to raise the selling prices of Nissan models next year, if the ringgit continues to depreciate against all major currencies.
The car maker said in a statement today that some cost might have to be passed to consumers despite it has been implementing numerous cost rationalisation and efficiency optimisation exercises to mitigate the impact of weaker on its business. 
"Despite the adversities, the company remained committed to providing its customers with quality, value-added products and the highest level of customer services," said ETCM executive director Datuk Dr Ang Bon Beng. 
"The company will continue to seek and review opportunities for more strategic operational effectiveness and efficiencies within the business and with our partners, in order to ensure that the current prices of Nissan vehicles remain unchanged this year," he added.