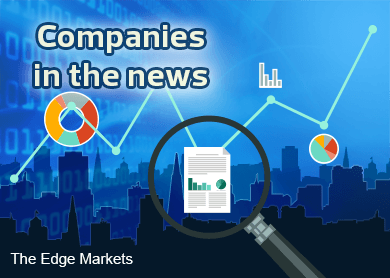 KUALA LUMPUR (May 13): Based on corporate news flow and announcements today, stocks in focus tomorrow (Thursday, May 14) could include: BHIC, Tan Chong, Perisai Petroleum, Guiness Anchor, SEGi, Dayang Enterprise, Perdana Petroleum, Mulpha Land, OWG and Kimlun.
Boustead Heavy Industries Corporation Bhd (BHIC) saw its net profit ballooned to RM8.42 million or 3.39 sen per share for the first quarter ended March 31, 2015 (1QFY15), compared to RM779,000 in the previous corresponding quarter.
This was despite a slight dip in revenue to RM63.4 million in 1QFY15, compared to RM64.2 million in 1QFY14.
BHIC (fundamental: 0.9; valuation: 0.45)'s heavy engineering segment contributed positively to the group's financials with brisk progress on the fabrication of the Belum Satelite topsides facilities for Murphy's Sarawak SK309/311 gas development project.
Meanwhile, higher share of profits from joint venture (JV) companies such as Contraves Advanced Devices Group and BHIC AutoServices Sdn Bhd also boosted group earnings.
Nevertheless, the group had recorded weaker performance in the defence-related maintenance, repair and overhaul (MRO) of navy vessels and the chartering segment.
Tan Chong Motor Holdings Bhd's net profit contracted 36.5% to RM26.3 million in the first quarter ended Mar 31, 2015, from RM41.5 million in the previous corresponding quarter, mainly due to higher cost for imported parts.
Tan Chong (fundamental: 0.85; valuation: 2)'s automotive division recorded lower EBITDA of RM73.3 million, due to higher completely knocked down (CKD) kits cost.
The higher cost arose from unfavourable foreign exchange rate, compared to the same quarter last year.
However, automotive revenue came higher at RM1.55 billion, up 24.6%. Similarly, its total revenue for the quarter jumped 24.5% to RM1.57 billion, from RM1.26 billion a year earlier.
Perisai Petroleum Teknologi Bhd is back in the black, reporting a net profit of RM7.03 million or 0.01 sen per share for its first quarter ended March 31, 2015, compared to a net loss of RM2.99 million a year earlier.
The improvement in Perisai (fundamental: 0.45; valuation: 1.1)'s profit was on the back of a 422% spike in quarterly revenue to RM56.73 million, from RM10.87 million in the previous year, due to the commencement of drilling operations of its new jack-up drilling rig, Perisai Pacific 101, in August 2014.
Besides that, higher contribution from its joint ventures and associates and higher foreign exchange gain had also contributed to better results for the quarter.
Guinness Anchor Bhd (GAB) reported an 11% increase in its net profit for the third financial quarter ended March 31, 2015 (3QFY15) to RM39.46 million, from RM35.56 million a year ago, mainly due to improved cost efficiencies and higher revenue.
GAB (fundamental: 1.7; valuation: 1.5)'s revenue had also increased by 17.4% in 3QFY15 to RM437.33 million, from RM372.55 million in the same quarter a year ago, driven by the better performance in sales during the Chinese New Year period, as well as effective deployment of the group's sales strategy.
The group reported an earnings per share (EPS) of 13.06 sen for 3QFY15, from 11.77 sen in 3QFY14.
For its nine month period ended March 31, 2015 (9MFY15), GAB reported a net profit of RM170.17 million, which was 12.5% higher than its net profit of RM151.27 million in 9MFY14. However, the positive impact of cost efficiencies had been partly offset by higher excise duty and sales tax payments.
The group's 9MFY15 revenue grew by 12.8% to RM1.35 billion, from RM1.2 billion in the same period a year ago, driven by volume growth, pricing and a favourable brand mix, as well as the enforcement measures carried out by the Royal Malaysian Customs against contraband beers.
Its 9MFY15 EPS was at 56.33 sen, from 50.07 sen in the same period a year ago.
Higher education provider SEG International Bhd (SEGi) saw its net profit increased 50.1% to RM10.82 million in the first quarter ended March 31, 2015 (1QFY15), compared with RM7.21 million in the previous corresponding period.
This translated into earnings per share of 1.6 sen in 1QFY15, compared to 1.12 sen in 1QFY14.
SEGi's (fundamental: 1.8; valuation: 1.1) 1QFY15 revenue increased 9.51% to RM67.37 million, compared to RM61.52 million in 1QFY14.
SEGi attributed the increase in revenue and profit in 1QFY15 compared to 1QFY14, as mainly due to better product mix and demand for higher-end programmes.
 
On prospects, SEGi said it launched a number of new initiatives in the last two years, which have set a strong foundation for growth.
"With this in place, the group expects its financial performance to improve further for this and the coming years," the report stated.
Shares in Perdana Petroleum Bhd and its major shareholder Dayang Enterprise Holdings Bhd, will be suspended from 9am tomorrow, pending respective announcements from both companies.
Perdana Petroleum (fundamental:1.3; valuation:1.4) had received a letter from Dayang (fundamental:2.7; valuation:2.1), which controls some 29.77% of Perdana, stating it will be entering into a material corporate transaction involving Perdana Petroleum.
Both companies requested a suspension of trading for their respective shares and structured warrants, with effect from 9am tomorrow.
Only World Group Holdings Bhd (OWG) has been slapped with an unusual market activity (UMA) query by Bursa Malaysia today, on the increase in its share price of late.
Shares of the leisure and hospitality services provider had gained about 10% since last Monday (May 4).
The stock closed down 9 sen or 3.27% at RM2.66 today, but year-to-date, it has soared by about 201% from 90 sen. The current price gives it a market value of RM492.1 million.
The company was also instructed to explain any rumour or report that may have been a contributing factor to the recent movement of its shares.
Kimlun Corporation Bhd (fundamental: 1.3; valuation: 1.8)'s wholly-owned subsidiary, Kitaran Lintas Sdn Bhd (KLSB), has entered into a sale agreement with Choo Chek Juan @ Choo Ou Kiak (Vendor) to buy 29 parcels of contiguous freehold land, all in the Mukim of Kota Tinggi, District of Kota Tinggi, Johor, measuring an aggregate 140.84 acres for RM28.3 million.
Approximately 60% of the land areas of the land are planted with oil palms which are at the tail-end of the average commercial life span of oil palms, while the remaining land areas are mostly planted with immature oil palms. Total fresh palm fruit bunches produced in the past three years amounted to 1,610 metric tons.
The purchase consideration will be satisfied wholly in cash from internally-generated funds and/or external borrowings, breakdown of which has not been finalised at this juncture.
(Note: The Edge Research's fundamental score reflects a company's profitability and balance sheet strength, calculated based on historical numbers. The valuation score determines if a stock is attractively valued or not, also based on historical numbers. A score of 3 suggests strong fundamentals and attractive valuations.)