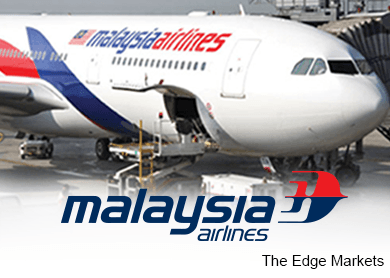 (May 29): Some 180 types of allowances paid out by Malaysia Airlines, including a monthly bicycle allowance to one employee, contributed to its financial drain, The Star reported today.
It quoted MAS chief executive officer Christoph Mueller as saying that huge overtime claims, over-priced contracts and salaries also added to the airline's costs.
But Mueller said that this phenomenon was also prevalent in many airlines.
"In many airlines, it grows over the years. You have a flight into a cold area and there is a winter clothing allowance.
"It is not just the base salary you get. You have a lot of other things," Mueller said in the report.
He also said the airline suffered a lot from "abuse of overtime", adding that the overtime payments were at times higher than salaries.
He told the paper that overtime became a hidden currency for base pay substitution in certain parts of the company.
Mueller said this was bad practice, as apart from having to pay high for overtime, it also caused the aircraft to leave the hangar late.
"That is because you can only justify the overtime if the work you do is delayed," he said, adding that as such, there was the motivation to deliver an aircraft out of the hangar permanently late.
He said under a new reward system, staff will be given incentives for finishing their work on time.
"We have to replace this type of bad practice with more flat salaries so we can incentivise people with more money if they finish the work on time, which I think is more normal," Mueller told The Star.
He said that the employment terms for MAS Bhd were benchmarked with several airlines or specialised companies, adding that the new pay scale factored in the cost of living in Malaysia and elsewhere where MAS was based.
He added the company also took into account seniority, which was a complex process.
The Star report also quoted a source who said the salaries of some senior executives was an issue with some unions, with some earning more than RM100,000 a month.
As of the end of December 2013, MAS's staff cost was its second biggest item after fuel, totalling RM2.3 billion in 2013, down from RM2.5 billion a year earlier at the group level.
MAS is preparing to terminate one third of its workforce, and some 20,000 MAS employees will know their fate next week.
Only two-thirds of the workers will be re-employed under the rebranded MAS Bhd. – The Malaysian Insider