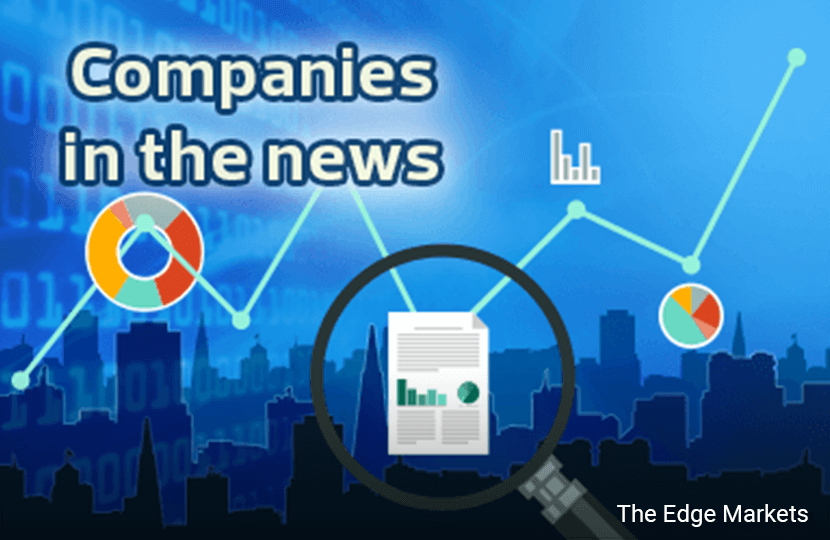 KUALA LUMPUR (Oct 26): Based on corporate announcements and news flow today, companies that may be in focus next week (Tuesday, Oct 27) could include the following: Bina Puri, Y&G, CCM, DiGi, SMTrack, Jaya Tiasa, Rimbunan Sawit, Ajiya, ManagePay, XOX, and Nestle.
Builder cum property developer Bina Puri Holdings Bhd expects to get an estimated RM230 million contract from PR1MA Corp Malaysia (PR1MA) for the construction of affordable properties in Plentong, Johor.
In a filing with Bursa Malaysia today, Bina Puri said it has received a letter of intent from PR1MA, for the job comprising 994 apartments and 20 shops.
According to Bina Puri, it will build the properties on a 7ha (18.23 acre) freehold land, adding that the said project is expected to contribute positively to the net assets and earnings of Bina Puri Group for the financial year ending Dec 31, 2016.
The government has tasked PR1MA with the responsibility of providing affordable urban homes to Malaysians in the middle-income segment. PR1MA's website indicates the properties are priced between RM100,000 and RM400,000 each.
Property developer Y&G Corp Bhd is being sued by Chemical Company of Malaysia Bhd (CCM) over outstanding lease rental for a piece of land.
In a filing with Bursa Malaysia today, Y&G said it had been served with a sealed Writ of Summons and Statement of Claim, both dated Oct 20, 2015, by solicitors Messrs. Raja, Darryl & Loh, acting for CCM.
Y&G further noted that the chemicals and pharmaceuticals products maker is claiming for a declaration that the land lease is appropriately terminated, an order to re-enter and repossess the leased land, an order that Y&G shall pay CCM a sum of RM2.23 million being six years' lease rental in arrears, 5% interest per annum on the arrears lease rental (calculated from Jul 8, 2015 until the date of full settlement) and other incidental costs.
The filing did not disclose further details or the whereabouts of the land.
Nevertheless, Y&G said it is not aware of the past land lease arrangement entered into on Aug 29, 1987, nor the arrears lease rental and therefore, would arrange to seek further clarification from CCM in due course.
Y&G added it will be seeking legal advice to act against the writ and at the same time, will be seeking further clarification from the plaintiff to settle the matter amicably.
Malaysia third largest telecommunication services provider DiGi.Com Bhd's net profit fell 18.55% to RM396.62 million or 5.10 sen a share for the third quarter ended Sept 30, 2015 (3QFY15), from RM486.92 million or 6.26 sen a share a year ago.
The group attributed this to the higher progressive depreciation from network expansion and accelerated depreciation of RM26 million relating to migration of data centre.
According to its filing with Bursa Malaysia today, DiGi'a revenue for the quarter also dropped 5.11% to RM1.67 billion, from RM1.76 billion in 3QFY14, amid intense international direct dial (IDD) and data price competition.
Nevertheless, DiGi declared a third interim dividend of 5.1 sen, totalling RM397 million, for the financial year ending Dec 31, 2015(FY15), payable on Dec 4, 2015. This brings its total dividend to 17.1 sen per share for the year.
For the nine-month period (9MFY15), DiGi's net profit came in at RM1.34 billion or 17.24 sen per share, 8.84% lower compared with RM1.47 billion or 18.92 sen per share a year ago. Revenue for the period fell a marginal 0.57% to RM5.19 billion, from RM5.22 billion in 9MFY14.
Its customer base remained solid at 11.7 million, with active internet subscribers continuing to climb to 7 million or 60.2% of its total subscriber base. Its post-paid subscribers grew 4.6% on year to 1.8 million, while the pre-paid user base levelled to 9.9 million.
In a statement today, DiGi's chief executive officer Albern Murty said the volatile consumer sentiment from the goods and services tax, shrinking wallet size from weaker ringgit, and fierce competition, hds brought about a lacklustre 3QFY15, despite the industry's prospects remaining optimistic.
SMTrack Bhd's managing director cum chief executive officer (CEO) Yow Lock Sen has ceased to be a substantial shareholder in the radio frequency ID tags specialist, which counts Sarawak businessman Datuk Amar Abdul Hamed Sepawi as its largest shareholder, with a 12.07% stake.
In a filing with Bursa Malaysia today, it was revealed that Yow had disposed of 4 million SMTrack shares at 9.5 sen per share on Oct 22.
With this disposal, Yow is left with 6 million shares or a 2.12% direct interest, as well as 4.28 million shares representing a 1.51% indirect interest in the company.
The disposal price of 9.5 sen was at a 9.5% discount to SMTrack's closing market price of 10.5 sen per share on Oct 22.
Yow first emerged as a substantial shareholder in the company on May 8 last year, after acquiring 10 million shares that represented a 3.53% direct interest, together with 12.24 million indirect shares or a 4.32% indirect interest held through his son's substantial shareholdings in Online Entertainment Sdn Bhd. He was appointed as CEO of SMTrack a day after, on May 9, 2014.
He subsequently trimmed his indirect stake in the company to 4.28 million shares, or 1.51%.
Timber producer Jaya Tiasa Holdings Bhd's wholly-owned subsidiary, Multi Greenview Sdn Bhd, has acquired a 9.87% stake in Rimbunan Sawit Bhd (RSB) for RM70 million, to expand its interest in the oil palm sector.
In a filing with Bursa Malaysia today, Jaya Tiasa said it acquired a total of 140 million shares from related parties, Pemandangan Jauh Plantation Sdn Bhd (PJP) (100 million shares) and Tiong Toh Siong Holdings Sdn Bhd (TTS) (40 million shares).
Jaya Tiasa, RSB, PJP and TTS have a common major shareholder and director in Tan Sri Datuk Sir Diong Hiew King @ Tiong Hiew King.
Jaya Tiasa said the consideration was made in cash and funded by borrowing.
The purchase consideration was arrived at, on a willing-buyer willing-seller basis, at par value of RSB ordinary shares of 50 each, representing a discount of 7.4% from 54 sen, the volume weighted average market price of the sales shares for the five market days ended Oct 23, 2015.
Building material manufacturer Ajiya Bhd has proposed to undertake a private placement of up to 6.92 million shares to raise RM25.96 million, mainly for working capital.
In a filing with Bursa Malaysia today, Ajiya said these new shares, which represent about 10% of its total issued and paid-up share capital, are meant to be issued to independent third party investors to be identified later.
The group also said the placement shares will be priced at a discount of not more than 10% to the volume weighted average market price for five market days (5D-WAMP), immediately preceding the price fixing date.
Based on an indicative issue price of RM3.75, Ajiya said it expects to raise about RM25.96 million, of which 70.6% will be utilised for working capital, 17.3% for acquisition of equipment and factory facilities, 9.6% for expansion of production capacity; and the remaining, for estimated expenses incurred for the corporate exercise.
The group expects the private placement to be completed by the first quarter of 2016.
Electronic payment solutions provider ManagePay Systems Bhd has signed a partnership agreement with Adv Fusionex Sdn Bhd (Fusionex) for the development of services related to big data analytics and e-payment.
In a filing with Bursa Malaysia, the company said Fusionex will provide ManagePay and its clients with data analytics, big data tools and platform support, while ManagePay will provide electronic money (e-money) and electronic wallet (e-wallet) services to clients of Fusionex.
The e-money and e-wallet services are slated to be rolled out at the end of the year, the filing stated.
Fusionex is a subsidiary of Fusionex International Plc, which is listed on the London Stock Exchange.
The partnership will also explore the potential of a jointly developed payment gateway integrated with a big data analytics platform for ManagePay and Fusionex's clients.
ManagePay said the partnership is in line with its business strategy to develop a new scalable business earnings stream.
It also allows ManagePay to jump start into a broader eco system in cashless transactions, under the e-payment initiatives set out by Bank Negara Malaysia, the company said.
Bursa Malaysia Securities Bhd has slapped mobile operator XOX Bhd with an unusual market activity (UMA) query for the second time this month, on its sharp rise in share price and volume recently.
Year-to-date, XOX's shares have skyrocketed between 235.7% and 370%, while the stock has appreciated 88% since the start of October.
Food manufacturing giant Nestle (Malaysia) Bhd is bullish on its outlook for the fourth quarter ending Dec 31, 2015, on the back of positive consumer sentiments, following the announcement of Budget 2016, said the latter's managing director Alois Hofbauer.
Hofbauer also said the company's sales from markets outside Malaysia only accounts for about 1% of Nestle Malaysia's sales, thus the company will not be impacted by souring — if any — consumer sentiments outside the country.
He was speaking to reporters after the launching of Nestle Malaysia's newest factory in Shah Alam, by Selangor's Sultan Sharafuddin Idris Shah.
(Note: The Edge Research's fundamental score reflects a company's profitability and balance sheet strength, calculated based on historical numbers. The valuation score determines if a stock is attractively valued or not, also based on historical numbers. A score of 3 suggests strong fundamentals and attractive valuations.)