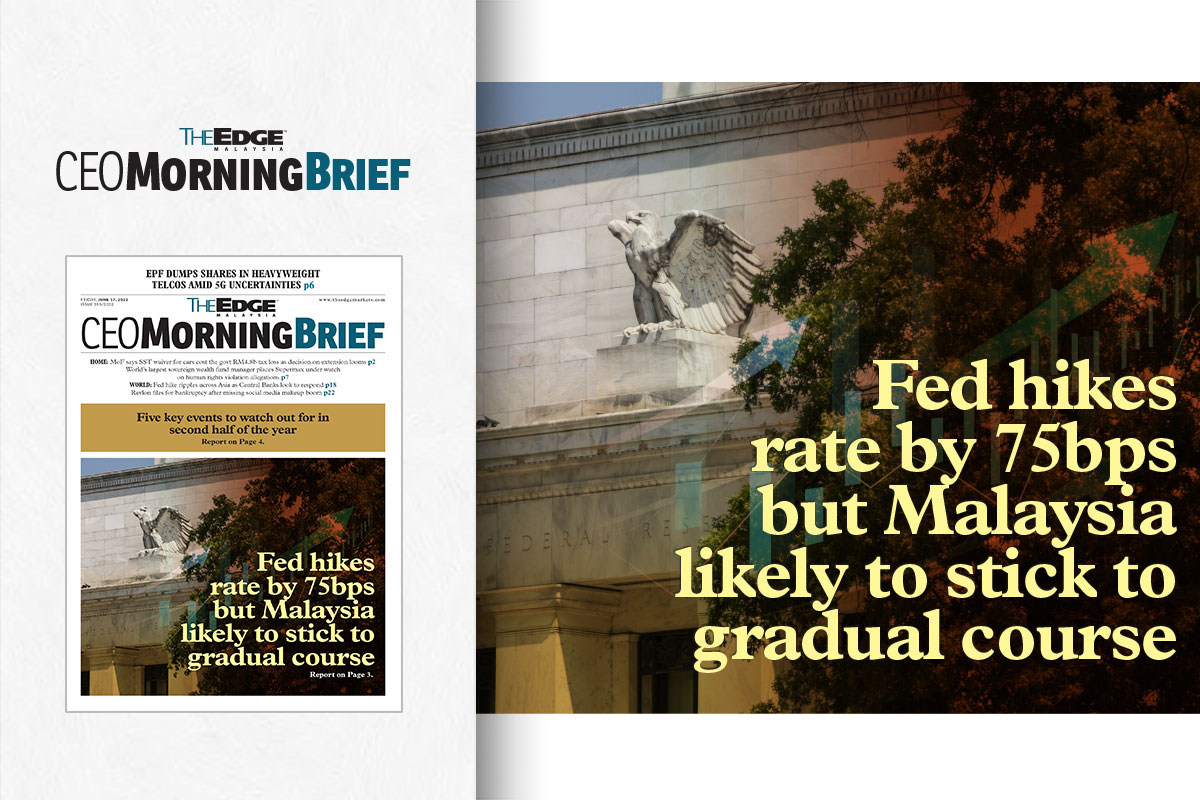 KUALA LUMPUR (June 17): Bank Negara Malaysia (BNM) is likely to maintain a gradual pace in the normalisation of the Overnight Policy Rate (OPR) although the US Federal Reserve (Fed) raised its interest rate by the most in nearly 30 years.
After the 75-basis-point hike on Wednesday, Fed chair Jerome Powell expects another increase of 50 or 75 basis points at the July meeting, amid surging inflation to the highest level in 40 years. Its inflation is forecast to rise to 5.2% this year from 4.3%, before ticking lower in 2023. At the same time, the Fed downgraded the economic growth forecast for 2022 to 1.7% from 2.8%.
MIDF Amanah Investment Bank Bhd research head Imran Yassin Yusof does not expect BNM to gear up and be as aggressive as the Fed in tightening monetary policy given that Malaysia's inflation is relatively low compared with the US'.
Malaysia's consumer price index (CPI) rose 2.3% year-on-year in April 2022. Notably, fuel has long been a subsidised commodity in Malaysia with the ceiling price set for RON95 petrol at RM2.05 effective from February last year.
For now, he sees the central bank raising just another 25 basis points in the second half of 2022 (2H22).
"We don't believe that the more aggressive Fed will put pressure on BNM to follow suit. BNM's decision will be dependent on the economic conditions in Malaysia. Given that Malaysia's inflation is more moderate than in the US, we opine that BNM will not be under as much pressure as the US Fed to be aggressive [in the monetary policy]," he told The Edge.
He warned that a more aggressive move may derail Malaysia's growth trajectory.
Despite concerns over the weak ringgit — which weakened past the 4.42 level recently, he believes the local currency will be supported by robust commodity prices, and may recover from the current weakness.
The OPR was raised from a record low of 1.75% to 2% last month — the first increase since July 2020.
Affin Hwang Asset Management senior director of fixed income Esther Teo also shared a similar view that BNM will take a gradual approach in managing OPR given the local inflation is manageable and growth will be capped by fuel and food subsidies.
"While the US is embarking on an aggressive rate hike cycle in order to tame its high inflation, we believe BNM does not need to hike rates as aggressively domestically. This is because the dynamics of inflation are different between the US and Malaysia.
"Malaysia's inflation is expected to rise, but still range within 2.5%-3.5% which is much lower than the 8% CPI print in the US. This is mainly because over 40% of our CPI components are subsidised, whereas the US is very much market-driven," said Teo.
Noting that Malaysia is also in the early stage of a sustained recovery after reopening from the Covid-19 lockdowns, she said BNM's surprise interest rate hike of 25 basis points in May was rather a "pre-emptive" move to contain inflation.
"Going forward, we expect a gradual and measured pace of interest rate normalisation to continue in Malaysia with another hike of 25 to 50 basis points for the rest of 2022 and another 50 basis points in 2023. This will bring the OPR to pre-pandemic level of 3% by the end of 2023.
"This is based on our view that inflation will remain manageable in Malaysia with no changes to fuel and food subsidy policies, and that the 2022 GDP (gross domestic product) forecast of 5.50% is achievable," she added.
Malaysia's economy prospects remain intact
With the prospect of a hawkish Fed to remain, Teo sees impact on Malaysia's economy and financial markets to be manageable given the country's relatively large foreign reserves, low US dollar-denominated external debt and a large domestic liquidity base. As a net commodity exporter, Malaysia also benefits from higher commodity prices.
On downside risks in the near term, she pointed to the weakening growth outlook of China's economy.
"Beijing's zero-Covid policy is having a large impact on China's employment and growth outlook, and the property sector in China is seeing rising defaults and liquidity stress. We expect China's government to ease policy more aggressively in the 2H22 to support growth including the property sector. Its strict zero-Covid policy has to be further loosened for the economy to get back on track," she observed.
Overall, Imran is of the view that the impact from US rate hike on Malaysia will not be significant in view of the economic recovery prospects and elevated commodity prices.
"Our economy is in a recovery mode with high commodity prices. Hence, we have not changed our GDP outlook for this year," he said, noting that the economy is projected to expand 6% this year against 3.1% in 2021.
Even though US economic growth is expected to see a further slowdown, Malaysia's trading with other partners remains strong.
"So, it is not necessary that slower US growth will lead to an equal magnitude of slowdown in Malaysia," Imran highlighted.
As for the fund flows, he does not rule out the return of foreign investors once the dust settles as future rate hikes could have already been priced in.