This article first appeared in Enterprise, The Edge Malaysia Weekly, on June 8, 2020 - June 14, 2020.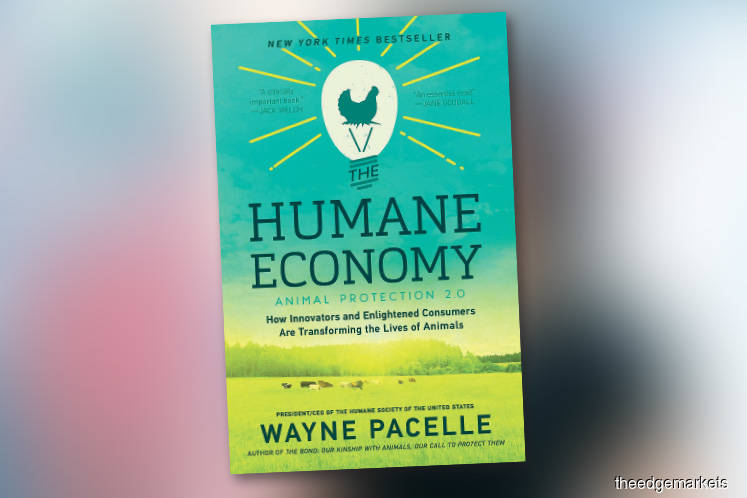 Just about every enterprise built on harming animals is ripe for disruption today. So says Wayne Pacelle, former president of the Humane Society of the United States (HSUS), in his book The Humane Economy. Published in 2016, the book talks about the brave new economy that has emerged from informed consumers opting for products or services that either reduce or eliminate animal suffering in a variety of industries, from agriculture to pharmaceuticals and entertainment.
The old ways of thinking are being squeezed into oblivion from two sides — market forces and innovation, Pacelle insists. "There is a groundswell among consumers who not only believe that animals matter but also put those principles into action and make choices to drive change in the marketplace."
He speaks of legions of entrepreneurs who are imagining better ways to produce goods and services that do less harm to animals. "They are enlisting scientists, economists, engineers, designers, architects and marketers to the cause of providing food, clothing, shelter, healthcare, research techniques and even entertainment without leaving a trail of animal victims behind."
As for innovation, many of these are people who are not out there to intentionally end suffering but whose innovative work moves us in that direction anyway. For instance, with his invention of the automobile, Henry Ford did more to end suffering among horses than any president of the Humane Society.
Computer-generated imagery has also done more for animals in films than the American Humane Association has done in 75 years. "You need never doubt that 'no animals were harmed in making this film' when no animals were even there," Pacelle notes rather wryly.
The book is filled with chilling anecdotes of what animals have had to endure behind the scenes. For instance, more than 100 horses perished in the making of Ben Hur in 1925 and scandals surrounded the production of The Charge of the Light Brigade (1936), in which director Michael Curtiz broke so many horses' necks and legs with tripwire that the film's star, Errol Flynn, secretly complained to the American Society for the Prevention of Cruelty to Animals.
"Given that so many people learn about the world and are entertained through filmmaking and television, it is an important and explicit message to deliver to the masses that animals should not be sacrificed or made to suffer for storytelling purposes. With every industry that sheds cruelty to animals, it leaves other industries still relying on abuse more vulnerable and isolated, setting the stage for changes within their domains too," Pacelle points out.
He adds that the humane economy is more than fresh ideas and new technologies. It is also about timeless moral values reasserting themselves and gaining force with the spread of knowledge. "And when industries rely on keeping their customers in the dark to do what they do — and that is a standard operating procedure for many controversial animal-use enterprises — they are on the wrong side of the information age."
On HSUS' efforts to overturn needlessly cruel practices such as factory farming over the past decade or so, Pacelle talks about how the organisation has worked with major end consumers (such as McDonald's and Walmart) to force the large factory farms to change their practices.
He mentions how one such proponent of the old-fashioned inhumane economy — Marcus Rust, owner of the second largest egg producer in the US, who had confined his birds to small wire battery cages, with some birds dead and mummified alongside the living, and donated US$500,000 to defeat Proposition 2, the landmark California ballot initiative to ban battery cages and extreme confinement systems for breeding sows and veal calves — decided to throw in the towel.
"He said it would take time and be an enormous expense. But Rust was prepared to convert every one of his facilities to cage-free. It was a thrill to see a long-time adversary turn into an ally and to recognise that a leader in the old, inhumane economy was ready to find a new path forward too," says Pacelle.
As for testing cosmetics and pharmaceuticals on animals, he says finding alternatives has been driven not so much humane intent but the extraordinary failure rate, along with the enormous expense of using animals in time-consuming protocols. "It is a system that has been long overdue for economic disruption," he adds.
In fact, a Malaysian company — Biogenes Technology Sdn Bhd — has already got in on this coming up with an alternative way to produce antibodies artificially. The traditional method required the injection of the target molecule (often a disease like swine flu) into rabbits or goats and waiting for the animals' immune system to respond creating antibodies. If the animals died of the disease in the process, the researcher would have to start from scratch. Regardless, the animals are usually euthanised after the antibodies have been harvested from their blood and the whole thing is a horribly expensive and cruel process.
Biogenes has come up with a way to create synthetic antibodies, called aptamers, to replace animal-harvested antibodies for molecular diagnostic purposes in human healthcare, animal breeding, agriculture and food safety. It has also come out with a digital tool called APTCAD, which can create aptamers 20 times faster and more cheaply than the conventional method of creating antibodies.
Biogenes is on the cusp of a market about to explode. Quietly, a lot of investment money has been going into the humane sector. For instance, Hampton Creek — a company that blends different types of plants and their proteins to mimic the functionality and taste of the common egg — has attracted investment from 12 billionaires (including Bill Gates, Li Ka-shing, Sun Microsystems co-founder Vinod Khosla, Facebook co-founder Eduardo Saverin, PayPal co-founder Peter Thiel) and the Singapore government. And in December 2014, PetSmart was acquired London-based firm BC Partners for US$8.7 billion in the world's largest private equity deal of the year.
"That's right. The biggest private equity acquisition in all of 2014 was not a company involved in finance, energy, pharmaceuticals or mining, but pet products," crows Pacelle.
PetSmart is one of the pet stores that decided to eschew puppy mills and throw open its doors to local rescue groups and animal shelters to offer abandoned animals and strays for adoption. It does not make any money from these transactions but claims that anyone who adopts a pet at its stores spends about five times as much as regular customers. After the company changed its approach, business has been so brisk that it has been able to open multiple stores all over the US. Its heady growth rate spurred the private equity investment.
At the end of the day, it is all about economics. Pacelle and other members of animal rights groups have long realised that appealing to the moral compass of big business or even governments will not do the trick. It is money that talks.
So, he trots out the numbers. For instance, a dead elephant's tusks are estimated to have a raw value of US$21,000. comparison, the estimated tourism value of a single living elephant is worth US$1,607,624.83 over its lifetime to travel companies, airlines and local economies, according to the Sheldrick Wildlife Trust, which operates an orphan elephant rescue and rehabilitation programme in Kenya.
Likewise, when the Pacific island of Palau declared its waters free of shark fishing, these ancient predators became the cornerstone of its scuba tourism industry. A study the Australian Institute of Marine Science estimated that the annual value of an individual reef shark that frequents these areas to the tourism industry is US$179,000 to US$1.9 million over its lifetime. A dead shark is worth US$108.
New Bedford, Massachusetts, was the whaling capital of the world in the mid-19th century. At the time, half a gallon (about 1.89 litres) of sperm oil cost about US$1,400 in today's dollars and whale populations were hunted to near extinction for profit. But with the advent of fossil fuels, the whaling industry collapsed and today, the area around New Bedford is known instead as one of the best places in the world for whale watching.
Affluent tourists are willing to fork out big bucks to see elephants, whales or silverback gorillas. In other words, kindness and conservation pay more than destruction. And this is what will save these animals.
Every CEO must be alert when powerful ideas migrate from the margins to the mainstream, Pacelle points out, and they must be ready to adapt or be left behind. "CEOs are turning social concern into economic opportunity. Doing the right thing is no longer viewed as sacrificing efficiency or profit, but as good business."