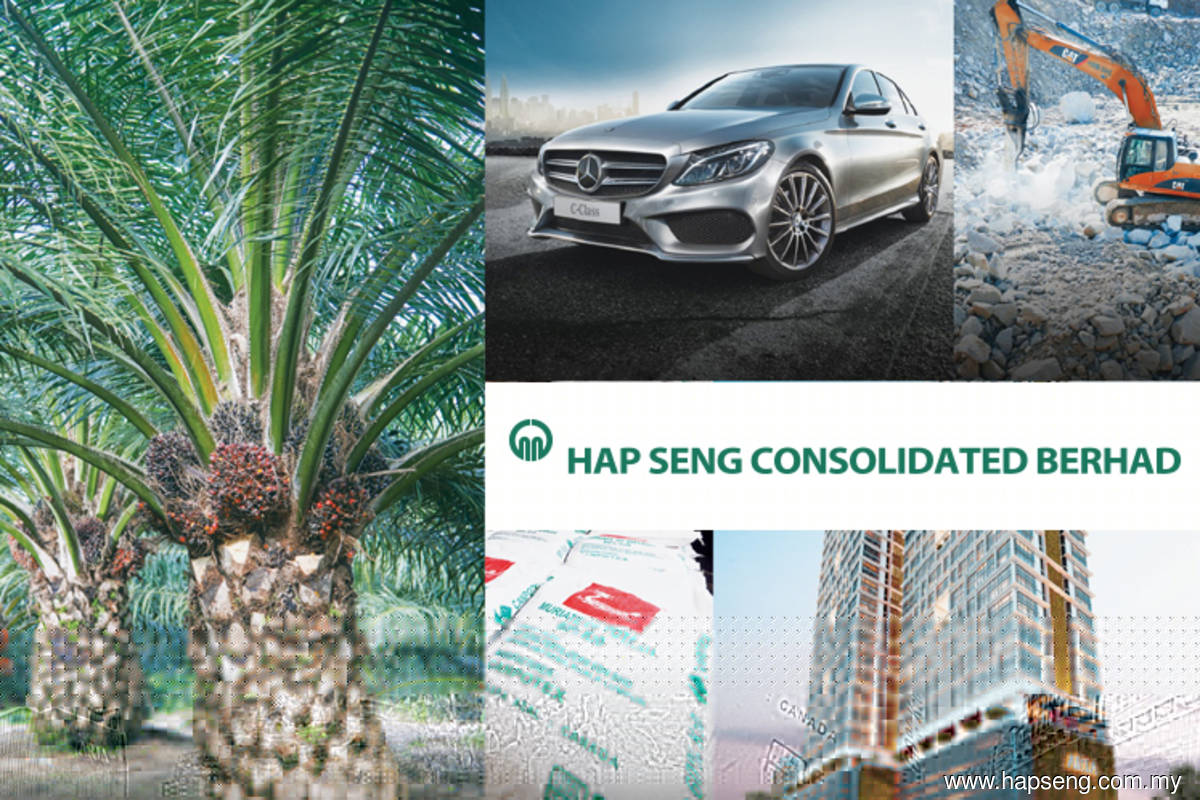 KUALA LUMPUR (Nov 26): Hap Seng Consolidated Bhd saw its net profit for the third quarter ended Sept 30, 2020 (3QFY20) swell by nearly 340% to RM193.83 million, from RM44.08 million in the immediate preceding quarter.
Quarterly revenue was 68% higher at RM.1.66 billion, from RM989.58 million.
Hap Seng Consolidated declared a 15 sen interim dividend, payable on Dec 22. This brings its year-to-date payout to 25 sen per share. In contrast, it had declared a dividend of 20 sen in 3QFY19, resulting in the corresponding nine months of last financial year yielding a dividend of 35 sen.
The diversified group noted that higher earnings were due to better operating profit achieved by the plantation and property divisions, as well as better results from its automotive, trading, and building materials divisions.
On a year-on-year basis, its net profit was up by 0.31% from RM193.14 million. Its revenue, however, was lower from the RM1.83 billion achieved last year.
For the nine months ended Sept 30, 2020 (9MFY20), net profit was down by 17% at RM398.19 million, from RM480.91 million a year ago. Meanwhile, nine-month revenue was down by 22% at RM4.13 billion, from RM5.32 billion in 9MFY19.
"Based on the foregoing and uncertainties in the local and global economic environment arising from the Covid-19 pandemic, the group's overall performance for the financial year ending 31 December 2020 is expected to be lower than the previous financial year," it noted on its prospects.
Meanwhile, its listed plantation division Hap Seng Plantation Bhd's net profit surged to RM25.08 million in 3QFY20, from RM102,000 in 3QFY19. Revenue also jumped 47.33% to RM128.9 million, from RM87.49 million a year prior. The better quarterly earnings were due to higher average selling prices and sales volume for crude palm oil (CPO) and palm kernel.
For 9MFY20, the planter's net profit skyrocketed to RM53.35 million, from RM283,000 a year prior. Cumulative revenue was also higher by 7% at RM314.33 million, from RM293.74 million in the corresponding nine months last year.
"Industry analysts expect CPO prices to continue to be well-supported with expectations of lower global palm oil production in 2020, caused by the dry weather between August to November last year and the wet weather conditions due to the La Nina phenomenon from September this year, which may hamper harvesting and crop evacuation activities. In addition, the restocking activities by most key palm oil importing countries before the end of the year are expected to lower global palm oil stocks' carryover to 2021, which will further support palm oil prices in the fourth quarter and moving into early 2021," the plantation group said.
Due to the implementation of various stringent measures to curb the Covid-19 spread, it is unlikely that the pandemic would impact the FFB production of the group, it added, noting that it expects its results for the financial year ending Dec 31, 2020 to be better than the previous financial year.
Hap Seng Consolidated shares were down 0.6% or five sen at RM8.30 — yielding a market capitalisation of RM20.66 billion, while Hap Seng Plantation was up by 2.24% or four sen at RM1.83, valuing it at RM1.46 billion.