This article first appeared in The Edge Financial Daily, on September 11, 2019.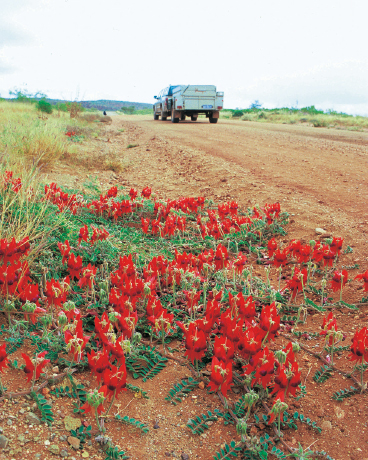 Travellers passing Sturt's desert pea (Swainsona formosa), located north of Nullagine, on the Marble Bar Road. Photos by Tourism Western Australia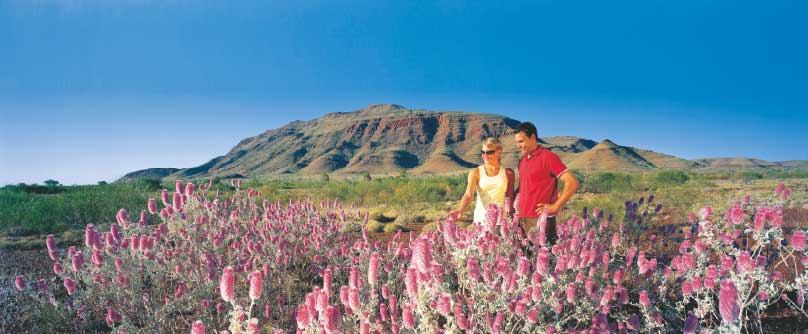 Couple viewing mulla mulla (Ptilotus exaltatus) wildflower display near Mount Bruce, located in Karijini National Park.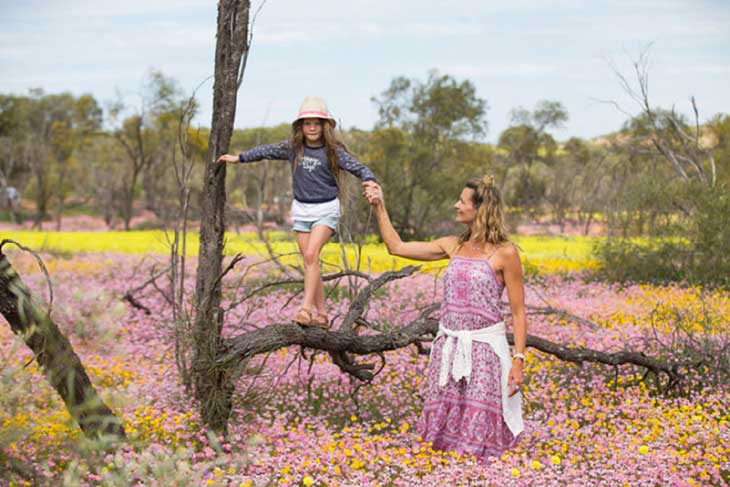 Enjoying the wildflowers, Coalseam Conservation Park.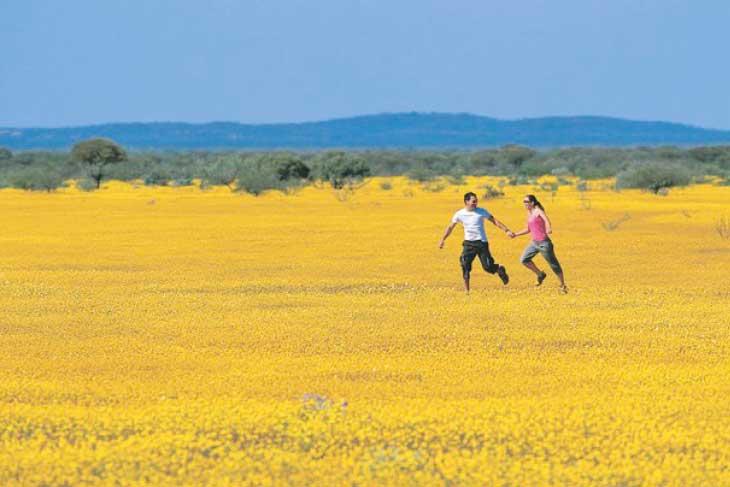 Couple running through yellow wildflowers, located just off the Mullewa — Carnarvon Road.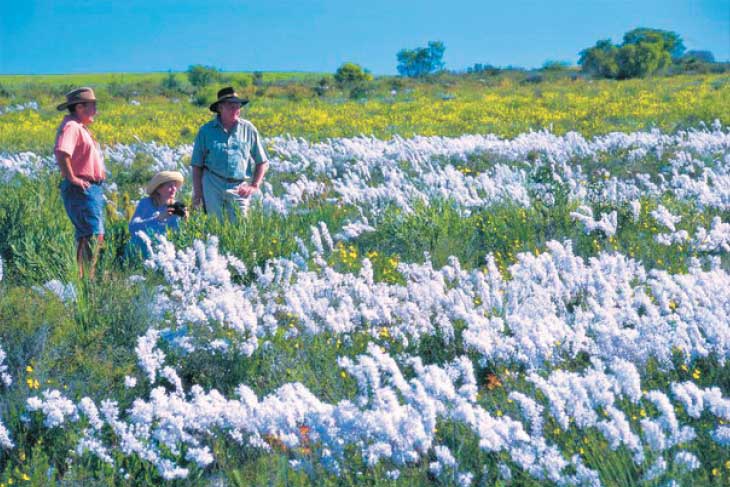 Group viewing plume smokebush (Conospermum unilaterale), located near Eneabba.
World-famous for its dazzling wildflowers, Western Australia is home to the largest collection of flowers on Earth, with colourful blooms of more than 12,000 species; 60% of which cannot be found anywhere else on the planet.
Its capital city, Perth, is just a five-and-a-half hours flight away from Kuala Lumpur and is where your journey to enjoy the glorious display of colour that blooms for six months of the year begins. The season begins to make its appearance in June at the northern part of the state before sweeping down to finish with a flurry on the south coast in November. What is more, it has been reported that Western Australia is having the best wildflower season in a decade — and this is happening right now! While wildflowers can be found in various regions across Western Australia, here are five of the best wildflower hotspots — just remember, enjoy these beautiful blooms only with your eyes (or cameras) and do not pick them. More information can be found on westernaustralia.com.
Pilbara Region, North West
Venture up to the North West of Western Australia, where you will catch magnificent views of the vibrant floral shades contrasting against the dusty red earth and golden Spinifex grass. The Pilbara Trail at Karijini National Park is not one to be missed, especially with wildflowers of all colours, sizes and shapes, like the unmistakeable Sturt's desert pea, fluffy mulla mulla, the tall majestic Ashburton Pea or any number of the 65 species of acacia (wattle) that can be seen throughout the region. Many of the plants and flowers in Pilbara have evolved with unique adaptations to survive in an arid climate that receives most of its rainfall during summer by way of tropical cyclones.
Aside from the wildflower hunt, visitors can also enjoy the glorious sunset/sunrise on top of Mt Nameless, "Spiderwalk' across Hancock Gorge or cool down at the cascading waterfalls and massive emerald pools, which can be found within the Karijini National Park.
Gascoyne Murchison, Golden Outback
The Gascoyne Murchison area of Western Australia is internationally renowned for spectacular wildflowers. From late July to September, thousands of nature lovers are drawn to the region with the promise of treasure in the form amazing flora, as spring wildflower season turns the outback landscape into a blanket of vibrant colours.
In the north, iconic species such as the scarlet red Sturt's desert pea and the royal purple mulla mulla sets the undergrowth ablaze with carpets blooming at the roadside. Whether one is a wildflower enthusiast, a photographer, or just someone looking for an excuse for a road trip, now is the time to pack up and picnic among a blanket of pink, yellow and white everlastings. Many of these species only last a month or so once they bloom, so there is no better time than now to hit the road.
Other interesting places to explore in the area include Walga Rock, Australia's second largest granite monolith after Uluru (Ayers Rock) and Kennedy Range National Park, a spectacular plateau on the edge of the Gascoyne River catchment which has dominated the surrounding plains for millions of years. Both destinations are less than an hour's drive from the Gascoyne Junction.
Ningaloo Coast World, Coral Coast
The Ningaloo Coast World Heritage Area is regarded as one of the last great ocean paradises and runs from Carnarvon in the south to Exmouth in the north. Located near Carnarvon, Coalseam Conservation Park is flooded with everlasting flowers, which can be found in patches and fields along the North West Coastal Highway and sometimes at Rocky Pool. Carnarvon's everlastings generally start in late July going into September — with everlasting carpets intertwining with purple Dampier Pea, thriving in the red Pindan dirt — truly picturesque!
On the other hand, the Cape Range National Park near Exmouth is home to 630 species of flowering plants that bloom into a bright and colourful landscape in the month of August. Both parks will treat you to an unspoilt environment brimming with a wealth of flora in a rainbow of colours. Other top attractions to experience in Ningaloo includes swimming with whale sharks, flying above migrating whales in an Exmouth microlight flight, and staying in a luxury campsite metres from the coral reef.
Wildflower Country, Mid-West
Visitors will delight in viewing some of the state's most vibrant wildflowers as they drive through the inland farming towns of Badgingarra, Eneabba, Coorow, Three Springs, Carnamah, Mingenew and Mullewa, collectively known as Wildflower Country during late winter and spring. Highlights include carpets of everlastings, and individual species such as purple tassels and a huge variety of orchids.
One of the best spots to view these wildflowers and snap that Instagram photo is the 2.4km Mullewa Bushland Trail loop. From Mullewa, drive 20 minutes north to Pindar to see the rare and exquisite Wreath Leschenaultia, which are predicted to be in full bloom beginning mid-September. You can also consider biking or walking around the Chapman River Park inland from Geraldton for a wide range of orchids.
Wildflowers are just the beginning, there are numerous free camping spots throughout the region which is perfect to view clear country night skies along with many secluded bays, such as Dynamite Bay which was voted as one of the top 20 beaches of Australia in 2016.
Margaret River region, South West
Margaret River is one of only 34 biodiversity hotspots in the world and is rated by World Wildlife Fund (WWF) as one of the world's most important areas for biodiversity and conservation. Bask in wonder of nature as you explore over 2,500 species of wildflowers that decorate the region in vivid colours with their delicate flowers. The colour range and combinations are amazing with the brightest of true blue, lime green, yellow, red, pink, orange, white and mauve to name just a few.
There are also 150 species of orchid, many of which are rare and endangered. Be on the lookout for the splendid spider orchid and giant donkey orchid, which are celebrated finds amongst botanical enthusiasts. The best time to marvel over these tiny yet magnificent works of (natural) art is from September to November. Margaret River is also world-renowned for its outstanding wineries, stunning beaches, natural wonders and unique landmarks. Visitors should not miss out on exploring the various destinations in the region which include Boranup Karri Forest, Lake Cave, Cape Leeuwin Lighthouse, Hamelin Bay and Busselton Jetty.