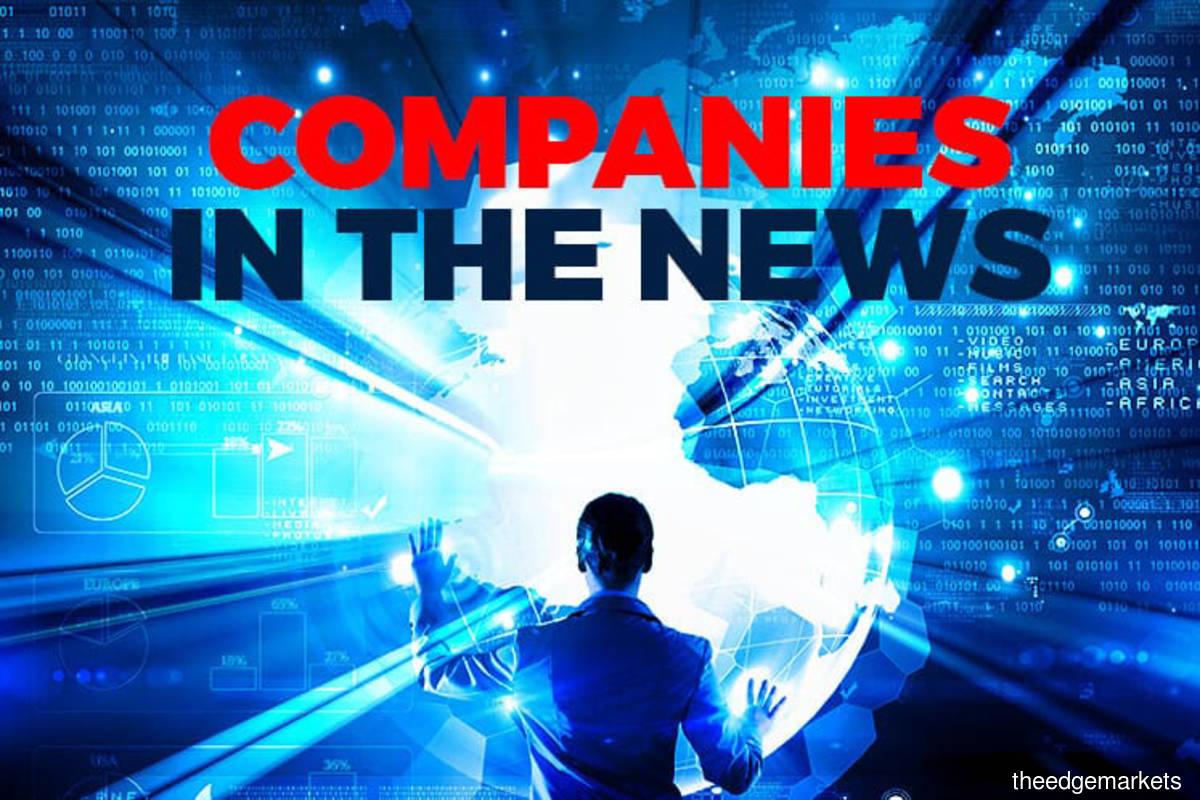 KUALA LUMPUR (Nov 8): Based on corporate announcements and news flow on Monday, companies in focus on Tuesday (Nov 9) may include: BSL Corp, Ecomate Holdings Bhd, United Plantations Bhd, ViTrox Corp Bhd, KLCCP Stapled Group, Malaysia Airports Holdings Bhd (MAHB), Ta Win Holdings Bhd, MY EG Services Bhd (MYEG), Ireka Corp Bhd, Parkson Holdings Bhd, Pecca Group Bhd, Malaysian Genomics Resource Centre Bhd (MGRC), JF Technology Bhd, Perak Corporation Bhd, Scientex Bhd and Daibochi Bhd.
BSL Corp Bhd was hit with an UMA query as its share price hit limit up. The metal parts manufacturer said in a bourse filing that it is not aware of any corporate development that has not been previously announced, any rumour or report concerning the group's business and affairs, as well as any possible explanation that may account for the group's trading activity. This is the third UMA query for the company after similar queries were issued on Jan 7 and Sept 13.
Ecomate Holdings Bhd debuted on the ACE Market and reached a high of 70.5 sen, a premium of 37.5 sen or 113.64% over its initial public offering (IPO) price of 33 sen. It had raised RM16.2 million from the IPO and intends to allocate the proceeds to acquire machinery and equipment (RM6 million) for the construction of its third factory to house three additional production lines and one block of a four-storey detached hostel (RM2 million), as well as the purchase of raw materials (RM5.3 million).
United Plantations Bhd's net profit for the third quarter ended Sept 30, 2021 (3QFY21) climbed 61.71% to RM154.15 million from RM95.32 million in the previous year, on higher contribution from the plantation segment. Consequently, earnings per share rose to 37.16 sen from 22.98 sen previously. An interim single-tier dividend of 30 sen per share for the year ending Dec 31, 2021 was declared and to be paid on Dec 3.
ViTrox Corp Bhd has proposed to undertake a bonus issue of up to 472.43 million new shares on the basis of one bonus share for every one existing share on an entitlement date to be determined later. Based on the five-day VWAP of ViTrox shares up to and the lowest daily VWAP of its shares during the past three-month period up to and including Oct 26, the theoretical ex-bonus price for its shares is expected to be between RM9.29 and RM10.43.
KLCCP Stapled Group's net profit for the third quarter ended Sept 30, 2021 (3QFY21) declined by 13.58% to RM135.39 million from RM156.66 million a year earlier, amid prolonged restrictions and the imposition of the movement control order due to the exponential increase in Covid-19 cases. The group declared a dividend of seven sen per stapled security, bringing total dividends to 21 sen for the cumulative nine months ended Sept 30, 2021 (9MFY21), compared with 23.3 sen a year ago.
Malaysia Airports Holdings Bhd (MAHB) has made a lodgement with the Securities Commission Malaysia (SC) for the establishment of a sukuk wakalah programme of up to RM5 billion, based on the Shariah principle of Wakalah Bi Al-Istithmar. According to the airport operator, the programme has been assigned an initial rating of AAA and AA2 for the senior sukuk wakalah and the perpetual sukuk wakalah respectively, with a stable outlook by RAM Rating Services Bhd (RAM Ratings).
Ta Win Holdings Bhd is buying a piece of leasehold industrial land measuring 16,187 sq m in Klang for RM35 million cash to triple its total production capacity over the medium- to long term, as well as to cater for the expected long-term demand growth for copper rods and wires.
MY EG Services Bhd (MYEG) said it has received approval from the Road Transport Department (JPJ) to commence the proof of concept (POC) to set up an automated training and driving test system. The POC has no contract value and will run from Dec 1, 2021 to February 2022.
Ireka Corp Bhd has secured a RM45.77 million construction contract in Bukit China, Besut, Terengganu from Wanland Metro Sdn Bhd. This is the third contract that Ireka has been granted by Wanland Metro this year, after it bagged a construction contract in Besut, Terengganu worth RM124.39 million in mid-July, plus a network infrastructure contract in Langkawi, Kedah worth RM196 million.
Parkson Holdings Bhd has proposed to cancel RM2 billion of its issued share capital in a move to reduce the group's accumulated losses. According to a bourse filing on Monday, the group is in the red as accumulated losses amounted to RM932.47 million as at June 30, 2021. The group expects to return to the black with retained earnings of RM1.05 billion after the capital reduction exercise, which will reduce its issued share capital to RM2.15 billion from RM4.15 billion.
Pecca Group Bhd has cancelled its proposed acquisition of 51% equity interest in personal protective equipment (PPE) supplier Rentas Health Sdn Bhd to seek different methods of collaboration by entering into a mutual rescission and release agreement with the latter. The sales and purchase agreement dated Aug 2, 2021, for the RM100 million acquisition will be terminated with immediate effect.
Malaysian Genomics Resource Centre Bhd (MGRC) highlighted the appointment of two new independent and non-executive directors effective Monday (Nov 8), as well as the acquisition of additional shares by its major shareholder Pixelvest Sdn Bhd, after being slapped with an UMA query by Bursa.
JF Technology Bhd is seeking to transfer its listing status from the ACE Market to the Main Market of Bursa Malaysia. The group said it has proposed to transfer the listing of its entire issued share capital and outstanding warrants, and that it expects the transfer to be completed in the first quarter of 2022, pending approvals from shareholders, the Securities Commission Malaysia and Bursa.
Perak Corporation Bhd has entered into two debt settlement agreements with its creditors for amounts to the tune of RM88.59 million, according to a bourse filing on Monday (Nov 8). The company said it had entered into two debt settlement agreements with CIMB Bank Bhd and Affin Islamic Bank Bhd to settle debts amounting to RM34.72 million and RM53.87 million respectively, using cash sum and issuance of redeemable cumulative preference shares (RPS).
Scientex Bhd has completed its unconditional voluntary takeover offer of Daibochi Bhd but failed to accumulate a 90% stake required to proceed to privatise the latter, despite having extended the offer by two weeks. Scientex has only managed to acquire 235.37 million shares representing a 71.90% equity interest in Daibochi and 16.65 million warrants representing 60.98% of all issued Daibochi warrants.