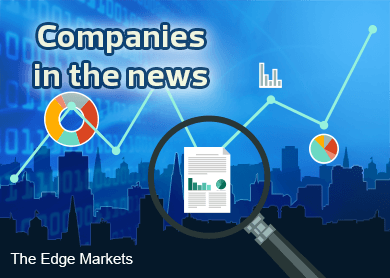 KUALA LUMPUR (Dec 5): Based on corporate announcements and news flow today, the companies that may be in focus coming Monday, (Dec 8) could be the following: Bumi Armada, SapuraKencanaPetroleum, IOI Properties Group, Malaysia Airlines, I-Bhd, CIMB Group Holdings, RHB Capital, Malaysia Building Society and Chee Wah Corp
Bumi Armada Bhd chief executive officer (CEO) and executive director Hassan Assad Basma, who sold the remainder of his equity stake in the company due to margin calls, has today tendered his resignation, with effect from Jan 1, 2015.
In a filing with Bursa Malaysia today, Bumi Armada said due to family reasons, Hassan has requested for an early release of his contract of employment, which the board of directors has then agreed to.
Hassan will also relinquish his directorships in other companies within Bumi Armada Group with effect from next year.
In a press statement today, Bumi Armada said the board has initiated steps to search for a new CEO, with in-depth relevant experience in the offshore and marine services industry.
Pending the appointment of a new CEO, Chan Chee Beng, a member of the board since 2003, has been re-designated as executive director and acting CEO, also with effect from Jan 1 next year.
Bum Armada share price closed unchanged today at RM1.04, with 20.15 million shares traded, giving it a market capitalisation of RM6.1 billion.
SapuraKencana Petroleum Bhd (SKP) today announced that it had awarded eight contracts collectively worth RM1.58 billion (US$459 million)
In its filing to Bursa Malaysia today, the oil and gas (O&G) group said its fabrication, hook-up and commissioning (FHUC) division, and offshore construction and subsea services (OCSS) division both awarded three contracts each, while its drilling division awarded two contracts.
SKP share price climbed two sen higher or 0.8% to RM2.51 today, with 23.02 million shares done, giving it a market capitalisation of RM15.04 billion.
IOI Properties Group Bhd plans to buy a 37.17% stake in Taipei Financial Center Corporation (TFCC), which owns the Taipei 101 building, for about NT$25.14 billion or RM2.74 billion in cash.
In a filing with Bursa Malaysia today, IOI Properties said it has signed conditional share sale agreements to acquire 546.46 million TFCC shares from four parties.
The group will purchase the entire stake in Ting Gu Development Co Ltd from Golden Shine International Holding Ltd for NT$3.61 billion. Ting Gu holds 78.45 million shares or 5.34% stake in TFCC.
IOI Properties will then buy 4.41 million shares or 0.3% stake in TFCC from Ting An Ltd for NT$200 million.
Subsequently, the group will acquire 385.976 million shares or 26.25% stake in TFCC held by Ting Ji Development Co Ltd for NT$17.76 billion.
It will also purchase 77.624 million shares or 5.28% stake in TFCC held by Ting Li Development Enterprises Co Ltd for NT$3.57 billion.
IOI Properties' share price rose 11 sen or 4.82% to RM2.39 today, with 4.8 million shares changing hands, giving it a market capitalisation of RM7.74 billion.
Aer Lingus Plc chief executive officer (CEO) Christoph R. Mueller has been appointed as CEO-designate of Malaysia Airlines Bhd (MAB), the new entity of Malaysian Airline System Bhd (MAS), effective Jan 1, 2015.
Mueller has managed to turn around Aer Lingus, the national carrier of Ireland, within one year after he took over the helm in 2009.
In a statement today, Khazanah Nasional Bhd said discussions are on-going for Mueller to assume the post of MAB CEO at a date prior to May 1, but no earlier than March 1 next year.
MAB is planned to commence operations on July 1, 2015.
A German citizen, Mueller brings more than 25 years of relevant experience in the aviation, logistics and tourism sectors to MAS.
Mueller's appointment is part of key initiatives under Khazanah's 12-point MAS Recovery Plan and was deliberated and resolved at the meeting of Khazanah's board of directors chaired by Prime Minister Datuk Seri Najib Abdul Razak yesterday.
MAS traded flat today at 26 sen, with 35.68 million shares done, giving it a market capitalisation of RM4.43 billion.
I-Bhd will sign a strategic alliance agreement with Hilton International for the planned development of a four-star hotel within the RM5 billion i-City township in Shah Alam, Selangor.
In a statement today, I-Bhd, the developer of the 29ha (72-acre) i-City, said it would sign the agreement with Hilton this Tuesday (December 9).
"The four-star Hilton hotel in i-City will be part of the RM1 billion investment property portfolio that I-Bhd is establishing in order to provide a recurring income stream for the group," I-Bhd said in a statement today.
The four-star hotel will add to i-City's existing hospitality outlets.
I-Bhd and Best Western International had recently started operations at Best Western i-City Hotel. This is the first hotel within i-City.
I-Bhd share price closed unchanged t today as well at 62 sen, giving it a market capitalisation of RM451.1 million.
Bursa Malaysia will consider the Employees Provident Fund's (EPF) appeal to make a verbal representation on why the pension fund should be allowed to vote on the planned CIMB Group Holdings Bhd-RHB Capital Bhd-Malaysia Building Society Bhd (MBSB) merger.
Bursa Malaysia's appeals committee (AC) will also consider RHB Capital and MBSB's request to hold a watching brief during EPF's verbal representation, RHB Capital and MBSB said today.
"There is no automatic right to oral representation and it is the prerogative of the AC to allow or disallow such requests.
"As such, RHB Capital's representatives and EPF's representatives are requested to be present on 10 December 2014 in the event the AC grants the requests," RHB Capital said in a statement on Bursa Malaysia's website.
Stationery maker Chee Wah Corp Bhd is buying a piece of leasehold land measuring 6,572 sq m in Seberang Perai Utara, Penang for RM6.5 million, which will be used as warehouse space replacing its currently rented warehouse.
The piece of land currently houses two single-storey factory/warehouse buildings and a guard house with total gross floor area of 3,602.08 sq m, with a remaining 60-year lease term expiring on Sept 20, 2041.
"The saving in rental will be channelled to pay partial Chee Wah's bank borrowing to be obtained for financing the proposed acquisition," it said in a filing with Bursa Malaysia today.
The company today signed a sale and purchase agreement with Maica Laminates Sdn Bhd for the proposed acquisition, which will be funded via a combination of internal funds and bank borrowing.
Chee Wah shares closed unchanged today at 48 sen, giving it a market capitalisation of RM20.21 million.