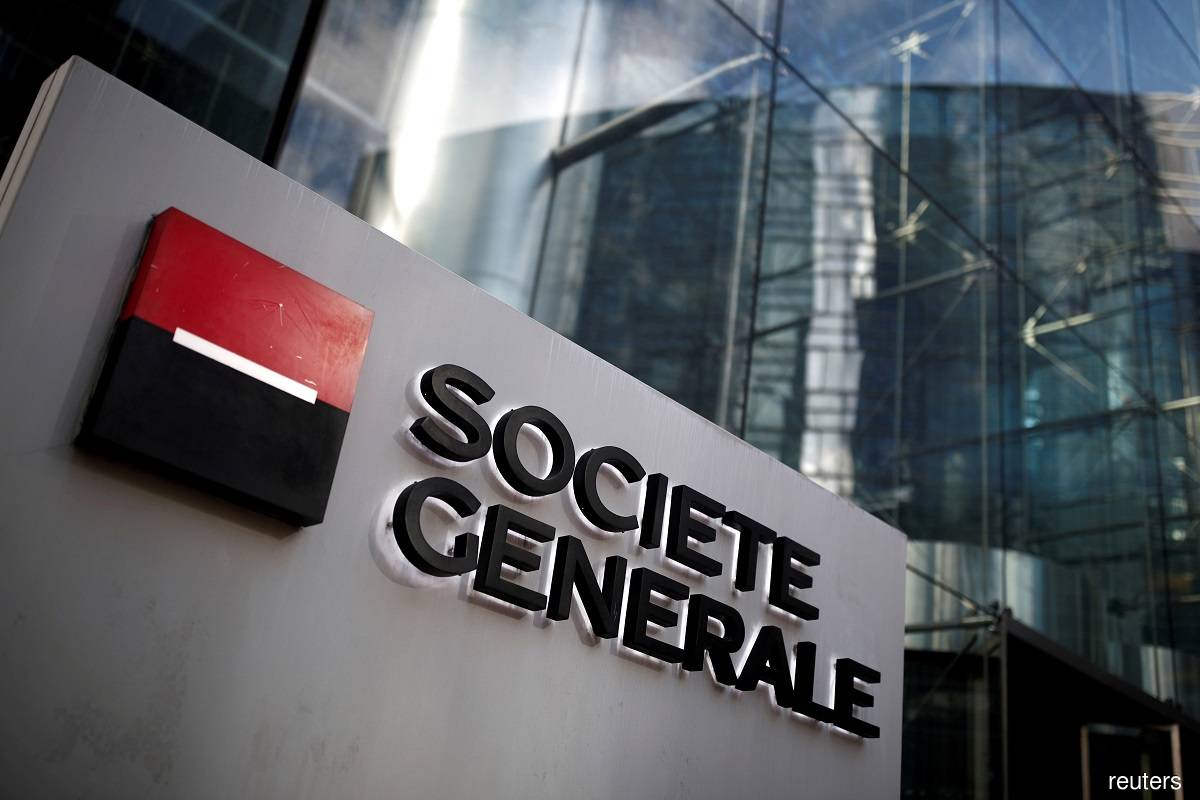 PARIS (Aug 3): A buoyant second quarter (2Q) and new three-year targets helped boost Societe Generale's (SocGen) shares on Wednesday, as the French bank weathered a €3.3 billion (US$3.4 billion) hit from the sale of its Russia business.
France's third-biggest listed bank, which is seeking a new chief executive officer (CEO), reported a €1.48 billion loss, while analysts on average had expected a loss of more than €2 billion.
The better-than-expected result, helped by robust retail and investment banking activity, lifted SocGen's shares 4.2% in early trading, the strongest performance in the pan-European banking index.
Net banking income rose just over €7 billion, about €600 million higher than expected, while operating expenses came in lower at €4.46 billion, the bank said, as it confirmed the launch of a €915 million share buy-back plan.
"These are excellent results, with the good news of the share buy-back and ambitious but achievable goals," said Jerome Legras, head of research at Axiom Alternative Investments.
The group's return on tangible equity (ROTE) profitability ratio stood at 10.5% on an underlying basis. It said it was aiming for ROTE of 10% and a CET 1 capital ratio of 12% in 2025.
Among other goals set for the next three years, the bank seeks to deliver a cost-to-income ratio of 62 or below and maintain a payout ratio of 50% of its profits. It is aiming for average annual revenue growth of at least 3% for 2021-2025.
Looking for a new CEO
Quarterly revenue rose 23.3% to €1.5 billion in the global markets business, where equity trading activity increased by 7.5% to €833 million, while fixed income and currency activities increased 50% to €683 million.
French and international retail reported a rise in net banking income of 8.5% to €2.26 billion and 12.7% to €1.27 billion respectively.
In May, SocGen closed the sale of its Russian business Rosbank to the Interros group.
In the same month, CEO Frederic Oudea took investors by surprise by saying he would step down next year after running the lender for 15 years.
"There is nothing new on that front," Oudea told journalists on a conference call, saying the decision on a new CEO was still expected for the autumn.
Speculation has so far centred around Sebastien Proto, currently merging SocGen's retail networks in France, as well as Slawomir Krupa, head of global banking and investor solution activities.
Jacques Ripoll, who just left Credit Agricole SA; Philippe Heim, the head of France's postal bank; and Jean Pierre Mustier, former CEO of Italy's UniCredit, are among former SocGen executives mentioned as potential options.
Rival BNP Paribas reported better-than-expected profits on Friday.