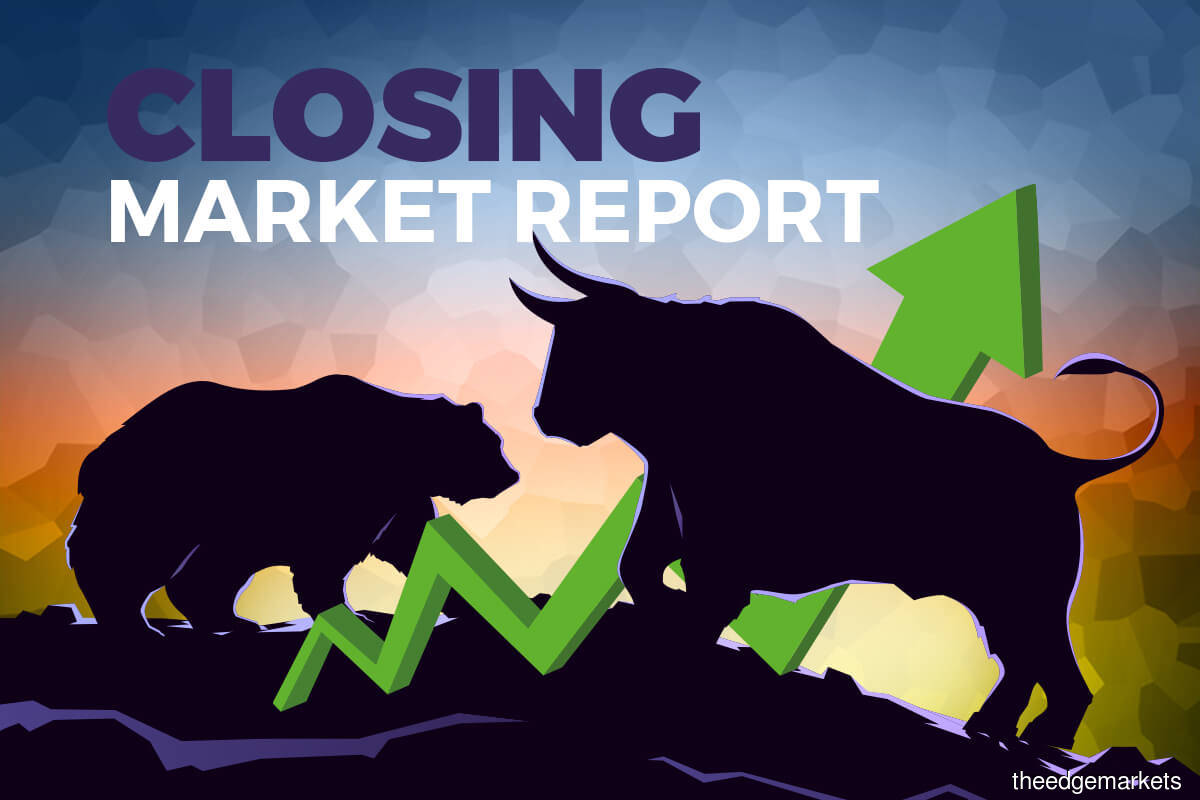 KUALA LUMPUR (Dec 1): Bursa Malaysia ended higher for the second consecutive day on Thursday (Dec 1), with the key index rising by 0.18% as continuous buying interest was seen in the heavyweight plantation counters.
At 5pm, the benchmark FTSE Bursa Malaysia KLCI (FBM KLCI) rose by 2.71 points to 1,491.51 from Wednesday's closing of 1,488.8.
The market bellwether opened two points better at 1,490.8 and moved between 1,487.34 and 1,497.24 throughout the day.
Market breadth was positive with gainers outnumbering losers 711 to 344, while 379 counters were unchanged, 799 untraded and 14 others suspended.
Turnover decreased to 3.94 billion units worth RM3.07 billion versus 4.71 billion units worth RM4.41 billion on Wednesday.
Rakuten Trade Sdn Bhd vice president of equity research Thong Pak Leng said the FBM KLCI ended marginally higher in tandem with the improving sentiment in global equities.
He said the key regional indices were also in the green following a positive cue from Wall Street overnight after US Federal Reserve Chair Jerome Powell's remarks about a slowdown in the pace of monetary tightening.
"Meanwhile, the global forecast for Asian markets is upbeat on the improved outlook for interest rates.
"Additionally, Chinese equities advanced due to better purchasing managers' index data than expected by the market, despite extreme lockdown measures in November by Chinese authorities to contain the Covid-19 epidemic. The economy has managed to display better-than-expected performance," he told Bernama.
Back home, Rakuten Trade remains positive on local equities driven by strong corporate earnings and improving fundamentals in the local economy.
"Following this, we expect the FBM KLCI to hit the 1,500 resistance," he added.
Region-wise, Hong Kong's Hang Seng Index rose 0.75% to 18,736.44, the Shanghai Composite Index gained 0.45% to 3,165.47, and the Shenzhen Index added 1.4% to 11,264.16.
Elsewhere in the region, Japan's Nikkei 225 bagged 0.92% to 28,226.08 and Singapore's Straits Times Index increased 0.07% to 3,292.73.
Meanwhile, Malacca Securities Sdn Bhd senior analyst Kenneth Leong expects the positive sentiment to extend towards the end of the year, which typically witnesses the year-end window dressing activities.
"At the same time, investors will also be monitoring closely the political developments in Malaysia, over the appointment of cabinet ministers in near future.
"Technically, the FBM KLCI's immediate resistance is at 1,500, while the near-term support is spotted at 1,465," Leong told Bernama.
Among the heavyweights, Malayan Banking Bhd (Maybank) fell one sen to RM8.62, Public Bank Bhd dipped three sen to RM4.47, and CIMB Group Holdings Bhd erased five sen to RM5.75, while Petronas Chemicals Group Bhd jumped 13 sen to RM8.67, and Tenaga Nasional Bhd went up eight sen to RM9.50.
Of the actives, Infomina Bhd surged 24 sen to 82 sen, Leform Bhd perked up 3.5 sen to 22 sen, MyEG Services Bhd rose 6.5 sen to 95 sen, Green Packet Bhd climbed 1.5 sen to seven sen, while Advance Synergy Bhd fell 1.5 sen to 17.5 sen.
On the index board, the FBM Emas Index increased 60.77 points to 10,694.47, the FBMT 100 Index gained 52.98 points to 10,405.24, the FBM Emas Shariah Index added 120.17 points to 10,903.26, the FBM 70 expanded 202.18 points to 13,053.27, and the FBM ACE garnered 79.82 points to 5,290.97.
Sector-wise, the Financial Services Index fell 56.48 points to 16,566.86, the Plantation Index put on 93.52 points to 6,821.29, the Energy Index increased 17.8 points to 785.31, while the Industrial Products and Services Index inched up 1.48 points to 183.24.
The Main Market volume decreased to 2.36 billion shares worth RM2.49 billion against 2.68 billion shares worth RM4.09 billion on Wednesday.
Warrants turnover increased to 433.85 million units valued at RM74.16 million from 416.42 million units valued at RM65.11 million.
The ACE Market volume fell to 1.15 billion shares worth RM504.39 million from 1.61 billion shares worth RM258.21 million previously.
Consumer products and services counters accounted for 446.22 million shares traded on the Main Market, industrial products and services (430.61 million), construction (79.9 million), technology (421.96 million), SPAC (nil), financial services (88.54 million), property (198.74 million), plantation (28.59 million), REITs (7.65 million), closed/fund (32,000), energy (298.96 million), healthcare (125.63 million), telecommunications and media (153.36 million), transportation and logistics (48.88 million), and utilities (31.13 million).