This article first appeared in Forum, The Edge Malaysia Weekly, on July 6, 2020 - July 12, 2020.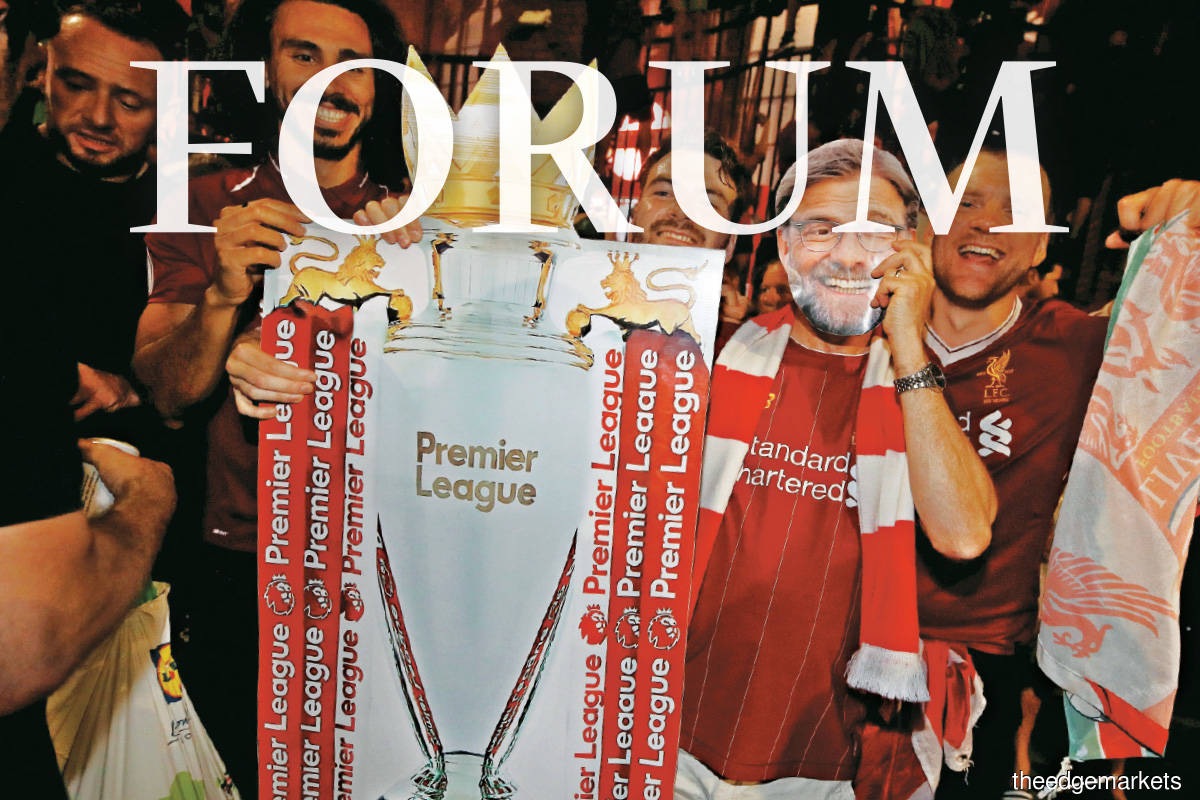 Now that the red smoke has cleared on Liverpool's long-awaited capture of the English Premier League (EPL) title, it seems appropriate to ask: Just how much prize money do the winners of the richest, most watched and entertaining football league in the world actually pick up?
Given the fuss made and the fears surrounding football's revenue streams in the new reality, it is a pertinent question. But to anyone thinking the Reds have struck the mother lode, the answer may disappoint: it won't be a lot more than if they had come second. In fact, last season, when they did come second, they actually collected more than first-placed Manchester City.
The EPL is nothing if not even-handed in distributing its riches, there being just a £1.918 billion difference in "merit payments" between the finishing positions of its 20 clubs in 2018-19. What pushed Liverpool's overall income (£152.4 million) above City's (£150.9 million) were "facility fees" for having played in three more matches that were televised live in the UK. Last-placed Huddersfield earned £96.6 million — the only one not to reach a century.
But things are changing, and the rich are getting richer. At the end of the current (2019-20) campaign, Liverpool will get a slight increase as the fees from international television will also be based on merit. Previously, they were shared equally. Yes, it is complicated, but takes nothing away from Liverpool's delight in regaining bragging rights.
The fans' reaction has been well-documented but owner John Henry had even more reason to celebrate. Back in May, the American had seen his £300 million investment of a decade ago valued at £1.7 billion by Forbes, and he has already turned down an offer of £2 billion. Even in uncertain times, this success will surely see another spike.
Henry tweeted, "This was a season for the ages and for the faithful of Liverpool football club. It has been an incredible year of magnificent achievement culminating tonight in capturing the Premier League title."
It is tempting to say that the Wall Street whiz-kid may not be able to believe his luck, but that would be unfair on his judgment. When he saved the club from oblivion in 2010, he declared: "I just have to be the smartest guy in the room." By remaining at the fortress that is Anfield, investing heavily in stadium and team, and finally choosing the right manager, he has been more than smart.
Henry's venture capitalists at Fenway Sports Group (FSG) and a predominantly socialist fan base make unlikely bedfellows: billionaires in charge of a people's club. But what keeps the peace is success on the field. As long as manager Jurgen Klopp can buy the players he wants and the beloved Anfield is kept up to scratch, fans will tolerate the owners making a buck. And they have been doing that in spades.
The Champions League triumph last May earned them a first prize of €19 million, but with awards for every stage of the competition as well as broadcast fees, the total was close to £100 million, according to the Liverpool Echo. It has helped them record pre-tax profits totalling £168 million over the past two financial years.
With one eye on their overseas audience, the Reds interrupted their march to the domestic crown to pick up the World Club Cup in Doha last December. With prize money of just £4 million for just three hours of playing time, it was almost a winter break.
To build a squad capable of all that, FSG had kept their side of the bargain. World record fees were paid for two defenders as Klopp got the men he wanted. And there was infrastructure to match: a magnificent new main stand opened in 2016 and a £50 million state-of the-art training ground is almost ready.
All this success reawakened a dormant diaspora. In terms of global reach, only Manchester United can compare and, lately, Liverpool probably have the more diverse following. When the Champions League was won, there were viewing parties in the farthest corners — including millions in the Middle East and Africa, home to several of the stars. Since then, they have added Japanese hero Takumi Minamino for a bargain £7.25 million — a move that ticks both the football and marketing boxes.
There are myriad ways a top club can maximise its success on the field and Liverpool are no longer slouches in this department. There was a time when they sneered at Manchester United's commercialism but no more. FSG has an office in London's financial district where smart-suited executives are employed to "monetise the product".
Such a phrase is sacrilege to many on Merseyside who follow the club with a pseudo-religious zeal, reciting the dictums of legendary manager Bill Shankly as if from a holy book. And according to Liverpool-born, US-trained CEO Peter Moore, they are not alone. He said of the commercial arm: "Whenever we have a problem, we ask ourselves 'what would Shankly do?'" They do not always come up with the "right" answer.
When the lockdown began,
Liverpool was among the first to take advantage of the UK government's furlough scheme. It was not a good look and the club got slaughtered by former players and the watchdog fans' union, Spirit of Shankly. The scheme was designed to help struggling businesses by paying 80% of staff wages — not billionaire owners of a global cash machine. Just 48 hours later, the decision was reversed followed by an apology. It was not the first time.
Essentially, FSG is a capitalist tiger held in a socialist straightjacket and once in a while, it throws it off. Previous instances were an attempt to hike season ticket prices and trademark the name of Liverpool. Both times there was outrage, and both times they said sorry and put the jacket back on.
Henry, Moore and company know they cannot afford to alienate a fan base that was smart enough to get rid of their predecessors. Fellow American owners Tom Hicks and George Gillett gave corporate cowboys a bad name and took the club to the brink. Back then, former chairman Martin Broughton called the situation, "holistically dysfunctional".
FSG is a very different gravy and has, for the most part, put on the acceptable face of capitalism. But it will soon reap its reward for seeking a better overseas broadcasting deal. As the EPL's Big Six clubs have more fans worldwide, they have always argued they deserve a bigger share.
They have a point but it will also mean that the financial gulf between them and the other 14 teams will widen in the coming years. What FSG has to worry about is if the gulf between it and the guardians of the people's club does likewise.
---
Bob Holmes is a long-time sports writer specialising in football