This article first appeared in Forum, The Edge Malaysia Weekly, on September 28, 2020 - October 04, 2020.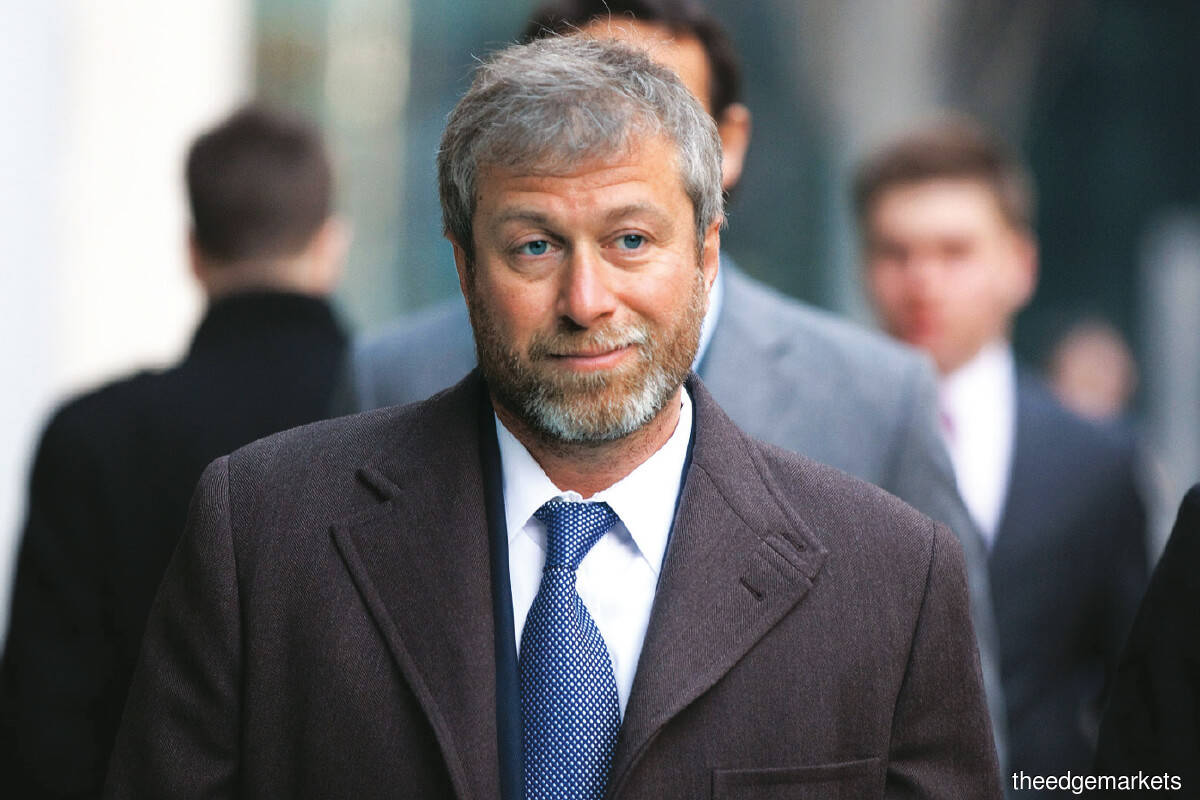 It was never going to be a Second Coming — at least not in the literal sense. Bodyguards don't do social distancing, and there are visa and political issues too. But, in every other sense, Roman Abramovich is back at Chelsea.
For last weekend's first home game of the season, his money was all over the pitch, on the bench and scattered around the stands. But on the evidence of a humbling defeat to the champions, Liverpool, he knows that a summer spend close to £250 million (RM1.3 billion) is still nowhere near enough.
It had been widely assumed that the Russian, whose billions changed the face of football back in 2003, had lost a bit of interest. He hadn't been seen for 18 months, mothballed plans for a new stadium and allowed the team to slip below previous elite standards.
With relations between Russia and the UK at their frostiest since the Cold War, it was understandable that he would want to lie low. He could enter Britain on his Israeli passport, but any thoughts of doing so were dashed by Covid-19 — he never travels unless surrounded by a rugby scrum of security detail.
Still, the club insists he never misses a game. Never has, never will. Whether from his yacht, one of his "Bond-villain" vantage points or, more recently, his Moscow mansion, he is glued to a screen whenever his beloved Blues are playing. Only Russian president Vladimir Putin would have come before Didier Drogba or Eden Hazard blasting home at the Shed End on a big European night.
This season, he has shiny new stars to watch; so, his gaze will be even more intense. For him, buying a player is like a new toy, and last week, it was revealed he even had a stake in a few others through third-party ownership. In the current transfer window, he has already spent three times more than any other club and more than £100 million more than when he arrived as the unknown billionaire from nowhere.
The latest shock is lower on the game's Richter
scale, but it still caused tremors beyond the transfer market. What everyone in the football industry is asking is: Why this sudden upsurge in interest? And why now?
For this spree also came out of nowhere. There were no foreshocks, no hint of seismic activity. After all, his had been an omni-absence — unseen and unheard, cheque-book hermetically sealed. After the transfer ban, Chelsea even went through a second window without spending and kept the Hazard fee (£120 million) under the mattress. The grapevine suggested he wanted to sell the club. The grapevine was wrong.
It was pure guesswork; he never gives interviews and talks only to the club — mainly to Marina Granovskaia, his Russian-Canadian consiglieri-cum-director of football. But no one listened to claims that he was still as keen as ever. People assumed he had become bored, as he had won everything.
He had transformed near-bankrupt underachievers into a European Super Club — Chelski, they called it. From winning the league once in their first 100 years, they added five more titles as well as five FA Cups, three League Cups and, eventually, the Holy Grail of the Champions League. It was mission accomplished.
He had also transformed football ownership. From the local butcher, baker, candlestick maker — as an old saying goes — to the foreign zillionaire. He was every fan's fantasy owner because he behaved like a fan himself.
But then came the nation states and their sovereign wealth funds: Abu Dhabi with Manchester City and Qatar with Paris Saint-Germain, which took the game to another stratosphere but led to Financial Fair Play regulations.
Abramovich was in danger of becoming yesterday's Midas and, for all the trophies Chelsea won, there was something they never quite nailed. To explain it, you have to go back to the game when he fell in love with football — the Manchester United vs Real Madrid classic at Old Trafford in 2003, adorned by a sublime hat-trick from the Brazilian Ronaldo. It was the first live match he had ever seen, and he was smitten by the wonder of it all.
No one told him it's not like that every time. But, for him, it really was a theatre of dreams. He wanted to live his own and, with a spare £22 billion in his back pocket, he thought he could buy it. He got close, tantalisingly close, but even with all the successes, there was still something missing.
It was never quite as good as that night. Under José Mourinho in his early pomp, the Blues played powerplay football — efficient and unstoppable. But they never delivered that level of theatre or left a lasting legacy. Abramovich once complained his own team "lacked identity".
And, right now, the two dominant forces in the English game, Liverpool and Manchester City, respectively boast identity and magic in spades: Liverpool for their irrepressible teamwork and City for their mesmeric passing game. He would like Chelsea to have some, too.
In leaks that have come out of the club, there were two reasons for his renewed sense of purpose: one romantic and one commercial. Thanks to the transfer ban, Chelsea were forced to field several academy boys who flourished under new manager Frank Lampard, a personal favourite as a player.
They were the same kids the owner had encouraged as callow teens on his many training ground visits, and he was overjoyed to see them make the grade in style. Something stirred beneath that diffident façade: He sensed the beginnings of a club identity at long last.
But when the lockdown brought a new reality, he was still the great enigma. As rivals felt the pinch, some even furloughing staff, he took advantage of a depressed market to splash the cash. He has bought mostly top under-25 stars at reduced prices. The emphasis on youthful attackers again betraying the type of football he demands.
That there would be competition for places, he sees only as a positive. According to Paul Smith, who was CEO at the time of Abramovich's first coming: "It's probably a bit of a reset for the club." It is also a reminder to football that he has not gone away.
Both Manchester clubs will have taken note and, though they have kept their powder relatively dry, we might see a last-minute trolley dash before the window closes on Oct 5. Liverpool have done what Liverpool do — identifying specific targets and pouncing when the price is right.
Their team ethos, which was lost for a while, is in their DNA and now gloriously revived by Jurgen Klopp. Last weekend, they were patently superior to Chelsea on nowhere near the same outlay. But at least the owner is fully aware of the challenge that awaits. The good news for Chelsea is that he seems to be up for it.
---
Bob Holmes is a long-time sports writer specialising in football