This article first appeared in Forum, The Edge Malaysia Weekly, on June 27, 2022 - July 03, 2022.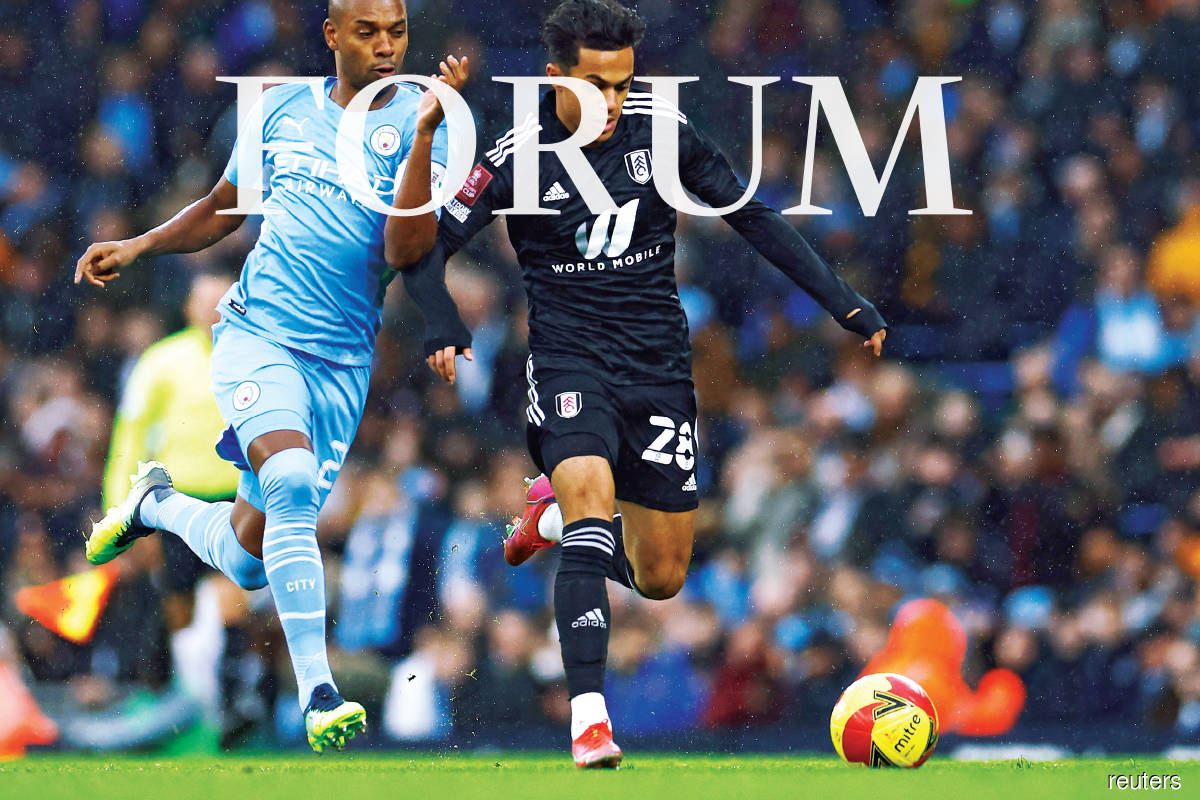 A bear market in stocks, scary interest rates and a cost of living crisis … can sport buck the gloomy trend? Cricket's Indian Premier League sold its rights for US$6.2 billion (RM27.3 billion); Chelsea FC was bought for US$5.4 billion while the English Premier League (EPL) expects to pass the US$1 billion mark in summer sales for the second year in a row. But even the EPL may be nearing the end of the blockbuster signings as player power and smaller, cannier deals are in vogue.
But neither are dampening the interest in the just opened transfer window which, judging by forensic scrutiny of the gossip columns and fevered speculation generally, is enjoyed by some as much as the action on the field. The final whistle may have sounded on the football season but the show goes on in another guise.
A major reason for fewer £100 million-plus (RM537 million-plus) signings is that players are opting to run down their contracts. Many prefer to become free agents so their club cannot demand a fee for them and they are at liberty to pick and choose their next club. Both Cristiano Ronaldo and Lionel Messi moved on freebies to Manchester United and Paris Saint-Germain respectively, as did Paul Pogba when he returned to Juventus. An unintended consequence of all this is that it keeps a lid on spending.
Even before the pandemic, evidence was mounting that expensive purchases weren't working, with many big moves producing an alarmingly poor return on investment. Mention Romelu Lukaku (twice), Paul Pogba, Nicholas Pépé, Jack Grealish and Eden Hazard. And if a club does it three times in a row, it's heading for oblivion. Ask Barcelona about Philippe Coutinho (£140 million), Ousmane Dembélé (£132 million) and Antoine Griezmann (£110 million).
This is not to say that major signings haven't made a difference. Virgil van Dijk's £76 million arrival as the world's most expensive defender in 2018 was the historic turning point for Jürgen Klopp's Liverpool. It was quickly reinforced by Alisson Becker as the world's most expensive goalkeeper for £65 million. When Cristiano Ronaldo left Manchester United for Real Madrid in 2009, he did what a Galáctico was supposed to do — and sparked a successful era. As did Luis Suárez after leaving Liverpool for Barcelona for £64 million in 2014.
But the successes are increasingly outweighed by the failures, so now moves hinge more on hard facts and less on the manager's hunch. Covid-19 brought a greater appreciation of technology and every major club now has a team of analysts with the names, boot sizes and entertainment preferences of leading players. If a manager wants a left-sided centre-back aged between 20 and 23, with pace, two good feet and no extra baggage, a Tinder list of candidates will pop up.
Fatal errors should be avoided but, factor in the whims and fancies of owners as well as managers, and the best-laid plans of the stats men can go awry. For all the science, the transfer window is still part Wall Street trading floor, part fish market and part kids in a candy store.
Nor are the mistakes necessarily down to flawed evidence or bad judgement — there are just so many factors involved. The sudden recurrence of an old injury or a domestic issue; the player could have relied heavily on a teammate who is not part of the package; there could be personality clashes in the dressing room. Not all of these will show up on a highlights reel.
No club has bought better in recent years than Liverpool; none worse than Manchester United. Although they always deny it's Moneyball, the recruitment method — which owners Fenway Sports Group used at the Boston Red Sox and spawned a movie of that name — has enabled Liverpool to punch above their financial weight and enjoy a golden era.
Under Klopp, they have hardly bought a dud whereas United, under departed executive vice-chairman Ed Woodward, employed a scattergun approach, heavily influenced by reputation and social media followings. The re-signing of Ronaldo last year may have broken the internet but, despite him being the top goalscorer, it didn't prevent the poorest season in living memory.
What is also keeping a cap on spending is the emergence of academy products now capable of starring in the first team. But they can still be cruelly undervalued. Last season, Chelsea offloaded several to buy — for a club record £97.5 million — Lukaku from Inter Milan. Considered the last piece of the jigsaw, the Belgian was expected to lead Chelsea's title challenge while the young departees were sold off as surplus to requirements. But as the superstar flopped, the makeweights had stellar seasons and are now worth three times what they were sold for.
The smart method now seems to be going for precocious youngsters and it is no surprise to see Liverpool and Manchester City being leading exponents of this. While the Reds have signed Harvey Elliott and then Fábio Carvalho for single-digit fees from Fulham — both could be worth £40 million to £50 million apiece in a couple of seasons — City have taken this to another level.
By acquiring a stable of clubs around the world under the umbrella of the City Football Group, if any likely lad emerges, they have first dibs. Latest off the production line is Argentina's Julián Álvarez, a 22-year-old striker dubbed "the new Agüero". Signed for just £14 million from River Plate, he will stay there on loan until the end of the season. The other big plus about such deals is that the risk is minimal — if they don't make it, they have cost next to nothing.
More of a risk, but still not likely to break the bank, are the two deals that kick-started the current window. Erling Haaland, a 21-year-old Norwegian, has been touted, along with France's Kylian Mbappé, 23, as the next big things. The two are seen as the successors to Messi and Ronaldo and expected to rule for the next decade.
Haaland had a buyout clause in his contract at Borussia Dortmund for just €60 million (RM277 million) — a ludicrously low figure for someone who scored 85 goals in 88 games in the Bundesliga. So City stepped in and, with Haaland as their long-awaited No 9, are expected to make the running again next season. Of course, there is the small matter of his wages — £400,000 a week — but how ever, the deal is looked at, City have got themselves a bargain.
Liverpool don't pay those wages but when shocked by Sadio Mané's desire for a new challenge in the wake of the Champions League defeat in Paris, they moved swiftly for a replacement. And in Darwin Núñez from Benfica, Liverpool have acquired the second most sought after striker in Europe — for an initial £64 million but could rise to £85 million — for only a fraction (£140,000 a week) of Haaland's wages.
Despite the trimming at the top end, the rest of the league is likely to more than make up. United haven't started and then there's Newcastle, armed with Saudi wealth, not to mention those who survived last season but want to strengthen for this one. And then there's the trio of newly promoted clubs with £170 million broadcasting revenue burning holes in their pockets. There's nothing quite like the transfer window to show that sport sails on regardless of the ill winds buffeting the wider world. 
---
Bob Holmes is a long-time sportswriter specialising in football