This article first appeared in Forum, The Edge Malaysia Weekly, on September 14, 2020 - September 20, 2020.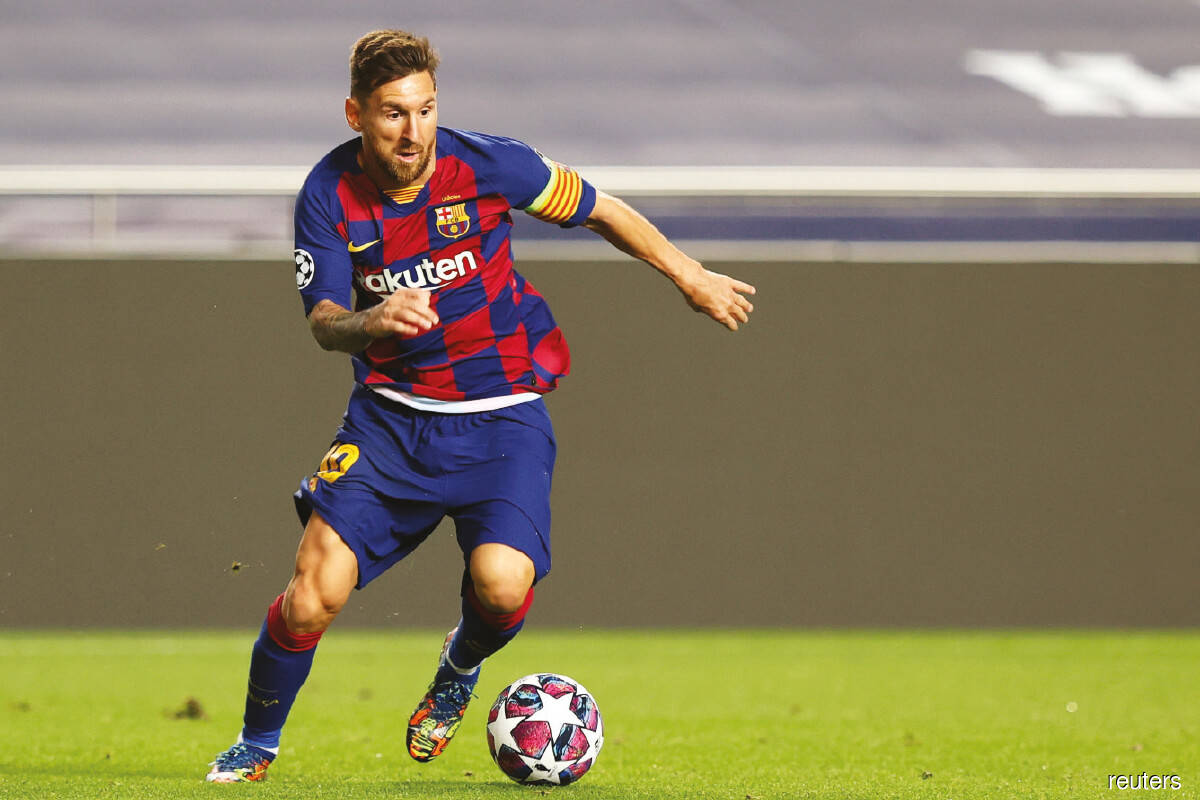 For once, Lionel Messi's twinkling feet could not bamboozle an opponent — in this case, his own president. And as he was forced into a humiliating U-turn to stay with Barcelona, the blockbuster opening chapter of the football story of the millennium ended with everyone a loser.
Barcelona may have won a battle but they are losing the war. It took a €700 million (RM3.45 billion) clause to change Messi's mind, but not his heart. After he explained all to the world in that sad but revealing interview with Goal.com, the "victorious" Josep Bartomeu looked broken and it will take the club a long time to recover from the damage.
This was no staged fireside chat with crocodile tears: just a bare room for him to bare his soul and the famously taciturn Messi obliged in spades. He convinced us that his love for Barcelona goes way beyond the badge-kissing norm and is why his anger at the way it is being run cuts so deep.
By the time he had finished, their celebrated motto had never felt more bogus: More than a club? According to Messi, they are an awful long way from a team.
So, he stays, but for how long? The more you look at it, the less like a victory it seems. Hollow? Pyrrhic? He is still dictating the narrative and Barcelona are now in such turmoil that even when they "win", they lose.
As it stands, they will lose Messi in 10 months and he will be free to negotiate with any non-Spanish club as early as January. And they will have to pay him another season's wages — cash they desperately need to rebuild the squad. If they had granted his wish, they would have taken a sledgehammer to the highest wage bill in world football.
They may have also got a €100 million transfer fee — perhaps more — from Manchester City, whereas next June they will get nothing. And this when losses due to Covid-19 are estimated at another €150 million. Keeping him was all about hubris: Economically, it was madness.
Bartomeu did not want to be known as "the man who let Messi go", although his term is up in March anyway. And without the burden of Messi's salary and all-pervading shadow, a new regime, new manager and players new and old might have been glad of a chance to shine in a less-cluttered era.
There is also the question of how it will affect Messi. Although he has returned to training and promises to give his all for the coming season, it could be the most difficult of his career.
He is bound to be under even greater scrutiny: He will be playing under a new manager, Ronald Koeman, and with new teammates — if they can afford to buy any — in a side that could be labelled "under construction".
As it is, he will be without his pal Luis Suarez — hastily off-loaded to Juventus. So, he will be the only survivor of the once-fabled MSN front trio — Messi, Suarez and Neymar — along with stalwarts of the earlier glory years. And under a coach whose emphasis on teamwork was the last thing he wanted to hear at their initial terse encounter.
Now 33 and having inspired Barca to the greatest era of their history, scored 645 goals in 743 games and often carried the team single-handedly, he believes he is entitled to take the odd breather. Being told to become a water-carrier by a second-rate coach may have been the final straw.
Messi's mistake — or that of his advisers — was believing his release clause had not expired because of the pandemic and trusting Bartomeu, who told him he could leave whenever he wished. If the president was guilty of reneging, Messi & Co were guilty of naivety.
Still, most fans are on his side, with some of them claiming he is being "held hostage", albeit well-compensated for his "incarceration". Perhaps — and this is maybe what Bartomeu is hoping — he might develop a kind of Stockholm syndrome and find it difficult to leave his "captors" when he is free to do so.
It is not impossible, as his family, he said, were distraught at the prospect. But the fire still burns within him for one more tilt at the Champions League (and Ballon d'Or), which Barcelona look incapable of delivering.
Favourites to get him, City — managed by his mentor Pep Guardiola, with a better team and bigger budget — offer a more enticing present and future than Barca. He told his interviewer: "For a long time now, there has been no project or anything. They [Barca] are performing a balancing act, plugging holes as they go along."
City, for whom he would be the crowning glory in their quest for world domination, will offer him a two-year contract with an option of two or three more with New York City, their sister club, for his dotage. And, for when he does hang up those magical boots, an ambassadorial role among the City Football Group's 10 clubs around the globe. It is what any properly run business with an asset of his magnitude would have already presented.
Messi is an industry all on his own, yet Barca did not realise it. According to Forbes, he is rapidly closing in on being sport's fourth billionaire behind Ronaldo (third), Tiger Woods (second) and Floyd Mayweather. He earns a mind-boggling £988,000 (RM5.33 million) a week plus millions in bonuses and signing-on fees, as revealed by Football Leaks.
What the Premier League has lost — or at least had postponed — is a leap to another stratosphere. When it looked likely that he would join, excitement levels were off the Richter — even among rivals who might be on the receiving end. But they will be back up again, should he eventually decide to cast his beam of sunlight on rainy Manchester.
The soap opera would then truly become the ultimate sports-washing exercise for the Abu Dhabi owners. Signing the world's best player, even if he is a little past his coruscating peak, would be a public relations coup of undreamt-of proportions — and we would expect it to be milked accordingly.
The sheer fascination of seeing the maestro perform on the most watched stage would take viewing figures and ancillary industries into uncharted territory and football could capture a whole new audience. And, looking at it now, the delay could even be a blessing.
It would have been a cruel irony, indeed, if the ultimate box-office star had arrived when the stadiums are empty. Now, there is another year for crowds to return. If it still seems hard to get our heads around Messi's move to Manchester, it could be a new normal that is abnormal in the most positive of ways.
---
Bob Holmes is a long-time sports writer specialising in football