This article first appeared in Forum, The Edge Malaysia Weekly, on June 1, 2020 - June 07, 2020.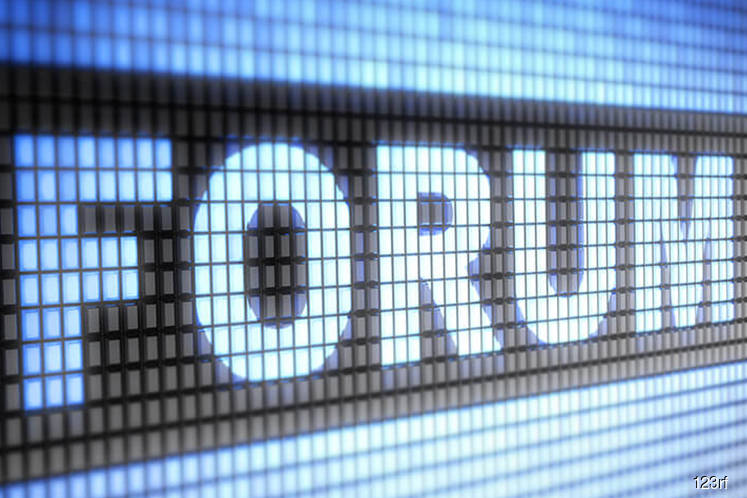 If there was one sport that could have avoided the Covid-19 pit stop, it would surely have been motor sport — at least that is the view of many fans starved of live action. After all, its dashing poster boy, Formula One, is a socially isolating business, anyway, with drivers cocooned in sleek cockpits and quarantined for the duration. Even the lollipop men dress like Robocops.
To non-petrol heads, F1 has traditionally blazed its own hi-tech trail, appearing to look down its nose cone at lesser mortals' pedestrian travails. And never more so than in mid-March, when other sports were calling time, the entire F1 circus flew halfway around the world confident of kicking off a new season in Australia.
Cancellation came with great reluctance. Helmets were being strapped on for the first day of testing and engines had already started before the red flag was finally raised. But, since then, motor sport has gone into overdrive in helping the fight.
From Pirelli boss Mario Isola working as a volunteer ambulance driver and paramedic (!) in hard-hit Italy to rival UK-based factories' collaborating to produce ventilators in Project Pitlane, the sport has put others to shame.
Malaysia's own global energy and solutions giant Petronas is contributing RM20 million worth of medical equipment and supplies to help hospitals and healthcare frontliners in Malaysia, through its corporate social responsibility arm, Yayasan Petronas.
It seemed time for an appraisal of how the sport is faring here, and Motorsports Association of Malaysia (MAM) president Tan Sri Mokhzani Mahathir was gracious enough to respond to a Q&A via email.
How big a blow is the Movement Control Order (MCO) to Malaysian motor sport? How many races and sponsors have been lost? And how long will it take to get back to where we were?
It depends on how soon the government will allow motorsports events to run. As at today, Malaysia has lost three races from its event calendar 2020. Those are China GT, Japan Super GT and Toyota Gazoo Championship. All three race organisers have decided to postpone their event to 2021. Among the three, only the Toyota Gazoo Championship has an all-Malaysian participation while the other two consist of mostly international participants.
We understand that some organisers have lost their sponsorship. As for the team and riders participating, we were informed that there may be a reduction in their sponsorship value.
On the positive side, organisers of events such as the Malaysian Championship Series, Malaysian Speed Festival, CubPrix, IAME Series Asia, ROTAX Max and TuneBoss BRAAP still aim to complete their season. These are championships in which most participants are Malaysian teams and drivers.
How long will it take for us to get back to where we were depends on when the government allows us to sanction motorsport events again. We are working with KBS [Ministry of Youth and Sports] in particular to ensure events are allowed to be held as soon as possible.
But we must remember that the problem is Covid-19 and not strictly the MCO, which is just a means to contain the spread of Covid-19. For as long as the threat and fear of Covid-19 is real, all types of events will be affected if people are reluctant to attend or participate.
Malaysia was doing especially well on two wheels with a top team in Moto GP. Can the momentum be regained?
Of course, the momentum can be regained. It's a matter of getting back to racing again.
In 2019, Petronas-Yamaha-Sepang Racing Team made an exceptional debut among the big boys of MotoGP. At the same time, Malaysia's ONE XOX TKKR SAG team were champions in the Asia Road Race Superbike category.
We also have a new development programme in our calendar, which is the SIC MiniGP Championship, which aims to develop grass-roots level motorsports. Everyone is eager and excited to start racing again.
As social distancing is likely to continue, can normal operations resume in such conditions?
No, operations are unlikely to resume as normal. Just as an insight, motorsport events require a participation of anywhere between 250 and 1,000 individuals per weekend in one vicinity, which includes teams, drivers/riders, race officials, event management, safety officers, medical personnel and marshals, depending on the size of the track as well as the number of participants. At this moment, the government does not allow any mass gathering, in its effort to contain Covid-19.
Therefore, moving forward, MAM will propose to KBS a guideline for a new SOP [standard operating procedure] that, first, is in line with the Ministry of Health (MOH) and National Security Council requirements. Second, the guideline is intended to show that, although we have a large number of people present for an event, the crowd will be segregated and spread out over large areas and meet all of the requirements set out by the MOH.
Third, the new SOP continues to be in line with FIA [Fédération Internationale de l'Automobile] and FIM [Fédération Internationale de Motocyclisme] safety regulations. All our events are outdoors, which allows us flexibility in crowd control, how they are placed and the density of people in any one location.
We take serious consideration of not wanting to create a Covid-19 cluster simply by hosting an event at the wrong time and venue before having all the proper precautions implemented and practised.
With Sepang's reputation and Malaysia having kept the number of casualties down, is there any chance of it being granted a second GP?
This all depends on Dorna, the promoter of MotoGP and Sepang International Circuit. It's also what the motorsports community wants. We've seen tremendous support from them, the media, sponsors and government. In the absence of the FIA F1, MotoGP is the biggest international motorsports event Malaysia is hosting.
The economic spinoff is evident, but I'm sure more can be done with the one race that we have right now. What could be interesting, though, is SIC hosting double headers in order for MotoGP to catch up on the races it has cancelled because of the Covid-19 issue.
FIA F1 is discussing doing that for the nine races it has postponed or cancelled in the early part of the F1 season. I'm sure MotoGP will be thinking of doing the same. SIC is well placed and capable of hosting an incredible week of more than one MotoGP race if required. That would surely be a treat for two-wheel motorsports fans.
Trying to end on a positive note, is there any silver lining to this whole experience?
While many enjoy playing and mastering video games during the MCO, it has created a new yearning for the outdoors. I hope we don't ever again take for granted real sports and games, played outdoors or indoors against other individuals and teams.
MAM will focus on speeding up the remainder of our event calendar and ensuring motorsports fans get to come out and enjoy races the way it was meant to be. We will try to ensure this Covid-19 issue will not hinder the progress of our young riders and drivers nor discourage teams and sponsors from being part of Malaysian motorsports.
That was what Mokhzani said.
If motor sport was among the last to leave the pre-Covid sporting landscape, it will be among the best-prepared for the resumption.
---
Bob Holmes is a longtime sports writer specialising in football