This article first appeared in Forum, The Edge Malaysia Weekly, on October 26, 2020 - November 01, 2020.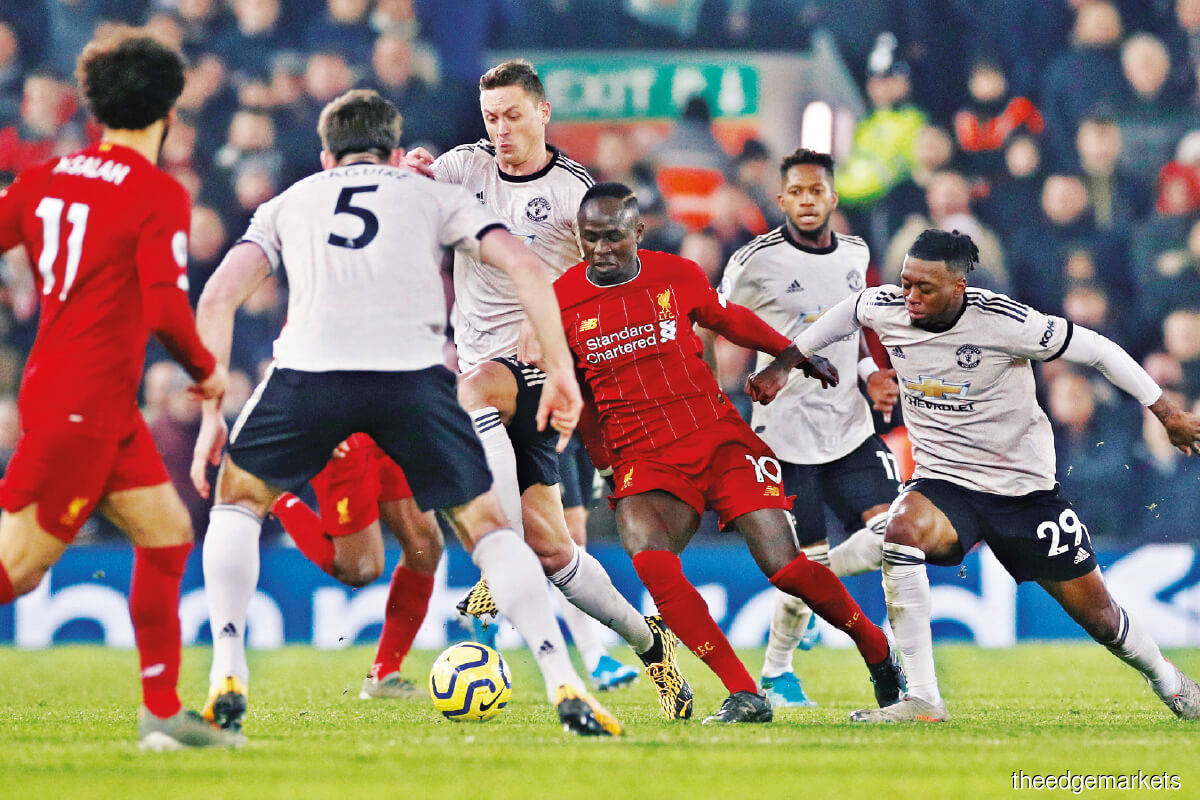 First the "Big Picture", then the "Super League". Europe's football stadiums may be empty but the corridors of power are busy with men in suits crunching numbers. As match-day revenues have dried up, the big clubs seem hell-bent on making up the shortfall. And the game, already on its knees, finds itself under siege.
No sooner had the English Premier League (EPL) reined in the Trojan Horse that was Liverpool and Manchester United's Project Big Picture (PBP), than it faced an onslaught from Europe's heavy artillery. Led by Real Madrid, the plan is to replace the Champions League with a closed league of 18 of the continent's richest clubs, including five from the EPL, Liverpool and United among them.
A Super League (SL) has long been the war elephant in the room whenever football's big bosses meet. They have used its threat to diminish risk and maximise income by trying to emasculate the Champions League. And now, with the US$6 billion (RM24.9 billion) backing of JP Morgan, they appear ready to unleash it.
Terrified of an early knockout or relegation, they have insured against both with "members only" exclusivity. No more would their share price be at the mercy of an awkward bounce, a dodgy penalty or a genuine upset. As a lack of jeopardy kills interest and undermines the very point of competition, it was met with fury and disdain by Europe's governing body and fans.
A UEFA statement said: "The principles of solidarity, of promotion, relegation and open leagues are non-negotiable. It is what makes European football work and the Champions League the best sports competition in the world." It added that a closed league "would inevitably become boring".
Kevin Miles, CEO of England's Football Supporters Association (FSA), which had already described PBP as "a sugar-coated cyanide pill", was even more scathing: "This has to be the last nail in the coffin of the idea that football can be relied upon to regulate itself.
"These billionaire owners are out of control and these reports expose the myth that they care about the English football pyramid, or indeed, anything other than their own greed." Addressing them on Twitter, he added: "You have no idea how much fans detest your concept. It will not go how you think."
Ex- United star turned broadcaster Gary Neville agreed: "Football is going to eat itself soon. Fans are starting to dislike large elements of what they are supporting and that can't be allowed to happen."
Fans will be hoping it can be stalled, just as PBP was. Anything that looks too good to be true usually is, so PBP, touted as the salvation of English football, was sussed before it was even put up for viewing.
To many, it will come as a surprise that English football needs saving. After all, isn't it supposed to be awash with cash from oil and gas billionaire owners?
Yes, the likes of Liverpool and Manchester United are loaded, but two of their neighbours (Bury and Macclesfield) have recently gone bust. And such is the disparity in wealth that many small clubs could soon follow them into oblivion.
English football boasts the most famous pyramid outside of Egypt. But unlike those ancient structures, it is top-heavy and has rickety foundations. The 20 EPL clubs grab the TV riches, leaving the other 72, who are split into three tiers and comprise the English Football League (EFL), to feed off scraps — or just gate money, of which there has been none since the pandemic struck.
PBP, devised by John Henry, the American owner of Liverpool and backed by his compatriots at United, was an overdue attempt at reconstruction. It was offering a rescue package of £250 million (RM1.4 billion) to the EFL as well as 25% of the broadcasting rights. This was the sugar.
The catch was that the Big Six — comprising the afore-mentioned duo plus Manchester City, Chelsea, Arsenal and Tottenham Hotspur — would have total control. So, one club, one vote would be dead in the water and six clubs would be much more equal than others.
Predictably, the turkeys didn't vote for Christmas but agreed to meet again with a review board of eminent names, one of whom is Neville. If nothing else, PBP shamed the existing bodies into serious discussions before it is too late.
At present, the EPL's TV revenue — worth £9.2 billion under the present three-year deal — is shared reasonably equitably among the 20 members, with even the bottom club picking up around £100 million every year. But only £125 million (plus parachute payments to relegated clubs) goes to the EFL.
It was to get an even bigger slice of the pie through private deals that the bosses of Liverpool and United cooked up this scheme. And such was the desperation of some EFL clubs, who had waited in vain for a rescue from the EPL, that almost all supported it. But a demand for the 25% with no strings attached soon called the plotters' bluff. The other EPL clubs then realised the strings amounted to a rope around their necks.
Henry, hailed as "the people's billionaire" for his stewardship of Liverpool, had shown his true colours. Stories emerged that he simply could not get his hedge fund manipulator's head around the wealth-sharing principle of the top flight.
Nor does his choice of bedfellows stand scrutiny. Spurs, one of his Big Six buddies, have not won the title for 59 years yet Leicester City did so four years ago to global acclaim.
A widely-circulated comment from a Big Six executive, but not necessarily Henry, insisted: "What we want to ensure is that there are no more Leicesters." As one of the greatest moments in the history of all sport, that's a pity.
Ignorance of the game among new converts can be breathtaking. A US lawyer acting for one recently told the Sunday Times: "I don't see the point of dumb-ass teams like Blackburn Rovers." Rovers, he was reminded, were EPL champions in 1995.
Prior to their lottery-winners' luck with takeovers, Chelsea and Manchester City were mediocrities. And then there's Henry's very own Liverpool. When the immortal Bill Shankly took over, the Reds were in the second tier. The top six were the "dumbass" likes of Burnley, Sheffield Wednesday, Bolton and West Brom as well as Spurs.
This season, the EPL title race could be the most open in history. Already, Manchester City has lost 5-2 to Leicester, United 6-1 to Spurs and Liverpool 7-2 to Aston Villa. Elsewhere, Real Madrid lost at home to Cadiz and then Shakhtar, Barcelona to Getafe and Bayern Munich to Hoffenheim. None of the victors would be given house room in the SL. Nor would Ajax or Benfica, which have lifted Old Big Ears six times between them and produced Johann Cruyff and Eusebio.
Besides greed, there may be a more Machiavellian reason for the scheme — to weaken the EPL. The Reals and the Barcas struggle to compete with the broadcast billions of the English clubs. With its blockbuster fixtures every week, the SL would hope to dwarf the EPL — if anyone would watch it. As La Liga president Javier Tebas put it: "It sounds like a plan drawn up in a bar at five in the morning."
---
Bob Holmes is a long-time sportswriter specialising in football