This article first appeared in Forum, The Edge Malaysia Weekly, on August 31, 2020 - September 06, 2020.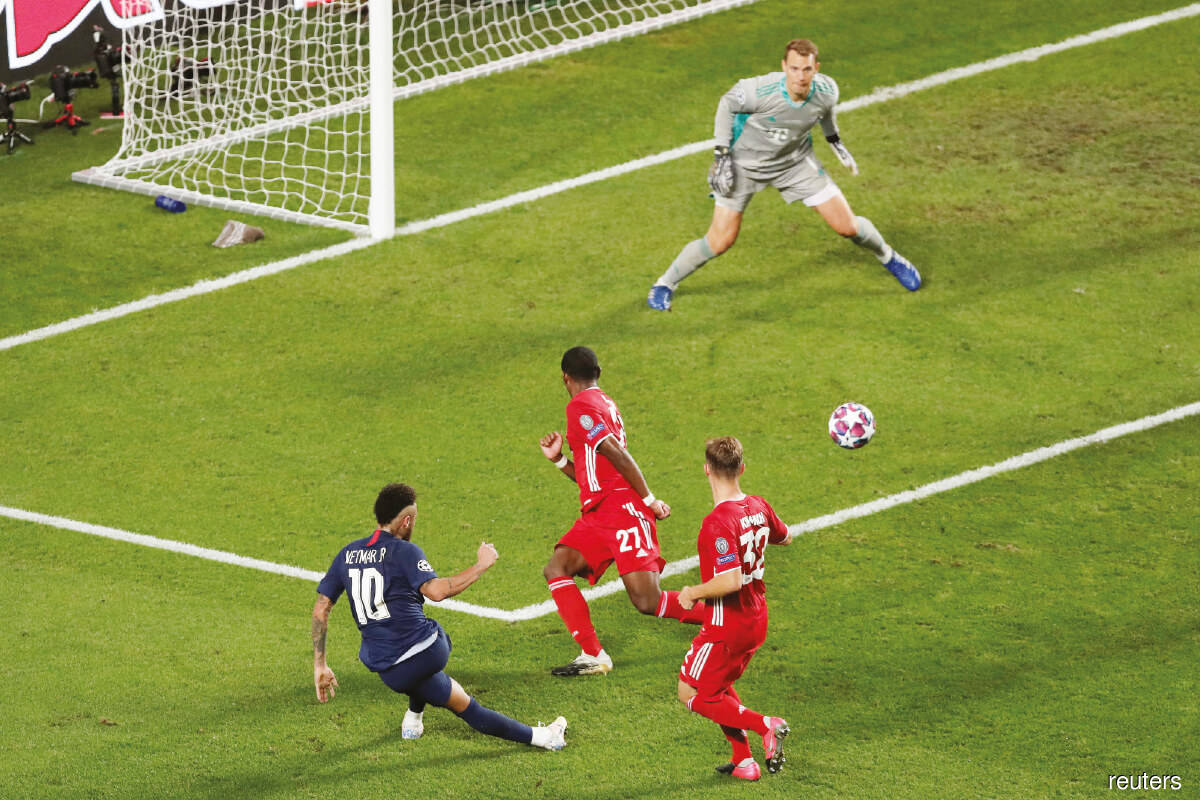 It was a close-run thing, but Paris Saint Germain's (PSG) 1-0 loss to Bayern Munich in last weekend's Champion's League final was cheered by football romantics in the rest of France and around the globe.
By maintaining their record of epic failure in the competition despite unlimited funding, PSG are still Exhibit A in the case that cash alone is no guarantee of football success.
But now that Neymar's tears have dried and stock has been taken, we have to ask: In the greater scheme of things, does a narrow defeat on the field really matter?
Football has seen countless takeovers for ulterior motives but nothing as brazenly political or blatantly commercial as when PSG, then a struggling club in an uninterested city, were snapped up by Qatari Sports Investments (QSI) in 2011.
QSI is a sovereign wealth fund of the same super-rich state that won the right to stage the 2022 World Cup in the most dubious circumstances. Since then, half the FIFA committee members that decided the tiny desert kingdom was a more suitable host than the US have either died or been indicted for bribery. And the heads of both UEFA and FIFA have rolled.
The acquisition of PSG the year after that vote was seen as a second front in the Gulf state's campaign to diversify its wealth from oil and gas, and spruce up its image through football — sportswashing as it has become known.
Back then, takeovers were rife in a sport that was enjoying an unprecedented boom from broadcasting riches. We were already seeing the transformation that petrodollars could bring to a club with the Abu Dhabi acquisition of Manchester City — from the butt of jokes to the English Premier League (EPL) title in three years, no less.
PSG was created as recently as 1970. It has just celebrated its 50th birthday as several in England are preparing for their 150th. Non, Paris was not much of a football city anyway as its citizens would snootily reaffirm.
Even now, the French capital is home to only three league clubs compared with a dozen in London, three of whom — Chelsea, Tottenham and Arsenal — are among the EPL's Big Six.
For much of its early life, PSG was in crisis and tainted by racism, hooliganism and scandal. It split in two after two years — and owners treated the principal club more like a mistress than a wife.
But, when owned by broadcaster Canal+ and inspired by the great George Weah, it had its moments winning domestic silverware and the UEFA Cup in 1996. In the early 2000s, another tilt at glory saw Ronaldinho arrive but even he couldn't win over Parisians who prefer rugby anyway.
A few days before the big vote on World Cup venues in 2010, a now-infamous lunch was hosted by then French president Nicolas Sarkozy. Besides claiming to be a PSG fan, he wanted to sell French fighter jets to Qatar.
In attendance at the Elysee Palace were UEFA president Michel Platini, the PSG owners, who were down to their last centime, and Qatar's crown prince Tamim bin Hamad al-Thani, who is more loaded than most.
Football and fighters were on the menu but it was the "afters" that were truly historic: Platini would switch his vote from the US to Qatar, who would buy PSG while squadrons of Mirages were dispatched to the Gulf.
Oh, and a new broadcaster, BeIN Sports, was launched with the rights to the French league that would save it from penury and possible oblivion. It's amazing what a decent meal and a good wine can do.
Money poured in and so did top players. Even David Beckham dropped by. But it was in 2017 that the Qataris really shook football. In a double swoop, PSG spent €422 million on Neymar and Kylian Mbappe, still the world's two most expensive players. Trophies followed — but only domestic ones. Still, commercial deals were made and a fan base was discovered.
The majority of Parisians now live on the "wrong" side of the ring road in concrete 1970s communes that the French call banlieus. Mainly of immigrant stock from north and west Africa, these banlieusards love football.
They sought a common identity that was distinct from the white French inside the ring road and found it with PSG. And now they have one of their own in the team. Mbappe, with a mother of Algerian stock and a father from Cameroon, was born and raised among them.
This link was critical as the owners had been taking the club upmarket, making it chic in an effort to appeal to the chic white Parisians. But now there is an unholy co-existence between the ultras and those in the posh seats.
It may not have won the biggest club prize in the world, but no government has achieved that although a previous one can claim to have kicked things off.
The antipathy from the rest of France and the wider game is not hard to explain. No one epitomises the prima donna player more than Neymar who has, it is claimed, "no hard tackling in training" written in his contract as well as the right to fly home to Rio as he pleases.
And no club epitomises the foreign sovereign wealth-funded, instant prima donna superclub more than PSG. It has spent, in total, an estimated €1.3 billion on transfer fees alone in nine years.
That said, the plan is working. This runner-up slot caps a season in which PSG won its seventh French title out of the last eight and its fourth domestic treble in six years. Deloitte's most recent figures make it the fifth richest club in the world with revenue of €635.9 million (RM3.1 billion). Only Real Madrid, Barcelona, Bayern and Manchester United stand above them.
The reason that the bosses were not crying like Neymar is because "it's all about branding", according to Nicholas McGeehan, director of Fair Square Projects. As an investigator into the rights of migrant workers in the Gulf, he says the club has suffered far less than the country over this.
He told AFP, "It is all about branding, about attaching yourself to important and prestigious tournaments on the one hand, and glamorous and successful clubs on the other." PSG are now seen to belong among Europe's elite clubs. "Ultimately this is about politics, power and influence, not football," McGeehan added.
Speaking of the Qataris, he says, "Their brand is being splashed across the biggest football match that happens every year in Europe. They are going to have the biggest football match in the world in a couple of years. It could not be working out better for them on that score."
It puts losing 1-0 to Bayern into perspective.
---
Bob Holmes is a longtime sports writer specialising in football