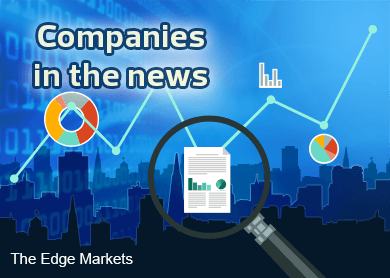 KUALA LUMPUR (April 14): Based on corporate announcements and news flow today, companies that may be in focus tomorrow (Wednesday, April 15) could include: Cahya Mata Sarawak, Bumi Armada, Hunza Properties, Berjaya Corp (BCorp), TNB, Boustead Holdings, Coastal Contracts, Benalec and Pestec.
Cahya Mata Sarawak Bhd (CMSB) has bagged a RM308 million contract from the Sarawak state government to build a world class museum and a heritage trail in Kuching.
CMSB said PPES Works (Sarawak) Sdn Bhd, a subsidiary of CMS Works Sdn Bhd, which in turn is a wholly-owned subsidiary of CMSB, today signed a design and build and negotiated contract with the Sarawak government for the proposed Sarawak Museum Campus and Heritage Trail project.
Under the deal, CMSB (fundamental: 3; valuation: 1.1) will construct a museum and an adjoining annexe building with a combined total floor space of 30,000 cu m, as well as a heritage trail in central Kuching.
The overall duration of the contract is 60 months, with completion by the first quarter of 2020.
Offshore oilfield services provider Bumi Armada Bhd has secured a US$300 million (RM1.1 billion) contract from ElectroGas Malta Ltd to supply a liquefied natural gas (LNG) floating storage unit (FSU) for a project relating to the construction and operation of an LNG receiving terminal located at Delimara, Malta.
Bumi Armada (fundamental: 1.05; valuation: 1.4), in a filing to Bursa today, said its wholly-owned subsidiaries Armada Floating Gas Storage Malta Ltd (AFG Storage) and Armada Floating Gas Services Malta Ltd had yesterday entered into agreements with ElectroGas Malta for the proposed project.
"These contracts are a significant milestone for Bumi Armada's new venture in the promising floating LNG business. The project is of national importance to Malta and we are proud of being entrusted to deliver a critical part of this project," said Bumi Armada's acting chief executive officer Chan Chee Beng in a separate statement.
The contracts are for 18 years and two months, with the FSU to commence operations in 2016.
Penang property developer Hunza Properties Bhd said a suit brought against it by Loke Wan Yat Realty Sdn Bhd (Loke Realty) would not have any material operational, financial or loss impact on it.
In a filing with Bursa Malaysia today, Hunza's subsidiary Hunza Properties (Gurney) Sdn Bhd (HPG) said it had received a writ and statement of claim, both dated March 18, from Loke Realty's solicitors on April 13.
Hunza (fundamental: 1.7; valuation: 1.8) said Loke Realty had outlined a series of claims and relief from HPG, in a suit filed in Penang High Court on March 29.
It said Loke Realty is the registered proprietor of 91-year-old Loke Mansion that sits on Lot 298, Section 1, along Gurney Drive, which is adjacent to HPG's development on Lots 39, 296, 1237, 1238, 2349 and 2350.
The Loke Mansion, which faces the sea, was built by philanthropist Wong Loke Yew's son Alan Loke in the mid 1920s.
To recap, Hunza pointed out that Loke Realty had raised its objection against HPG's proposed development on the said lands on or about July 2006, to then Penang Island Municipal Council (MPPP) (now Penang Island City Council).
Berjaya Corp Bhd (BCorp) has proposed to dispose of its entire stake in its wholly-owned indirect subsidiaries Berjaya Bandartex Sdn Bhd (BBandartex) and Berjaya Knitex Sdn Bhd (BKnitex), together with a piece of land in Johor for RM30 million.
BCorp (fundamental: 0.9; valuation: 2) said its wholly-owned subsidiary Berjaya Group Bhd (BGroup) has entered into two share sale agreements with Ramatex Bhd yesterday (April 13) to dispose of its 100% equity interest in BBandartex for RM16.59 million, and 100% holdings in BKnitex for RM11.14 million.
Meanwhile, Berjaya's wholly-owned unit Berjaya Soutex Sdn Bhd (BSoutex) has entered into a sale and purchase agreement with Ramatex on the same day for the disposal of a piece of land in Johor for RM2.26 million or about RM53.68 per sq ft.
BGroup's original cost of investment in BBandartex and BKnitex is about RM10.91 million and RM5.10 million respectively, which was incurred since 1989.
It expects a gain of approximately RM17.39 million from the proposed disposal, and expects the sale to be completed in mid-2015.
The group said the proceeds from the disposal will be used for working capital purposes.
Electric utility giant Tenaga Nasional Bhd (TNB) announced that its new coal-fired power plant in Manjung, Perak — dubbed "Manjung 4" — has begun commercial operations from midnight yesterday (April 13) and will transmit an additional 1,000 megawatt (MW) into the national grid.
In a media release this evening, TNB (fundamental: 1.3; valuation: 1.8) said the plant was commissioned just five hours after receiving the Commissioning Test Certificate from the Energy Commission at 7pm yesterday (April 13).
"The plant has met all the required tests and is currently running within the expected operating parameters. The 1,000MW of power generated, equivalent to the electricity needs of 2 million domestic users, will contribute towards further stability of the grid system and enhance reliability of supply," said Shamsul Ahmad, the managing director of the group's wholly-owned subsidiary TNB Janamanjung Sdn Bhd.
Boustead Holdings Bhd has acquired a 50% stake in Irat Properties Sdn Bhd for RM199 million cash, which will see the conglomerate invest in the government's automated enforcement system (AES).
The purchase sees Boustead taking up 93.33 million Irat shares, which represent half of the latter's issued share capital.
Last month, Boustead (fundamental: 0.65; valuation: 2) had proposed the purchase at a lower price of RM127.8 million for a subscription of 60 million new Irat shares, which represent 50% of the company's issued shares for RM2.13 apiece.
In a filing with Bursa Malaysia today, the group said it had subscribed to 60 million new Irat shares for RM127.8 million, as well as an additional 33.33 million new Irat shares for RM71 million.
The remaining 50% interest in Irat is held by Lembaga Tabung Angkatan Tentera (49.17%) and Irat Holdings Sdn Bhd (0.83%).
The Employees Provident Fund (EPF) has re-emerged as a substantial shareholder of Coastal Contracts Bhd, after acquiring 200,000 units in the company last Thursday (April 9).
In a filing with Bursa Malaysia today, Coastal Contracts (fundamental: 2.6; valuation: 1.8) said following the latest acquisition, EPF now holds 26.63 million units or a 5.013% direct stake in the company.
The pension fund had on Sept 18 last year, ceased to be a substantial shareholder in the company, after disposing of some 120,000 shares.
Coastal Contracts is principally involved in shipbuilding, ship chartering, repair and maintenance and trading of marine support vessels.
Benalec Holdings Bhd will engage Pestech International Bhd (Pestech) to establish the power supply infrastructure for Benalec's Tanjung Piai Integrated Petroleum and Maritime Industrial Park (Tanjung Piai industrial park) in Pontian, Johor.
In a filing today, Benalec (fundamental: 0.6; valuation: 1.15) said its indirect wholly-owned subsidiary Tanjung Piai Maritime Industries Sdn Bhd (Tanjung Piai Maritime), had on Monday (April 13) entered into a memorandum of understanding (MoU) with Pestech Sdn Bhd (PSB) — a wholly-owned unit of Pestech (fundamental: 0.9; valuation: 0.7) — to look at avenues in which they can bring about the engagement.
Under the MoU, Tanjung Piai Maritime intends to work with PSB "on an exclusive basis", to explore various avenues in the establishment of power supply infrastructure to the new development at the Tanjung Piai industrial park.
The two shall initiate discussions and form a definitive contract within six months from the date of the MoU, or at a further period to be mutually agreed upon, for the establishment of the power supply.
(Note: The Edge Research's fundamental score reflects a company's profitability and balance sheet strength, calculated based on historical numbers. The valuation score determines if a stock is attractively valued or not, also based on historical numbers. A score of 3 suggests strong fundamentals and attractive valuations.)