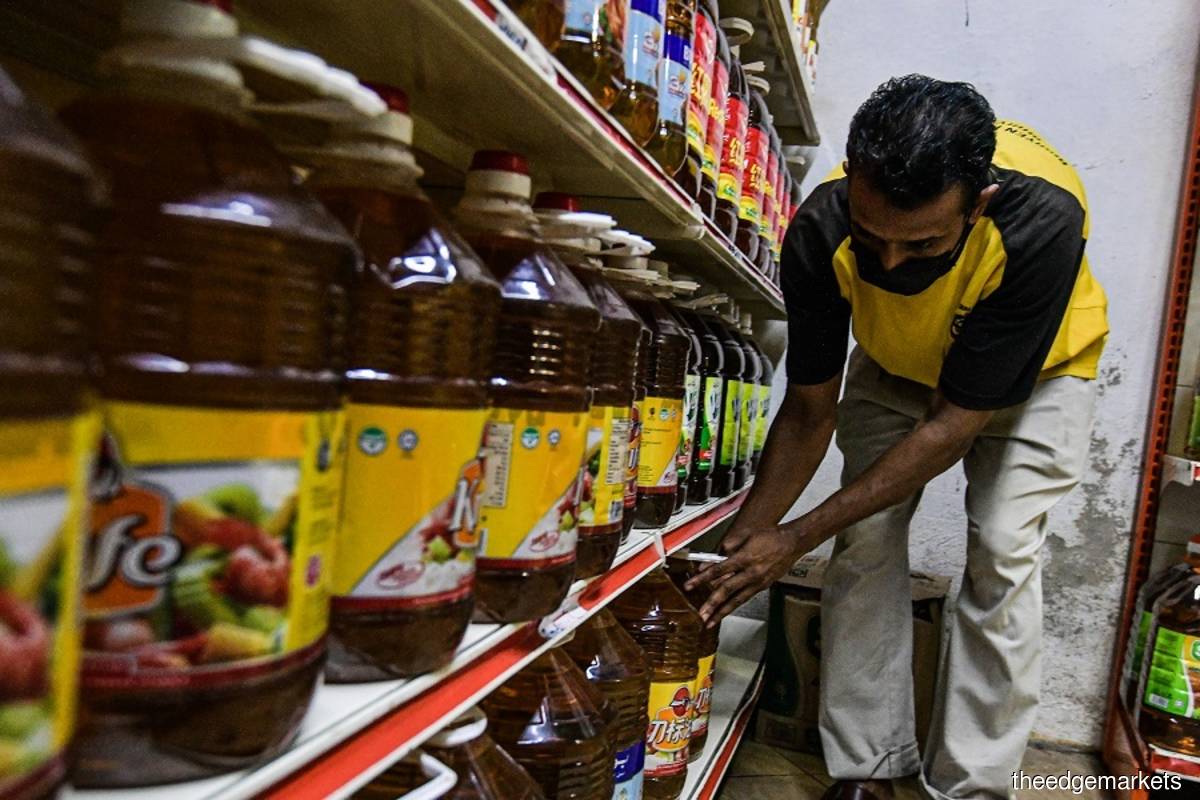 KUALA LUMPUR (July 25): Putrajaya is targeting to introduce the flexi price ceiling for oil palm-based bottled cooking oil, in a bid to control the maximum price and prevent profiteering by traders.
Special Task Force on Jihad Against Inflation Chairman Tan Sri Annuar Musa said the government will implement the "maximum price" for the bottled cooking oil about a week from now and the will have Domestic Trade and Consumer Affairs Ministry to be in charge of this new policy implementation.
"Once it [maximum price for bottled cooking oil being] is gazetted, the Ministry will determine the maximum retail price for bottle cooking oil from time to time, depending on palm oil price globally,"  he told at a press conference after chairing on the Special Task Force on Jihad Against Inflation at Parliament building on Monday (July 25).
According to Annuar, the move was deemed necessary as the current mechanism to lower the retail price of bottled cooking oil has proven to be ineffective, even after the government held the engagement with palm oil manufacturers.
"The authority held an engagement with palm oil manufacturers in relation to lowering the retail price of bottled cooking oil. We want to see when the price of palm oil has clearly dropped in the world market, then cooking oil sold at retail to the public should immediately be lowered.
"After two weeks [since the engagement], the retail price of bottled cooking oil has still not been lowered. This means the current mechanism was not effective. The mechanism of negotiating, asking, does not seem to be effective and the government needs to make a more effective determination to protect the interests of the public," he explained.
Starting July 1, Putrajaya discontinues subsidies for palm cooking oil in bottles of 2kg, 3kg and 5kg. However, the government continues to subsidise 1kg cooking oil, which is packed in polybags and priced at RM2.50 each.
Prime Minister Datuk Seri Ismail Sabri Yaakob explained that the subsidy granted for bottled cooking oil was only a temporary measure introduced in August 2021 to help Malaysians cope with the effects of the Covid-19 pandemic. The programme was originally only meant to last for three months, at a cost of RM55 million per month.
However, he said the government found that the temporary subsidy had been widely abused by industrial and commercial parties, and smugglers.
"Hence, the government decided that it won't continue with this bottled cooking oil subsidy from July 1, because the original objective of this programme was to help those affected by the pandemic," he said.
For more Parliament stories, click here.
Read also:
Government to ban export of cooking oil in polybags
Annuar: Govt wants cooking oil retail price reduced by at least 10%